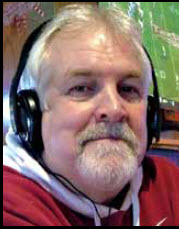 By: Tim Lambert
Congratulations to East Limestone's Taylor Thatch for being the first women's basketball signee with Calhoun. Athens High's Jacey King and Telaya Murrah signed cheer scholarships with UAB. James Clemens' Caila Batchelor signed with Central Methodist soccer and Emma Hopkins will continue her volleyball career at Calhoun. Elkmont's Morgan Morris and Tanner's Keyera Jeanes signed basketball scholarships with Calhoun; the Lady Red Devils' Martha Mendez inked with Faulkner soccer along with the Lady Rattlers' Bryonna Castrejon.
Athens High's Chloe Jackson was picked to participate on the North All-Star volleyball team during All-Star Week in Montgomery in July. East Limestone's Nicole Eslick was selected as a coach. Athens Bible School's Jack Bradford was also named as a member of the North boys' cross country team.
Lindsay Lane's baseball team was in Jacksonville competing in the state finals against Bayshore Christian after victories over Meek, Ragland, Appalachian, and Donoho. Elkmont made it to round three before being eliminated by Phil Campbell. James Clemens was taken out in round two by Hewitt-Trussville. Athens' softball team made it to the finals of the state tournament after turning back Pell City, Calera and Helena; the Lady Golden Eagles defeated Gardendale and Mortimer Jordan to win the regional tournament. Elkmont and Ardmore both won their area tournaments before falling in regional play.
East Limestone's girls got as far as the state soccer finals with wins over Madison County, West Morgan, St. John Paul II and Westbrook Christian. The Lady Indians fell to Indian Springs 5-0 in the title game.
Regular season highlights: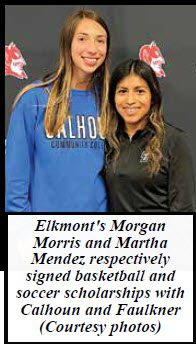 Baseball
ABS 16, West Limestone 2
ABS 19, Shoals Christian 3
Ardmore 13, East Limestone 4
Ardmore 10, Lindsay Lane 9
East Limestone 7-7, Ardmore 6-4
Elkmont 23, Colbert Heights 15
Elkmont 12-6, Colbert Heights 1-8
James Clemens 6, Sparkman 5
James Clemens 8, Austin 2
James Clemens 3-2, Austin 2-1
Lindsay Lane 5, West Limestone 2
West Limestone 8, East Limestone 6
Softball
ABS 15-21. Woodville 0-2
ABS 5, Madison Academy 2
ABS 2, DAR 1
Ardmore 2, Athens 1
Ardmore 2-2, Brooks 1-5
Ardmore 11, Sumiton Christian 1
Ardmore 8, Northside 7
Athens 7, Buckhorn 0
Athens 8, Thompson 6
Athens 5, Mars Hill 4
Athens 2, Bob Jones 0
East Limestone 11, Lee 5
Elkmont 5, Colbert Heights 1
Elkmont 4, Loretto 0
Elkmont 5, Wilson 1
Elkmont 14, West Limestone 10
Elkmont 12, ABS 1
Elkmont 15, Lindsay Lane 2
James Clemens 12, Florence 11
James Clemens 7, Florence 2
James Clemens 6, Colbert County 2
James Clemens 3, West Limestone 2
West Limestone 6, Grissom 3
West Limestone 12, Wilson 3
Soccer
Ardmore VB 4, Madison Academy 1
Ardmore VB 10, ABS 0
Athens VG 7, Elkmont 1
Athens VG 1, Buckhorn 0
Athens VB 5, Buckhorn 0
Athens VG 8, Ardmore 0
Athens VB 2, Buckhorn 1
Athens VG 3, Buckhorn 1
Athens VG 11, Columbia 1
Clements VG 5, Alabama School of Cybertech and Engineering 0
East Limestone VG 1, Priceville 0
East Limestone VG 4, Madison Academy 1
East Limestone VG 4, St. John Paul II 1
Elkmont VG 3, Tanner 2
Elkmont VB 2, Westminster 1
James Clemens VB 4, Florence 0
James Clemens VG 9, Austin 1
James Clemens VG 2, Thompson 1
Tanner VB 3, Elkmont 0
Tanner VB 3, Mars Hill 2
Tanner VB 9, Ardmore 2
West Limestone VB 5, New Hope 0
West Limestone VB 6, Mae Jemison 0
West Limestone VG 5, Mae Jemison 0
West Limestone VB 3, Lawrence County 0
West Limestone VG 4, Lawrence County 1
West Limestone VG 6, Columbia 2
Golf
At the state tournament, James Clemens' Jack Mitchell finished at the top of the 7A boys with a total of 136 over two days. Athens Bible School's Luke Davis finished third with a total of 155; the Trojans also came in third as a team. Lindsay Lane's Chloe Ruble came in second in 1A-3A girls as the Lady Lions posted a fourth place finish.

Track
At the 1A-3A state meet in Cullman, first places went to Lindsay Lane's boys (1A), Sydney Perkins (1600m), Henry Woodall (1st-1600m/3200m), Joe Quez Keith (1st- 400m/110m hurdles) and the boys' 4x800m relay team; Athens Bible School's Meredith Romans (discus) and Jack Bradford (800m-state record). At the 4A-7A meet in Gulf Shores, Athens' Jack Tregoning won the 6A shot put.
By: Tim Lambert
Tune in for the PlayAction Sports Update, three times each weekday on 1080 AM WKAC. Visit us online at www.pasnetwork.net! email: playactionsports@hotmail.com