In the summer of 2020, a wonderful event was started in Athens-Limestone County whose purpose was to be like an old-fashioned citywide family reunion. As we all know, 2020 had been a tough year, what with facing both COVID and cultural unrest, and Jerome Malone, his wife Tiffany, and their church, Oasis: Christ's Church At Athens decided with God's help to do something about it. They called it "Love for the City," and as someone who both attended and participated as part of the music team, I can heartily say it was a success. There were people there of all ages, skin tones, socio-economic backgrounds, professions, and walks of life, and there was abundant proof all around that there simply is no stronger force in the universe than the pure love of God. There was diversity in music, food, and folks, and it was a wonderful day, indeed. It was held in the field just south of Oasis Worship Center on Hwy 72 and Hine Street, and was well attended.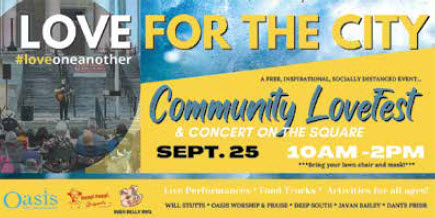 This year, the 2nd Annual Love For The City Community Love-Fest & Concert On The Square is going to be happening on the Limestone County Courthouse steps on September 25th from 10 a.m. to 2 p.m. There will be music of all types; food trucks; vendors of jewelry, apparel and candles; artisans; opportunities to hear wonderful stories of the profound transformation that can be experienced by the love of God; games; activities for the kids; and more. The event is going to be socially distanced, and you are encouraged to bring lawn chairs. So far, Happi Pappi Beignets and Beer Belly BBQ are scheduled to be the food trucks on hand, and there may be others as well. For the kids, there will be face painting, a corn hole toss, and other games, too. Also, if people wish to set up tables or displays on the eastside perimeter of the Courthouse that showcase their product or purpose, they are welcome to do so. The only thing is that their message or merchandise must be compatible with the theme of the weekend, and you will need to check with Jerome ahead of time. He can be reached at the Oasis office number at (256) 874-4517.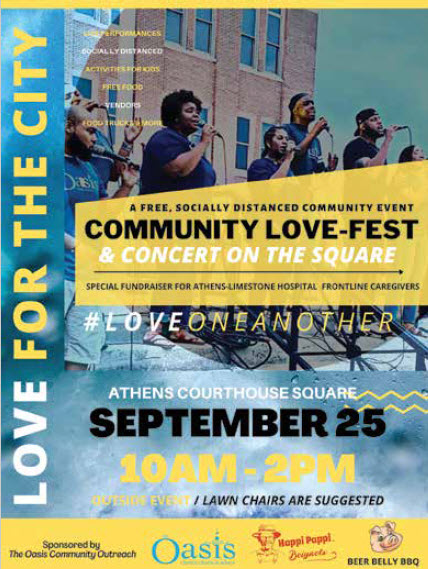 Jerome also told me that in addition to everything that has already been described, there will be a fundraiser for our brave and exhausted medical first-responders who are on staff at Athens-Limestone Hospital. In addition, there will be people from various associations in our community who will be honored for the way they give to and strengthen our town and county. They are Coach Jarrett Collier of the Athens Boys and Girls Club; Donna Townsend of Beyond Blessed Ministries, which provides Christ-centered services to the poor, hungry and unsheltered; Jan Matthews of Unsung Heroes; and James Long who sends Bibles and medical supplies to foreign countries.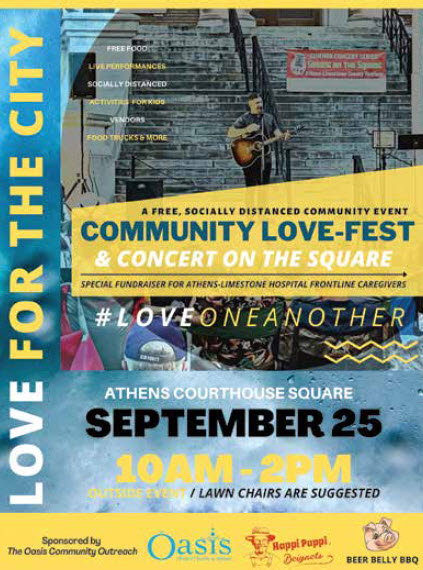 While Saturday is the day for the "main event," there are two more gatherings planned that I think will serve to make the weekend even more wonderful. On Friday night, Athens-Limestone Public Library will be hosting a panel discussion in their large community meeting room that is entitled simply, "Love One Another," and its purpose will be to talk about the ways we can get better at loving people who are different than are we. That event will be held September 24 from 6:30-9 p.m. Then on Sunday, September 26, also in connection with Athens-Limestone Public Library, there will be a worship service held outdoors in the recently opened Athens Library Community Garden, which is located adjacent to the main building on the south side of the property. That event is called, "Worship In The Garden," and will start at 10 a.m. The guest speaker will be Marcus T. Watkins, and the guest worship leader will be André Ashford. I believe that the three events, "Love One Another," "Love For The City," and "Love For The World" (through worship), will combine to make this a most memorable weekend in Athens-Limestone County.
All three events are free and open to the public. Jerome and Tiffany have a goal, and that is that the people of Athens-Limestone County will get a chance to see the love of God on display the way it really is supposed to be for everybody. Come and experience it for yourself, and then be sure to pass it around!
By: Ali Elizabeth Turner