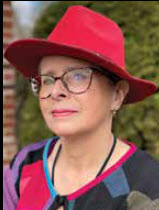 By: Ali Elizabeth Turner
In the fall of 1970, the Jesus People Movement hit hard at my high school. I have told many times about how one day stoners were getting stoned in plain sight up on the hill behind my school, and the next day they were witnessing to anyone and everyone. It swept through the halls of Chief Sealth High School in Seattle, and it was the change I saw in a childhood friend that caused me to surrender to my Savior all by myself in my bed on the night of Tuesday, December 8, 1970.
It was a wild, messy, "the good, the bad, and the ugly" kind of time, and I would go through it again in a heartbeat. And, I am pleased to announce that Alabama's own Erwin brothers, who produced (amongst others) the marvelous film, I Can Only Imagine, have created a movie that absolutely nails what it was like to be a part of The Jesus Revolution. In fact, that is the name of the film that premiered last week.
The Jesus Revolution is taken from the same title of the iconic front-page cover of Time Magazine from June of 1971, and weaves the story of a rebellious teen, Greg Laurie; a "Jesus freak" by the name of Lonnie Frisbee; and a struggling pastor by the name of Chuck Smith. They met, or perhaps it would be better to say they collided, and they all went on to turn each other upside down. And, they joined forces to "turn the world upside down for Christ."
Many church historians believe that the Jesus People Movement was the most significant revival in American history, and having lived through it, I would say that was true. And, I understand that people who never got trapped in drugs, rebellion, sex, or the other things that threatened to take out a significant part of our population, as well as break up the fabric of, well, everything from the church to the family to the nation, may not understand just what a big deal this was. Now is your chance to get an idea through a cinematic offering that is accurate, beautiful, and in a way, elegant. It also has plenty of gospel, and if you have never surrendered, or you need to again, you can do so all by yourself in the movie theatre. That is what the producers are hoping will happen.
Multiple Emmy Award-winning actor Kelsey Grammer, of Cheers and Frasier fame plays the part of Chuck Smith, who had what could only be described as a nearly-dead church. Jonathan Rhoumie, who plays the part of Jesus in the hit series, The Chosen, plays the part of Lonnie Frisbee, the man who lived on the streets of Haight Ashbury, San Francisco before becoming a Christian and literally invading Chuck's life. Greg Laurie is played by Joel Courtney, who was the star of Steven Spielberg's Super 8, and Greg went on to become a pastor himself. He still ministers through Harvest Ministries, and has worked for years to bring this story to book and film.
The Jesus Revolution is something you can take your teenagers to without worrying about the immorality of the times sullying them. It is something you can go on a date, see, and enjoy. It is something you can go see to reminisce, which is what I did in part. But best of all, it is something to which you can go, see, and surrender. Ya GOTTA!