We are a society that lives and breathes "worry." We worry about the weather, we worry about what contestant will be chosen on this week's reality dating show, we worry about how we will pay our mortgage, we worry about everything. Webster's Dictionary defines worry as "mental distress or agitation resulting from concern usually for something impending or anticipated."
We all are guilty of worrying at some point in our lives. Some of us are able to handle the worry better than others. I know that when I begin to worry about a part of my life, it has a snowball effect. You start worrying about one tiny thing and boom, before you know it you are in full blown snowball mood! You know what I mean, your emotions and worries start to look like one of those cartoon characters that roll down a hill of snow and literally become entwined in the snowball. You are an absolute mess.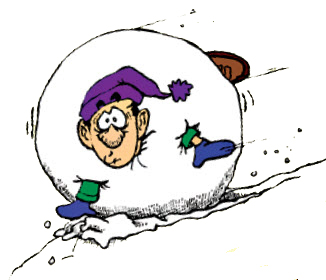 If you have spent any time in church, I know you have heard many sermons on worry and why as Christians we should not waste our time on worry. I think that most of us don't understand just how much we are compromising our faith by wasting time on worry. I read a quote this week from minister Bill Johnson that hit me square in the chest. I felt as if the wind had been kicked out of me, and I felt ashamed for ever worrying about anything. "Worry slanders every promise of God." Wowzers! Every moment we waste worrying about anything is slanderous to God. It shows a lack of faith, and it proves to every unbeliever that we truly don't believe in all God has promised us.
Worry is one of the most damaging things you can do to your faith. I am so guilty of worry and am striving to do better. God promises us that He will take care of us. He doesn't promise that we will get everything we ask Him for, but He will take care of us. The Bible is full of examples and verses that prove God will take care of us when we put our trust and belief in him. All we have to do is pray and have faith. One of my favorite promises is in Ephesians 3:20-21, we are told "Now to him who is able to do immeasurably more than all we ask or imagine, according to his power that is at work within us, to him be glory in the church and in Christ Jesus throughout all generations forever and every! Amen." God promises to give us more that we can ever imagine, but we have to trust in him and not worry and fret.
So today, stop your worrying and put all that energy into your faith. Let the world see your faith and trust in God. To some people we meet, we will be the only Bible they ever read and the only opportunity to see Christ. It is our duties as Christians to show Christ to the world. By being bold in our faith and beliefs, it sets us apart and others will be drawn to you. Use that confidence in Christ to share the gospel that has and will continue to change your life.
This week's recipe is a simple and easy weeknight meal — a delicious avocado chicken salad. Even if you don't think you like avocados, you will love this recipe. It's great own its own or enjoyed on top of a green salad or spread on a tortilla.
"Do not be anxious about anything, but in every situation, by prayer and petition, with thanksgiving, present your requests to God. And the peace of God, which transcends all understanding, will guard your hearts and minds in Christ Jesus." Philippians 4:6-7