By: Ali Elizabeth Turner
For three decades, Bill Mathews has practiced law in Athens and has long had an office at 117 S Marion St, right across the street from the courthouse. His son, William Jr., used to come up to his dad's office all the time when he was a kid, and it was in William Jr's freshman year in high school that he began to consider becoming a lawyer himself. Bill was very involved in the lives of his three kids, and coached baseball, basketball, and soccer. Bill also has always been involved in his church, and has taught 5th and 6th grade Sunday School. Bill also serves as a judge in Ardmore and "unpacks" legal issues on his radio show on WKAC on Wednesday mornings at 9:30. The radio show is called Rules of Law, and is also available as a podcast.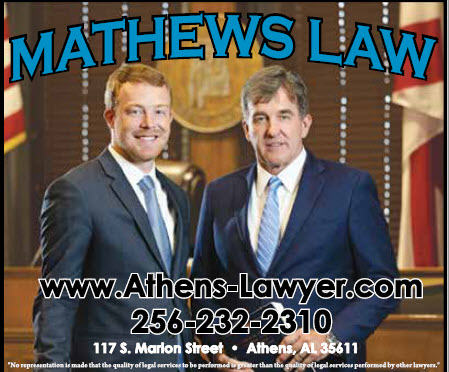 Like his father, William is passionate about sports and played as a quarterback and wide receiver at Athens High. William also loves basketball and soccer. He still plays basketball and soccer a couple of times a week, and finds that it is an effective stress reliever. After graduating from Athens High in 2014, William attended Auburn University and majored in Business Administration.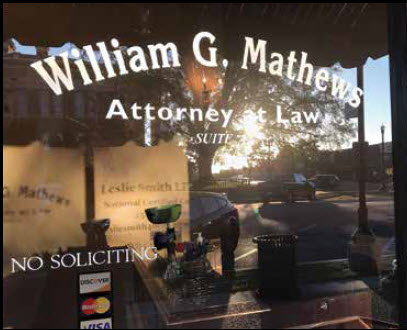 After Auburn, William attended the Cumberland School of Law at Samford University in Birmingham, which is also his father's alma mater. He graduated from law school in 2021, and joined his father's firm. Bill is thrilled to have William join the firm, and said, "He is Athens homegrown talent, and we are so glad he came back."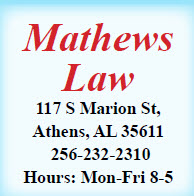 As far as general scope, focus, and practice, the Mathews Law Firm handles real estate, adoption, automobile accidents, domestic relations, wills, estates, probate, on-the-job injuries, and wrongful death. William especially enjoys real estate closings. "There is just something about seeing a family have their dream come true, and be able to move into the house that they wanted," he told me. William has found that people expect more of him because of his dad, and he thinks that is a good thing.
While William and I talked about everything from basketball to having lawyers in the family to movies about lawyers, his dad was in another room finishing a real estate closing. When Bill came in from his other duties and could catch a breath, he said, as only a pr­­­oud dad can, "I am so happy to have him back, and having him join the firm is a dream come true."
By: Ali Elizabeth Turner