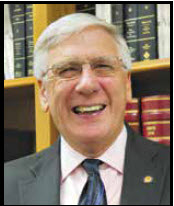 By: Ali Elizabeth Turner
Mayor Ronnie was going to be out of the office, and it seemed like a good time in this new year for Athens-Limestone County to get to know one of its busiest men, Erik Waddell. Erik is the building inspector, and not only that, he retired from the U.S. Army as a captain. We were in some of the same places in Iraq, and it is always a great joy for me to swap stories with him. In 2003 during the assault phase of Operation Iraqi Freedom, Erik actually heard Iraqis cheer when it was announced that Saddam Hussein's evil sons, Uday and Qusay, were killed. While Erik was on Camp Victory, he was the guy that got building supplies and barrier walls to everyone in Baghdad. As someone who more than once experienced the benefits of working and sleeping behind well-placed barrier walls, I can heartily say, "Thank you for your service!"
So, why is Erik so busy? Well, just with the recent Buc-ee's project, there were 180 inspections necessary for what he calls "cradle-to-grave," the breaking of ground to the opening ceremony. Buc-ee's has been Erik's favorite project so far, and certainly is the biggest. He feels that it will bring great benefit to our city and county. Everyone knows that Athens-Limestone County is hopping with growth, and the commitment to "grow well" by seeing to it that only quality buildings are built and projects completed runs deep with Mayor Ronnie, Erik, and the City Hall staff.
Erik is from the Shoals and went to Auburn. He loves Athens, and his enthusiasm for all the possibilities for our town is infectious. When you walk into his office, in front of the window is an easel holding all of the current building projects neatly written out with a code he developed while in the Army for quick reference as to their progress. He has never had to have so many pages on his flip chart! He gave me an idea of just how quickly we are growing by comparing the charting of requests for building permits. "Four years ago, we had about 2,000 permit applications. This year we had 3,735, almost twice as many," he said. He did mention that with the current interest rates, residential building had slowed to a rate that he describes as being "more manageable," but definitely still brisk. In 2022, there were 478 permits compared with 200 in 2018.
We talked about commercial projects that are either already in the works or are about to be. There are 58 active commercial projects in Athens-Limestone County. Behind Starbucks on Hwy 72 there will be a 101-room Home2 Suites by Hilton, and Waddell said, "This is will be the largest hotel in Athens, and we need it." He has looked at plans for a LaQuinta, and is excited about the Gateway Apartment complex being built behind IHOP on the north side of 72. Erik's smile is just as genuine when it comes to the development and preservation of the Courthouse square and old Athens. "There's lots of activity, and people are fixing, restoring, and using buildings that ten years ago I would have had to condemn." He thinks the chances are good that many of the lofts in that area will go residential, and that there will be townhouses built that fit in aesthetically. Erik is looking forward to seeing how the Athens 2040 plan turns out, as well as being a part of it. Thank you, Captain Waddell for looking out for us, both here and in the Great Sandbox!
By: Ali Elizabeth Turner