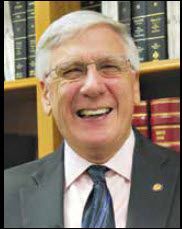 By: Ali Elizabeth Turner
Eighty-four year-old Methodist minister John Ed Mathison of Montgomery, Alabama, has written a small book that is simply titled Life Lessons Learned From Sports, and Mayor Ronnie brought in his autographed copy for me to peruse. Dr. Mathison was himself quite an accomplished athlete back in the day. He had a full basketball scholarship to college and also played tennis. He led devotions for numerous college teams, and served on the national board of the Fellowship of Christian Athletes. His years of athletic training are something he refers to much in his sermons, and on this particular Monday the selection was a chapter called "Awesome Attitude."
No sports-based leadership lesson would be complete without a reference to the legendary Yogi Berra, one of the most famous of all Yankees players. Yogi was famous for what have become known as "Yogi-isms," his unique use of the English language that is both endearing and profound. (If you have ever heard of "déjà vu all over again," that's an example of a Yogi-ism.) The mayor read to me, and the chapter was discussing the fact that Yogi seemed to shine the most in the last few innings of the game. Yogi was asked how he managed to do that and his reply was, "You give 100% in the first half of the game, and if that isn't enough, you give what's left." John Ed also added, "A bad day only lasts 24 hours." Switching momentarily from the sports analogies, he quoted fellow Alabamian Helen Keller who said, "The world is full of suffering. It is also full of overcoming it." Those are good things to remember.
We talked about a conference the mayor is going to attend of leaders from Southeastern states. It is one of his favorites because the problems discussed are pertinent to the area, and the leadership lessons are always applicable to his job. "You learn from other states and what they are going through, and have the chance for them to learn from you." The Southern Municipalities Leadership Conference will be held this year in Hot Springs, Arkansas, and will have leaders from 14 states in attendance. The mayor also talked about the importance of relationships as it pertains to our city's future. He knows he won't be mayor forever, and said, "Whoever comes in here and follows and picks up the baton has to maintain relationships."
We celebrated the $500K grant award that had just been given to the city. Holly Hollman wrote the grant and worked with ADECA to secure it.  Governor Ivey presented the award at a ceremony in Montgomery attended by the mayor, and the outsized "check" is on display outside the City Hall boardroom. The grant will go toward improving the Vine Street area, which is prone to flood when rains are heavy.
The hour flew by, as it always does, and we both had to get going. So we prayed, and then it was time for Ronnie to roll.
By: Ali Elizabeth Turner