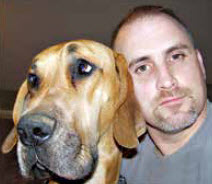 By: Joel Allen
Hello, folks! I cannot believe that January is gone already. Blink and we will be hearing Christmas music again and looking at 2024. But before then, I want to share with everyone what has been on my heart lately. I am about to hurt some feelings here when I say this, but it has to be addressed. It's all these owner turn-ins and I call it abandoning family (In my opinion it is when someone gets a dog and then just up and takes them to the shelter because life just got too hard for them. All right, SNOWFLAKE!). In some cases there are circumstances that cannot be avoided. But there are those among us that have made irresponsible decisions for selfish reasons and think dumping the dog is okay. I would hope and pray I am not related to them because I believe that how they treat their dog will be how they treat everyone else they claim to love. Now, if reading what I have said makes someone angry at me, then they should look at themselves and think, "Why am I angry? Did Joel just tell the truth and I can't take it? Am I wrong?" Yes, if someone is angry at me for telling this truth then they are wrong. "Be sure your sins will find you out," direct from the Bible, Numbers 32:23.
I want to share another writing that I have seen in a video on the internet. I hope everyone enjoys this.
And on the 9th day God looked down on his wide-eyed children and said, they need a companion.
So God made a Dog.
God said I need somebody to wake up and give kisses, pee on a tree, sleep all day, wake up again, give more kisses, then stay up until midnight, basking in the glow of the television.
So God made a Dog.
God said I need somebody willing to sit, then stay, then roll over, then with no ego or complaint, dress in hats they do not need and costumes they do not understand. I need somebody who can break wind without a first or second thought. Who can chase tails, sniff crotches, fetch sticks and lift spirits with a lick. Somebody who, no matter what you didn't do or couldn't take or didn't win or couldn't make, will love you without judgment just the same.
So God made a Dog.
God said I need somebody strong enough to pull sleds and find bombs and yet gentle enough to love babies and lead the blind. Somebody that will spend all day on a couch with a resting head and supportive eyes for the broken heart.
So God made a Dog.  
It had to be somebody who would remain patient and loyal even through loneliness, somebody to care, cuddle, snuggle, and nuzzle and cheer and charm and snore and slobber and eat the trash and chase the squirrels. Somebody who would bring the family together with an open heart. Somebody to bark, and then pant and then reply with the rapid wag of a tail, when their best friend says, "Let's go for a ride in the car."
So God made a Dog.
God said I need somebody who would stand at your side when the world around you collapses. Somebody to lie next to you during the long nights of pain and sorrow when it hurts to move, to talk, or think, or be. Somebody to stand guard, play games, snore for hours and repeat as needed. Somebody to give you strength when you have none of your own. Somebody to fight when you have no fight left, to hold onto your soul as if it were their favorite toy, playing tug of war to keep you in this world. Somebody to be your companion and guide in this world and the next. Somebody to wait for you on the other side or stand guard in your absence until they can join you for eternity.
So God made a Dog
-Paul Owens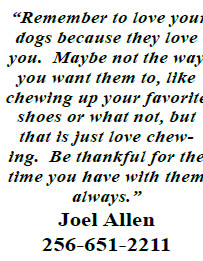 It says Paul Owens at the end but I got this off of Victoria Thatcher's website so I am giving credit where it is due. I hope this poem touches everyone's heart. It is also my hope that instead of giving up and taking their canine family member to the shelter, that every family tries to find a way to keep their loved ones. Again, I realize that circumstances do lead us to make decisions we all think we could or would never do. I always pray about things like this because I have found that God always provides us a way through our most difficult times.
Tonight as I write this, I am dog sitting Houston's nephew Baldr (and his name is spelled that way). He had a hormonal episode and lashed out at his family because his sister from the same litter is also at the same home and went into heat. If anyone knows dogs, their instincts take over and they lose their minds when the male senses a female in heat. So, for the sake of my family, dog, and human, I took Baldr in to stay with me this week. We did not just give up on Baldr and send him away permanently because life got a little difficult. We all thought this thing through and took steps to help him through this hard time. I used to believe in neuter and spaying but there have been two times in this area where veterinarians have conducted this procedure, and I lost my Frank and my sister lost her Smokey. So, now I find other ways to keep mine from breeding but Baldr's sister will be spayed soon and her stomach tacked because she is a Great Dane, and I will worry until she is in the clear. To those of you who think that I am being unreasonable about my choosing not to neuter and spay, you are welcome to your opinion. And if I get a dog who is already neutered or spayed, I am good with that. Other than that, my decision is nonnegotiable.
So, folks, if there is someone out there facing giving up their dog, I hope and pray they have exhausted all resources to not give up their canine family member. But, if circumstances dictate they have to rehome their dog or send it to the shelter, I can attest that the Athens-Limestone Shelter and the rescues do everything they can to find your pup another home, a "furever" home that is. I must say though, they are overwhelmed and are out of room. The OTIs have increased so much. It is not just here in Alabama either. Sadly, people give up too easily and make me think we don't deserve dogs, not the way we treat them. Until next month, folks. Be safe and give your dog lots of "lubbins" (loves and rubbings).
P.S.  If you find that you want to argue with my article, perhaps you're feeling guilty or trying to justify a decision you are making or made. Think about this. That is why I wrote this to make you all think.
By: Joel Allen