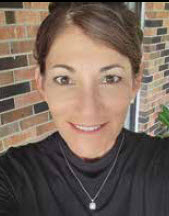 By: Tina Morrison
Athens-Limestone Tourism Association is incorporating history into a fun scavenger hunt in Athens Big Spring Memorial Park. In conjunction with their Shine a Light on Big Spring Park campaign, the Athens-Limestone Tourism Association has commissioned Melly Luna Designs to create a new scavenger hunt to help you navigate through this Athens City park.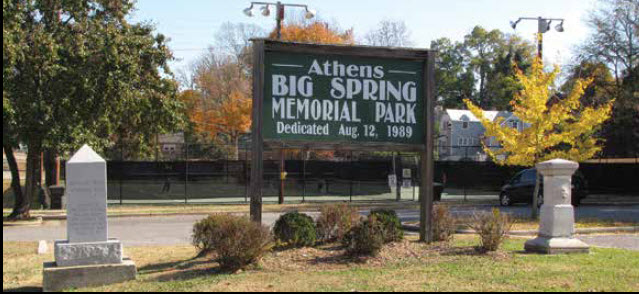 Kids and adults alike love a scavenger hunt, and this bright, colorful design will also incorporate learning Athens history while having fun. Highlights of the map include the Athens-Limestone Visitors Center, which operates from the historic 1906 original home of Athens Utilities. The iconic light bulb sculpture by Drop Metal artist Micah Gregg commemorating Athens' first street lights in 1908 is also featured. Folks are encouraged to take time to read the historical marker which reminds us that Athens was a city before Alabama became a state.
The Isom-White pavilion, named for the Isom and White families, who were instrumental in the development of the park, is also on the list of clues. The monuments that were set in place in 1989 when Big Spring Memorial Park was established read: "Dedicated to the early settlers, men and women who served in the armed forces and kept our country free."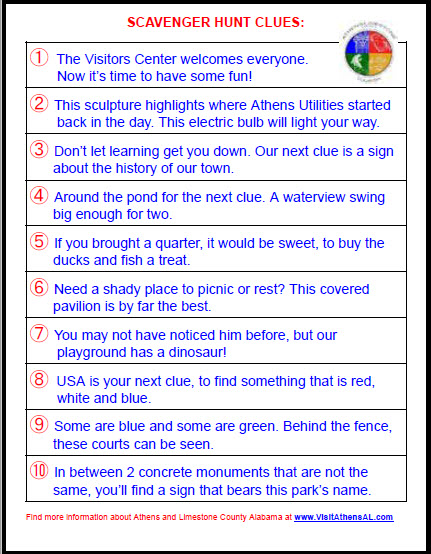 Of course, a day in this park would not be complete without the ducks in the duck pond. To the south of the duck pond, under the tree, you will see where the Golden Pinwheel Garden is set up each September and the monument to honor and remember the 2000 children whose lives are lost each year to childhood cancer. There's a nod to pickleball, the fastest-growing sport in the USA, and in the spillway, a nod to the annual Wacky Quacky Rubber Ducky Derby.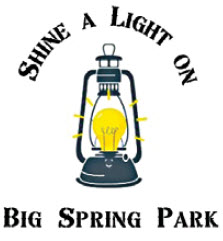 As you work your way through the clues, remember to take pictures to commemorate the fun. Tag them with #visitathensal on social media and we will share them with our readers. Stop by the Athens-Limestone Visitors Center anytime Monday through Friday 8 a.m. – 4:30 p.m. and pick up your copy of the Big Spring Memorial Park Scavenger Hunt, or download a digital copy from our website www.VisitAthensAL.com. Athens-Limestone Visitors Center is located in Athens Big Spring Memorial Park 100 N. Beaty St., Athens, Alabama, 35611. For more information, call (256) 232-5411 or go to www.VisitAthensAL.com
By: Tina Morrison
Tourism Athens