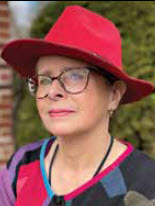 By: Ali Elizabeth Turner
A few days ago, I turned 70. I had a splendid day, not because there were fireworks over Athens High School Stadium to commemorate what King David called "threescore and ten," however. I must say there were loving greetings flowing my way all day long, an original song as well as a movie produced just for the occasion. It was a grand context in which to do what I was born to do, and that is serve Athens, Alabama, by cranking out Athens Now two times a month. And, I will let you in on a little secret: in some ways I am STILL trying to figure out who I am going to be when I grow up! And that, dear readers, leads me to the point of the Point.
There is a way in which a beautiful more-than-birthday gift was given to me on October 27 while at a Juice Plus conference that was held in Charlotte. The conference was mind-bogglingly marvelous, and I am still processing all the info and much needed hugs that came my way in my ongoing pursuit of personal growth. The "gift" came in the form of some stolen moments on Friday and Saturday with a remarkable Olympic athlete by the name of Winter Vinecki.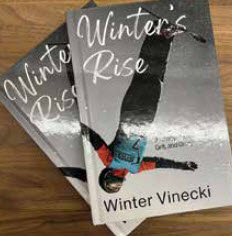 I first heard Winter speak from the main stage to several thousand people when she was the ripe old age of 12, and it was also at a Juice Plus conference. I looked in awe at my sponsor, Carrie Radnov after Winter finished her presentation and said to Carrie, "Now THAT was worth the price of admission all by itself." Carrie wholeheartedly agreed. Winter had lost her father two years earlier to prostate cancer, and she and her mother were underscoring the need for excellent nutrition and self-care by raising funds and awareness to fight the damnable disease that robbed them of the most important man in their lives. Winter also has three brothers who have been her biggest supporters as she and her mother proceeded to run a marathon on all seven continents, (including Antarctica) beginning when she was 14. Did I say I want to be like Winter when I grow up?
I had followed her Olympic ski career and watched her compete in Beijing. She has had her fair share of obstacles, including a serious ALC injury and getting COVID in China in the middle of the competition. She did not place, and for the life of me I don't know why. To me, her aerial stunts were stunning. I am pleased to announce that she is going to compete again in the next Olympic Games, and, did I happen to mention that she is also in law school?
So, here is what happened. I was zipping down the convention center concourse to go look at the Tower Gardens that were on display. I came skidding to a stop when I saw Winter, because I did not know she was going to be at the conference. I silently mouthed the word, "Winter." She looked at me, providentially right when I looked at her, and she motioned me over. I told her the story I just described above, and her genuine affection toward me was undoing. The next day I went back and purchased her book, which she autographed. It is called, Winter's Rise: An Olympian's Journey of Love, Loss, Grit and Glory. In it, she said, "To Ali – Dream big, and never give in. Winter." I don't care if you have never been on a pair of skis or that you hate snow, you need to read this book. And, I want to add, America is safe in the hands of young people like Winter Vinecki. Miss Winter, thank you for kicking off a most memorable birthday, and we will cheer you on in all your adventures that are ahead.