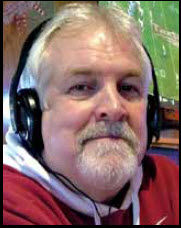 By: Tim Lambert
The school year has started and local athletes are chomping at the bit to get their fall seasons underway. Football began with some jamboree and intersquad games last week, but it kicks off this weekend full force. Volleyball saw its season get started back on Thursday. We'll catch you up on results next month. This time around we clean up some of the news from a relatively slow-paced July.
Former Athens High pitcher Jacob McNairy was selected by the Seattle Mariners in the Major League Baseball draft last month.
During All-Star Sports Week in Montgomery, East Limestone's Lily Hosmer had two goals as the North Girls' All-Star soccer team defeated the South 5-0. Athens Bible School's Cana Vining and Ardmore's Ella Singletary also pitched solid relief innings as the North softball team swept the South 6-3 and 10-5. North All-Star golf teams swept the South  — Athens' Nolen Wolfe and Haleyville's Brant White defeated Citronelle's Gunner Newborn and Theodore's Cameron Williams 15-3; James Clemens' Gracee Prince and Huntsville's Ava Schwartz tied Pike Road's Yvette Gorden and Daphne's Eza Velasquez at nine apiece. James Clemens' Punarvi Mandadapu won number 6 singles for the North All-Star girls' tennis team.
James Clemens senior Evan Lott was the District 8 AHSADCA Coaches' Children Scholarship recipient as the AHSAA wrapped up its 100th year with its Summer Conference. Evan previously signed with the University of Alabama's Wheelchair basketball team.  Athens High athletic director Linda Moore was presented with the Class 6A Making a Difference Award. Athens Bible School was also one of 65 schools that were ejection- and fine-free for the 2021-22 school year.
The Cottontown United 03-06 boys' soccer team came in third at the State Games of America, playing up in the U19 division.
The Athens Gators swim team completed an undefeated regular season, beating Florence with a combined score of 615-490 at the District 1 championship. The women and men also won as individual teams. The Gators also claimed the Race League West Championship with a combined score of 1827.5 over second place Fayetteville. The Athens men came in first as a team while the Athens women were second to Fayetteville.

James Clemens' Jack Mitchell jumped nine spots to the number two position in the Alabama Boys' State Junior golf rankings. Lindsay Lane's Chloe Ruble is up three to the number eight spot on the girls' side. Mitchell won the Alabama Boys' State Junior Championship in July while Ruble was eighth at the Alabama Women's State Amateur tournament.
At the Brothers for Life 5K in Decatur, Hayden Luyk of Athens finished first in men 30-34 and 18th overall. Christel Kennedy of Athens was first in women 35-39.
Congratulations to James Clemens' Alina Otero for her softball scholarship with Calhoun and to Elkmont's Mykell Murrah and Athens High's Logan Mooney for baseball commitments to Wallace State and UAH.
Clements hired a couple of new coaches: Jessica Wallace transferred from East Limestone to be the new head softball and cross country coach, while Kyle Owens was tapped to be the Colts' varsity basketball coach.
James Clemens starts out the football season ranked number 6 in the Class 7A preseason poll. The Jets are also in a tie for ninth place in the Power 25 rankings. Preseason volleyball polls had Lindsay Lane ranked eighth in their new 2A classification. Athens Bible School was fifth in Class 1A.
Odds and ends
ABS will have their Meet the Trojans all-sports pep rally at the school on September 23. Lindsay Lane will host their annual golf tournament on October 31 at Canebrake. Entry fee is $600 per foursome and $150 per player. For more information, go online to www.llcaboosterclub.com under the events tab.
The Jets All-In Campaign has been set up to help various athletic programs at James Clemens. For more information on donating, go online to www.jcathletics.net.
By: Tim Lambert
Tune in for the PlayAction Sports Update, three times each weekday on 1080 AM WKAC.
Visit us online at www.pasnetwork.net! email: playactionsports@hotmail.com