By: Ali Elizabeth Turner
Two weeks ago, on the 17th of February, I wrote a "Publisher's Point" on the revival that had broken out on the campus of Asbury University in Wilmore, KY. There had been a similar outpouring in 1970 that was part of what became the Jesus Revolution, and the Jesus Revolution swept me and thousands of kids into the Kingdom. When I wrote the Point, I had a definite desire to go to Asbury, but it didn't seem likely at all. And then, one of the "suddenlies" of God in which everything came together did just that, and 24 hours later, I was standing in the midst of thousands who were worshipping all over the Asbury campus and beyond. It was marvelous-bordering-on-undoing, and since I have been home, I am finding that tears and praying are continually close to spilling out and it's all I can talk about.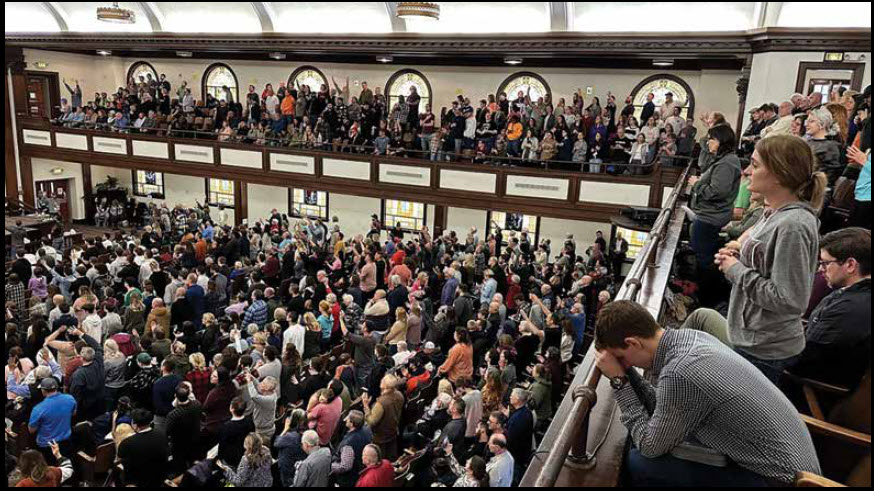 There are so many things that touched me and others from our area with whom I traveled or that I met there. There were people lined all the way up the stairs to Hughes Auditorium, from which the nearly around-the-clock live services flowed. The lines were four abreast, and wound down the hill and around the block for close to a half-mile. McKenna Chapel was full, Estes Chapel was full, the lawn was full, and the Baptist church next door was full.
The students were in charge of the continual worship service, with just a couple of exceptions when members of the college staff would gently and respectfully insert themselves. The honor, care, and protective posture they took with regard to the students and their stories is difficult to describe in its beauty. Difficult topics like addiction to porn were treated with deference, respect, and hope.
There was a prevailing humility that manifested outwardly and inwardly. While on the college lawn that first night, and worshipping with my friends, I saw people on my right as well as my left face down in the cold, wet grass weeping before the Lord in repentance and adoration.
There were intercessors at the altar throughout the services. You didn't have to wait for an altar call, you were welcome to go up at any time during the service, and I did that, twice. Both times I felt so cared for and discerned. It didn't matter whether it was a student team or a seasoned one that prayed for me, the result was that someone helped to shoulder some burdens that were just too heavy. We all have them.
I told my husband, Steve, that if I were only allowed to have one word to describe the revival, it would be "kindness." As solid as were the worship, preaching, and Scripture reading, and believe me they were, what "did it" was the combination of those elements and this kindness that was practically palpable. Never, and I do mean never, did I hear a complaint from anyone—not those waiting for hours in line, not the staff that helped with the logistics of everything, not from anyone, anywhere.
And the cherry on top was being up in the second floor of Hughes auditorium in the "press section" with a Minnesota man from India on my left, a Houston woman originally from Kenya on my right, and having the chance to pray for, with, and by total strangers, and to worship in one accord. It was a taste of heaven; indeed, it was the "real deal."
By: Ali Elizabeth Turner