By: Ali Elizabeth Turner
The Fiddlers Convention, like anything that is worthwhile, has gone through trials, tribulations, and for the 55th time is emerging triumphant! Rain couldn't roust it, a pandemic couldn't prevent it; it's back with more prize money than ever, and will be kicking off Festival Season in Athens-Limestone on October 6-8.
Besides all the authentic old-timey music, singing, dancing, food, arts, crafts, and new as well as renewed friendships, the purpose of the convention is to raise scholarship money for Athens State University students. People come from all over the country and sometimes other nations to attend, and there is even an Airstream Rally. "Airstreamers" who wish to come and stay for the festivities can get more information on the rally at athensairstreamrally@gmail.com, and each year, some convention attendees stay through for the Storytelling Festival. It is not at all unreasonable to plan on upwards of 12,000 people attending, and there is a reason that it is referred to as the "Granddaddy of Mid-South Fiddlers Conventions."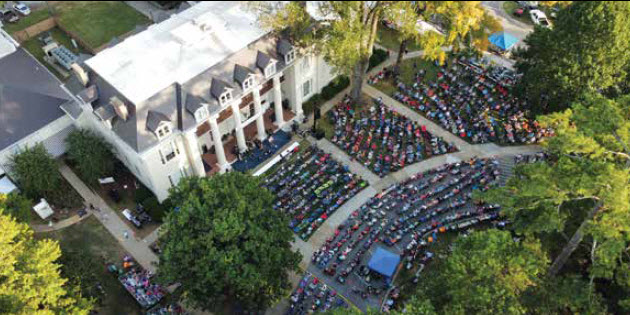 I spoke with Athens State's Director of Marketing Chris Latham, who along with a hardworking crew from Athens State University, several generous community businesses, individual donors, musicians, and more, has worked since last year to make the 55th convention better than ever. Chris told me that there has been a significant jump in prize money, and this year there will be a record total of $47,350 awarded. The presenting sponsor is Aetos Systems, and once again Bank Independent is making it possible for convention attendees to win $500 on Thursday night, $1,000, on Friday night, and $1,000 on Saturday night.
There have been a few changes, one being a slight ticket price increase. Tickets for Friday only are $20, the same for Saturday only, and the whole weekend is $25 for adults. Kids under 12 with a paid adult are free. The ticket is good for all convention entertainment, events, and activities, as well as the opportunity to enter one competitive category.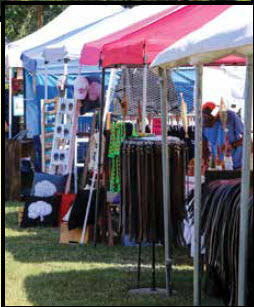 Starting Thursday night at 7:00, there will be the annual free concert, and no admission ticket is required. This year's performers are Darin & Brooke Aldridge. The featured performance for Friday at 5 p.m. is the group Balsam Range, and at 5 p.m. on Saturday it's Rhonda Vincent & The Rage.
There have been some changes this year in the categories of competitions. There will be 8 awards given in each category instead of 5, with a cash prize given for each. There are 20 categories of competition, which besides several fiddle and guitar categories, also include harmonica, mandolin, bluegrass banjo, Dobro, dulcimer, old-time singing, old-time banjo, and Appalachian buck dancing. A few categories have been discontinued, which are beginner musician, junior and intermediate fiddler, and fiddle-off. There have also been some additions, which are beginner banjo, mandolin, and guitar, along with the Tennessee Valley Fiddle Champion.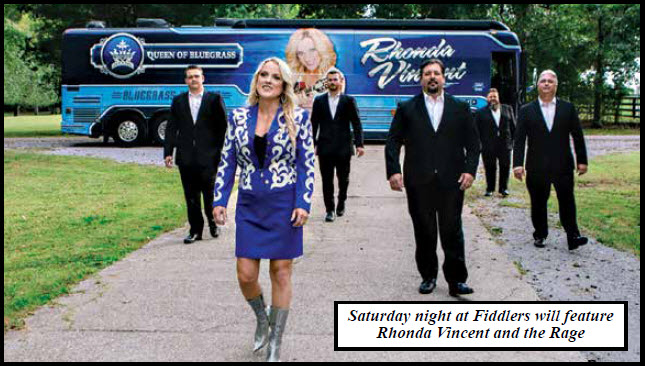 In 1967, the popularity of two local fiddling contests was so great that they merged and the Tennessee Valley Old Time Fiddlers Association (TVORFA) was formed, leading the way for years of entertaining competitions. As serious as the competition is, what makes this weekend so wonderfully different is the spontaneous formation of unofficial, impromptu groups who get together to jam. For years now, as I have walked through the ASU campus, I have listened to people say things like, "Next, we're doing 'Angel Band,'" and sure enough, they just move on into that classic song with more to follow. Another feature I have noticed over the years is how the older, more experienced musicians welcome and mentor the younger ones. People are free to walk up and join along by singing or playing, and sometimes stay for hours, or move around to other groups.
What else is there besides an opportunity to be immersed in a musical art form that is uniquely American for two days? Well, there are all kinds of handcrafted and artisan wares, jewelry, quilts, books, wooden toys, artwork, coal-fired iron work, and several handmade instruments. And then there is the food. Every type of food vendor and truck will be on board to feed the attendees.
Everyone needs to bring their own lawn chairs, rain gear, and umbrellas in case the weather is uncooperative and, hopefully, that won't be necessary.
This year, more than ever, you and your family need to plan on attending the 55th Annual Tennessee Valley Old Time Fiddlers Convention from October 6-8. Why? Because it will get you hummin' and strummin', and just feeling better all the way around. See you there soon!
Tickets can be purchased online at www.TVOTFC.org or www.eventbrite.com.
By: Ali Elizabeth Turner