By: Ali Elizabeth Turner
Twenty-three years ago, a community hero by the name of Jannifer Matthews along with her husband Gary started the MTM Unsung Heroes Scholarship Fund, and the purpose of this article is to let everyone know that this free supper and celebration is literally right around the corner. This Monday night, May 8, Friendship Church Lucas Ferry Campus is hosting the annual event beginning at 7 p.m. It is free, and open to the public.
MTM is Jan's umbrella non-profit (that is named for her kids) that serves our community in so many ways. But for the purposes of the Scholarship Banquet, there is a story that you need to know that just might inspire you to attend, celebrate, and if you feel to, donate. Long ago, Jan made a "horizontal and vertical promise" that she would get a good education, and she has. Part of that promise made was to also help and inspire her peers with whom she had gone to high school see the value of an education, even if they were now a little bit older. She is a proud graduate of East Limestone High School, and has two degrees from Calhoun Community College — one is in education and the other is in business administration. She went on to earn a bachelor's degree in management of technology from Athens State University, and then got her MBA in entrepreneurship from Nova Southeast University in Florida.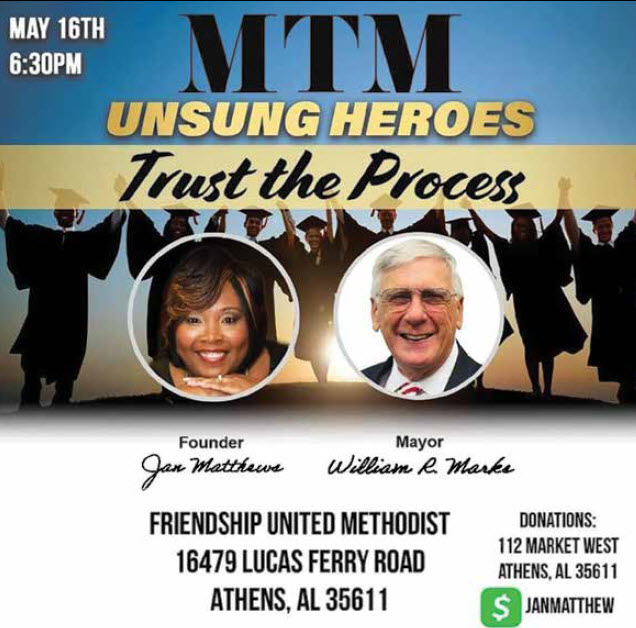 Jan has put all of that into her career, having worked for TVA and for the past 34 years, for NASA. She is more than generous with her time and her money, and inspires others to do so as well. Recently, she was named by the Chamber of Commerce as the Community Hero of the Year for 2023, and was completely and happily shocked by the news that she had won. I can think of no one more deserving, and congratulations for that honor!
Now, back to the banquet. When I asked Jan how much MTM had been able to contribute over the years to the education of children, she said, "More than $100K." Some scholarships have included a free ride to Freed-Hardeman, a private university in Tennessee, and most have been to Calhoun Community College. Some have been augmented by matching funds, and have spanned all manner of academic and technical disciplines.
The banquet is going to be a box dinner that has been created by a chef by the name of Kenny Turners, who is with the Escoffier School of Culinary Arts. Music is going to be provided by Megan Noel Humphrey. Kenny Anderson of 2nd Chance Radio in Huntsville will be the emcee for the evening. Speakers will be Labreesha Beatey of NASA, and professional counselor Marcy Watkins will give the "power talk." Marcy is well known in our area for her motivational addresses that specifically target mental wellness in the workplace.
Last but not least is Athens' very own mayor, Ronnie Marks, who has worked side-by-side with Jan for years at this event. You will want to make sure to come and enjoy the fruit of the labors of a hard-working team, hard-working students, and a city that is committed to being the very best it can be.
By: Ali Elizabeth Turner