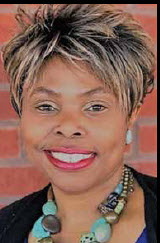 By: Jackie Warner
Mix new flowers in with your current home arrangements; change out your containers.
Bring your plants inside and place in kitchen and living areas.
Get those dishes out that you have been saving and use them.
Add lighter color accents to your home décor.
Move furniture around to change your look.
Get to the yard sales and update a little with something new added to your pieces.
Light candles in your spaces to change or enhance the vibe.
Cook more fresh veggies.
Cover your sofa pillows with new fabric pillow slips.
Ready for a new look — invest in fabric spray to give your furniture a makeover.
Make time and create a dedicated space for your daily meditation and stretching and take time to be alone with God and allow His grace to transform you so that you sparkle like the finest gem.
"Now the LORD is the Spirit, and where the Spirit of the LORD is, there is freedom."  (2 Corinthians 3:17) 
Until Next Time, Be Sincere, Kind and Intentional
Jackie Warner, Community Outreach Specialist
Email: thebridge.us@gmail.com
Check out upcoming events:  Website: http://thebridge-us.yolasite.com/