By: Ali Elizabeth Turner
A few months back I heard a moving interview on Right Side Radio about an organization called Sleep In Heavenly Peace. When I say moving, I mean that there were moments when no one in the studio could speak, and as a listener that day, I was having to swallow hard and blink fast in order to be a safe driver.
Sleep In Heavenly Peace, or SHP as it is often called, began in 2012 in Idaho as a "fluke" or at the very least, an attempt to teach some life lessons and gratitude to some siblings who were whining about what they "didn't get for Christmas." Luke Mickleson, a youth pastor, took his kids out into the garage and said, "Let's make something for someone else." So, they did, posted it on Facebook, and were blown away by the response. They did another project the following Christmas, and then the whole idea began to almost take on a life of its own. It was named "Sleep In Heavenly Peace" in connection with the Christmas carol, Silent Night, and then it grew to where beds were being built year around. The name stuck, the chapters grew to be nationwide, and SHP is hoping to partner with more people in North Alabama to either start a chapter, do a build, or both. At present in Alabama there are chapters in Gadsden, Muscle Shoals, Hartselle, Oneonta, and Huntsville, with two in Birmingham.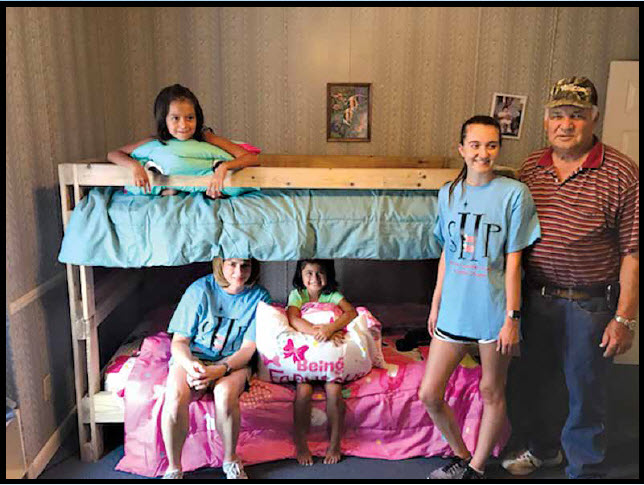 The bunk beds are sturdy, and are made of 2x4s, 2x6s, and 1x4s for the slats that hold the mattress. Each bed is "made from scratch," and they have the production process down to a science. When they sponsor a build, the public is invited, and you don't have to have ANY experience. SHP gets nearly as much joy empowering people to give back as they do, making sure their mission is accomplished.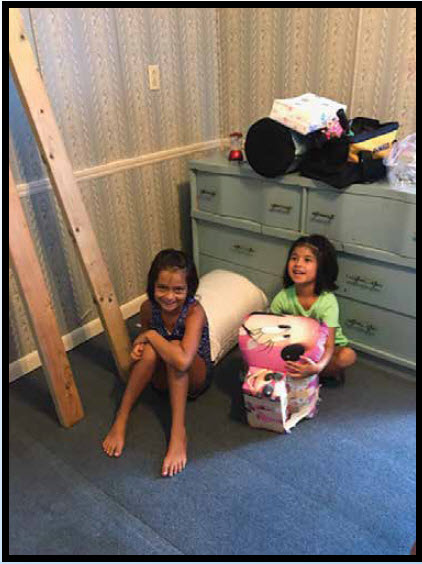 The "No Kid Sleeps On The Floor In Our Town" motto is the result of both research and experience as to how children are positively affected, and it is SHP's stated goal for every town, everywhere. "They sleep better, they are more secure, and have a sense of their own space and place," said John Jackson of the Hartselle SHP chapter. He added, "You spend your night on the floor because you want to, not because you have to." We met in Decatur for this interview, where he told me his own story of getting involved in SHP. "I was lying in bed in February of 2018, watching the Facebook video/program, Return The Favor, which was hosted by Mike Rowe, of Dirty Jobs fame," he said. Mike was showcasing SHP, and John was simply heart struck. He and his family got involved, and they decided to start the Hartselle chapter. John flew to Twin Falls that March to get trained on how to start and run a chapter, and the rest is history.
John built a core team, and their first build in June of 2018 was for five beds. That build was in the Jackson's front yard, and now they are such a well-oiled machine that they can produce 20 beds in 1.5 hours. They have an assembly line, and the SHP pros team up with the ones that have come to volunteer. They have storage units that have all the materials, the mattresses, and the bedding, and everything is brand new. SHP gets their requests from churches, DHR, ministries, CASA, school counselors, and occasionally from private citizens. Big-box building supply stores, bedding stores, and small businesses donate lumber and bedding, and donors range from private individuals to corporations. Many of the builds come out of small groups, life groups, or just friends getting together and wanting to give back because they know from experience that it is indeed better to give than to receive.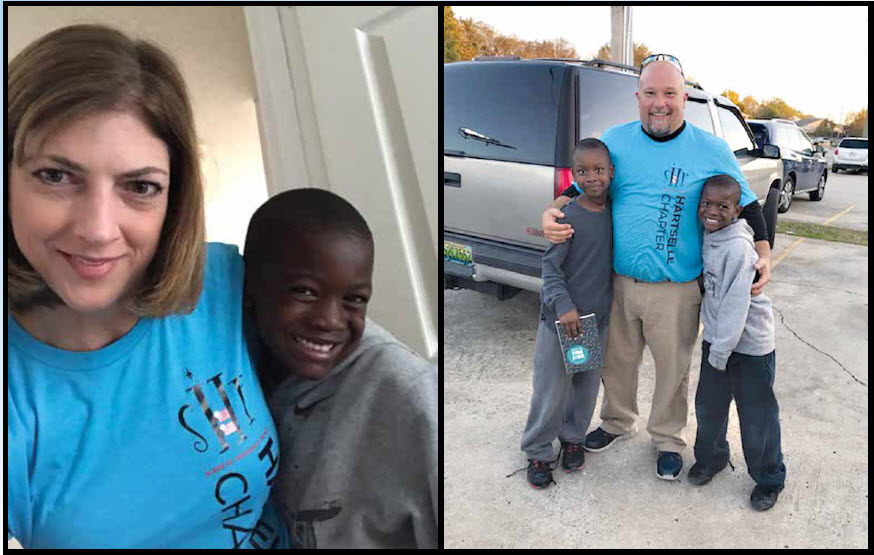 Here is what SHP has to say about their history, mission, the results, and the joy of a completed build:
Founded in Kimberly, Idaho, in 2012, Sleep In Heavenly Peace is the ONLY charity providing hand-made bunk beds to children who don't have beds of their own. Not only do we deliver these beds to kiddos in need, but we partner with organizations, churches, businesses and individuals like you to build them at events called Build Days.
With so many great charities providing clothing, meals and toys, little help goes to something as permanent as providing suitable beds and bedding. SHP is a group of volunteers dedicated to finding those young children living without the luxury of sleeping on a bed or even laying their heads on a pillow. Through the wonderful efforts of volunteers and generous donations, bunk beds are built, assembled and delivered to those children who are otherwise sleeping on couches, blankets or even floors. At SHP, we have a mission: NO KID SLEEPS ON THE FLOOR IN OUR TOWN!
John told me about a couple of memorable builds that had God's fingerprints all over them. Over in Muscle Shoals, John and his sister Amy Legg, who is a nurse, went to do the delivery and set up. The beds were for a four-year old girl and her brother who was 12. SHP always tries to have a woman present when they deliver and set up the beds. The little girl was wearing Minnie Mouse ears when they arrived, and they just "happened" to have brought a bed-in-a-bag that was Minnie Mouse themed. The boy was talking about having trouble with his handwriting, and Amy lovingly teased him and said, "Well, you could be a doctor, because lots of times they don't have very good handwriting." His reply? "I don't want to be a doctor, I want to be a paleontologist." The bedding that John had grabbed — Jurassic Park from start to finish! What are the odds? And, more importantly, who gets more blessed? John would say that he and his team are the greatest recipients of the blessings.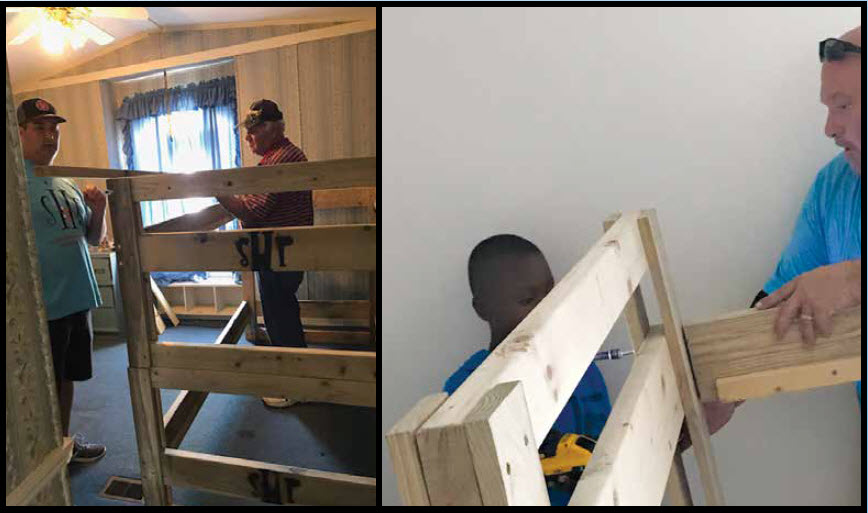 "Sometimes the kids just stay in their beds all day and play or read," John said. "They have something solid that is just theirs, and it changes their lives," he added. John, and just about every "tough guy" that is involved in SHP gets emotional when they talk about what they do, and they want to give you and/or your group the chance to get involved. You can be young, old, either gender, know something about building or know absolutely nothing at all. They will walk you through the entire process, and you will make friends and change lives. All that is necessary is a teachable spirit, a willing heart and mind, and a solid work ethic. If this sounds like you on any level, contact Sleep In Heavenly Peace today and make it true in your town that "No kid sleeps on the floor in our town!"
For more information, you can contact John Jackson at john.jackson@shpbeds.org, at 256-616-6784, on Facebook at @SHPHartselle, or online at SHPbeds.org
By: Ali Elizabeth Turner