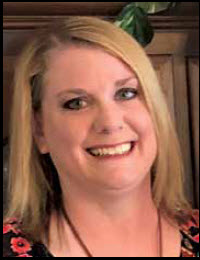 By: Leigh Patterson
The Better Business Bureau of North Alabama will be partnering with the Athens-Limestone Recycling Center, Athens Police Department, and America's Thrift Store to provide a shredding, drug takeback, electronics recycling, and used household item donation event on Saturday, October 16. The event will be held from 9 a.m. to noon at Athens State University. Please enter the Athens State University parking lot from Hobbs Street.
This event will offer both residents and small businesses an opportunity to protect personal information and the environment. There are no fees (*other than television recycling, which is $10 per television) for using the services offered. Simply stay in your car, as this is a noncontact event, and volunteers will assist you by removing your items and placing them where they will be properly taken care of.
The following services will be available:
Document Shredding – All residents and small businesses will have the opportunity to bring up to 5 boxes or bags of documents for onsite shredding by a commercial shredding company. All shredded paper will then be recycled.
Electronic Recycling – Residents may bring any type of electronic that has a cord or battery for recycling thanks to the Athens Limestone-Recycling Center. Items that can be recycled include desk top computers, laptops, tablets, gaming consoles, computer towers, cords, cell phones, TVs (*$10 fee per television, all other electronics recycled for free), and other household electronics.
Drug Takeback – Athens Police Department will collect over-the-counter and prescription pills, patches, controlled substances, and veterinary medications. No needles or liquid medication will be accepted at this event.
Donations of Used Household Items and Clothing – America's Thrift Store will be collecting these donations to benefit Make-A-Wish Alabama. There will be donation receipts available for tax purposes.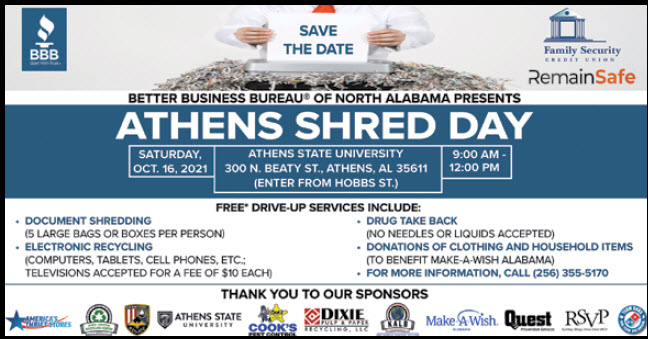 For more information, please call the Better Business Bureau at 256-355-5170.
Sponsors also include Family Security Credit Union and RemainSafe. BBB Shred Day partners include Cook's Pest Control, Quest Prevention Services, RSVP, Dixie Pulp and Paper Recycling, Athens Police Department, Athens-Limestone Recycling Center, Keep Athens-Limestone Beautiful, The News Courier, American's Thrift Store.
We hope that you will take advantage of this important service event, while protecting your identity and the environment!
Recycling Updates and Notes:
City Curbside Recycling will begin again on Monday, October 4! This is a service that the City of Athens Sanitation Department offers. If you would like more information or would like a blue curbside recycling cart, please call the City of Athens Streets and Sanitation Department at 256-233-8747.
The Athens-Limestone Recycling Center will be putting Community Collection Centers back in place beginning Friday, October 1! These recycling collection centers are for residential use and will be placed in the following locations:
East Limestone High School
Cedar Hill Elementary
West Limestone High School
Owens Elementary Property
Elkmont High School
Johnson Elementary
Clements High School
Ardmore High School
Piney Chapel
PLEASE NOTE:  The Athens-Limestone Recycling Center accepts electronics for recycling each Monday through Friday during regular business hours. The shred day event gives residents an opportunity to recycle these items that they may not have a chance to otherwise.  Please do not dump items at the recycling center when closed. This is considered illegal dumping.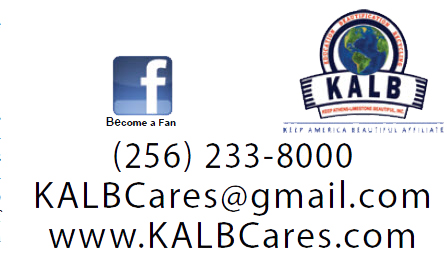 If you have questions regarding recycling at the Athens-Limestone Recycling Center or Collection Centers,  please call 256-233-8746.
By: Leigh Patterson
Executive Director – Keep Athens-Limestone Beautiful