By: Mae Lewis
In their "most remarkable women" series, mmlafleur.com named Rujeko Hockley "The Most Curious Woman in the World." Rujeko Hockley is the Assistant curator at the Whitney Museum in New York, and is "shaking up the art world."  Her career draws from her vast array of experiences, travels, and cultural heritage.  She has been called a visionary and has been hailed as one of "the brightest and most passionate curatorial voices of [her] generation." Recently, she co-curated a major ground-breaking exhibition at the Brooklyn Museum ("We Wanted a Revolution: Black Radical Women, 1965-85").  In an interview, she discussed how she feels about her role, and being called "one of the best and brightest."  Here is a take-away:
"An early piece of advice that's stuck with me came from… my boss at the Studio Museum…. She was talking about how curatorial is more public-facing, in some ways, than other departments in the museum—curators get their names on things, for example—and she said, "Don't ever think that, because your name is printed somewhere, that you or your job are more important than the person who built the wall where the art hangs, or the person who painted that wall, or the person who coordinated the loan for the show, or the person who created the education curriculum for students based on the show." Basically, the message was, "Take a seat. Don't get it twisted. Sometimes you will be validated and encouraged to feel important, but don't fall for it, because none of what you do is possible without others." And if anyone is the most important, it's the artist, always and forever. We work in service of the artists."
I was reminded of this last week, when I saw an interview with the actress Julie Andrews on the Tonight Show with Jimmy Fallon.  Julie Andrew's work as an artist is legendary: in music, art, writing, films, television, Broadway, animated films; everything she touches is gold.  Her interview with Jimmy Fallon was to commemorate the Life Achievement Award she had just received from the American Film Institute last month.
Fallon remarked (as have many others) that her acceptance speech was extraordinary:  "You didn't make it about you."
Her acceptance speech graciously and elegantly reminded everyone that she did not get there on her own. There are hundreds of people behind the scenes who never get recognized: scene painters, set designers, makeup artists and cameramen: all of the people behind the scenes, who work together in a collaborative effort to bring film to the screen.  "The vast number of people that you don't get to see…they are the unsung heroes of movie making."  She continued, "Without the contributions and the talent and dedication of all those good people, I very much doubt that I would be standing here tonight, and I very much mean that."
Even though she was the one being awarded, she sought first to recognize others, who might never have received recognition.  She also reminded everyone that film is an art form, and that those who worked alongside her were artists as much as she was.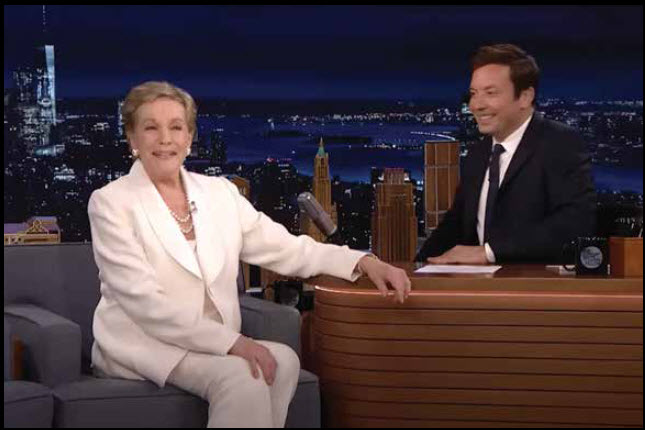 Julie Andrews understands that she is not more important than any other person who works alongside her.  Even though she is "the star," she knows that she only shines as brightly as the people around her.  I do not know Julie Andrew's faith, but I know she brought to life the verse Philippians 2:3, "Don't do anything from selfish ambition or from a cheap desire to boast, but be humble toward one another, always considering others better than yourselves." She certainly had every reason to boast, yet in her moment in the spotlight, she chose to shine the spotlight on others.
Hockley and Andrews instinctively understand that there is a light in everyone that needs to shine. The people who got you where you are –  they are the most important, and they deserve the credit alongside you.
As you go about your days, remember that everyone needs the opportunity to shine.    Recognize the hard work of others, and give them a moment to share their pride in their work.
You will be amazed at what happens when you do.
By: Mae Lewis