By: Ali Elizabeth Turner
Scott Morris, the owner of the new Scooter's Coffee drive-thru located next to Hobbs Jewelers on Hwy 72 in Athens, says with a chuckle that he has "been an entrepreneur since age two." He told me that he had been very successful working in the corporate world early in his career but quickly realized corporate life wasn't for him. He's been involved in numerous ventures since those early days, but Scooter's Coffee is by far the one he enjoys most. He loves world-class coffee, and like many folks, hates waiting forever in the car line to get his custom drink.
"When I first began researching the coffee business, I thought about just getting a double-wide, opening a drive-thru that would be called Scott's and getting people what they wanted quickly and with a smile. Then I found out I wasn't the only one who'd had this idea, so instead of a Scott's, we became a Scooter's," he told me. He added, with regard to the founders and the franchise, "I found what I was looking for as a customer, and there was no point in re-inventing the wheel."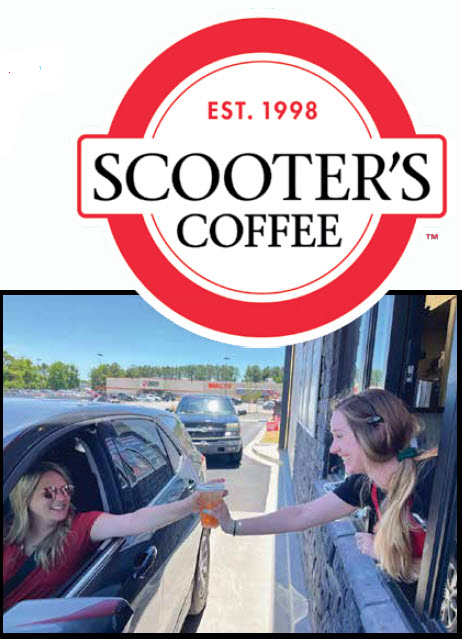 Here is a bit of history about the parent company, which is located in Nebraska. In the late '90s, Don and Linda Eckles were living in California, and coffee was the in thing. Of course, coffee houses had been around since forever, but the prevailing thought at the time was that you would go in, sit and sip, and stay for a while. The Eckles decided to open a shop in Bellevue, Nebraska, that would specialize in quality, quickness, and building strong communities through old-fashioned service where the customer is known and appreciated. "An idea whose time has come…again" has now resulted in more than 450 award-winning franchise outlets nationwide.
I had the privilege of attending the Chamber of Commerce grand opening/ribbon cutting on June 10, and it was hotter than the hinges of Hades outside. No matter, Scott and his crew were cheerful as they gave out samples and waited on the many customers who were taking advantage of the Opening Day-only-½-price sale. Later, when I got the chance to interview Scott inside the air-conditioned drive-thru, I was struck by the joy with which he described his crew and customers. "I love my crew and I love my customers," he said, and it is obvious that it's mutual. Here is something else you don't see very often on the side of a drive-thru, let alone talk about, and that are the values held by the corporation. At Scooters, when you pick up your order at the window, you are greeted by what is a good reminder for us all: Integrity, Love, Humility, and Courage.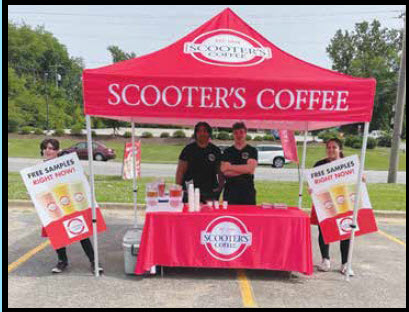 OK, so how's the food? Hands down, the iced Americano with coconut milk was the best I have ever had, and it wasn't just because I was thirsty. I added the turkey sausage burrito, and was in and out lickety-split. There is a tip box right under the window, and I was thanked for putting something in that they would all share later. Scooter's serves made-from-scratch pastries; smoothies; teas; breakfast burritos and sandwiches; cookies; oatmeal; hot coffee; cold coffee; lattes; specialty espresso items; their signature drink, the Caramelicious; and more.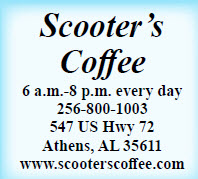 As far as community building, Scott told me that Scooter's is firmly committed to achieving its mission: "To make a positive impact on every life we touch." And it's clear, Scott has a deep sense of gratitude for first responders of all kinds — military, law enforcement, firefighters, medical personnel, and an often over-looked group, teachers. "We are all about the people that serve us," he told me. They will have days with discounts for each of these groups, and when anyone downloads and orders from the Scooter's app, they can qualify for free drinks.
When I asked Scott about the response Scooter's had received from the community, he said that people had thanked him for coming to Athens. He made a further statement to our community which is, "We're delighted to bring Scooter's Coffee to Athens. We did a soft opening several weeks ago and the people of Athens have received us with open arms and warm hearts. We couldn't be happier with our decision to locate here because for us, although coffee is our business, people are our passion — just like this great city!" Scott also told me that he looks forward to going to work every day, which is not something you hear often. I asked if they are hiring, and he said, "Right now we are full, but people are welcome to apply."
Nationally, Scooter's has been the recipient of awards from the coffee industry, the franchise industry, and has garnered local along with national media attention. Come any day between 6 a.m. and 8 p.m. and experience the original promise of the founders: "Amazing People, Amazing Drinks… Amazingly Fast!"® It's the cornerstone of our business, and the commitment we make to every customer, franchisee and employee of Scooter's Coffee."
By: Ali Elizabeth Turner