By: Ali Elizabeth Turner
On Friday, July 21, Frame Gallery of Athens is going to host another open house for a local artist; actually, this time it is a husband-and-wife team, Mike and Karrie Buday. The Budays moved here a year ago from Illinois, and continue to be amazed at the kindness of Athenians, as well the residents of Killen where they live. They are people of deep faith, and feel that this is "where they are supposed to be." It doesn't hurt that their dear friends, Jim and Jeanine Farej, experienced the same warm welcome when they moved from Illinois to be near family, and suggested the Budays consider Alabama for their retirement years.
Mike is a first-generation American, and his family is originally from Budapest, Hungary. His name actually means "man from Buda." His grandfather and his father came over in the early 20th century, and several years later the rest of the family was able to join them. Mike's mom came over from Ireland. The entire family was involved in art, from illustrating the cover of Esquire magazine to painting signs free hand. However, they all had to work, and so art was not a full-time vocation. Nonetheless, it was their chief love.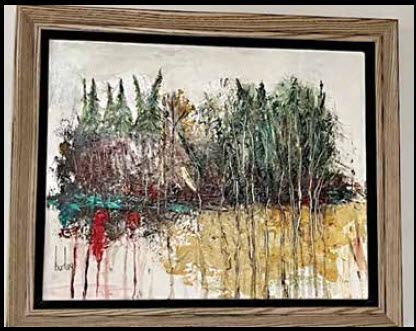 As for Mike, his intention was to be a full-time artist, and majored in art when he began college in 1966, but like his father and grandfather before him had to let art take second place. He was involved in the founding of a successful advertising firm by the name of Omni Marketing and Advertising. In his spare time, Mike began to study abstract expressionism, and, as he says, "found solace and freedom in art." In particular, he was influenced by the works of an artist by the name of Rothko, who was also a European immigrant who hailed from Latvia. Mike's early works draw inspiration from Rothko as well as Willem de Kooning, who came to the States from the Netherlands. Mike also loves to do watercolors.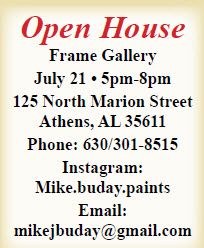 Now, lest you think that the type of art that is produced by Mr. Buday is the kind that inspires the common response of "my three-year-old grandson can do better than that," (or, by contrast, what Mike calls the "snooty response,") instead what he likes to do is hide shapes in his paintings and then let the observer discover what may be in there. Sometimes the images overlap, sometimes new objects are discovered, as was the case when he showed me a painting of his own that he loves and will never sell. Others had seen a wolf, a horse, birds, and even an airplane. I discovered another horse up in the right-hand corner, and it looked somewhat like the equine logo of Tri-star Film productions that runs into the center of the screen during the opening credits.
All of Mike's works are based in nature, whether they are watercolors or acrylic paintings, and he also uses what is known as the drip technique made famous by Jackson Pollock. This inspires the necessity of seeing things from a different perspective and to either be a touch more light-hearted or pensive in the process of experiencing the painting.
Karrie Buday loves to do collages, including ones that use layers of textiles and fabric to create what I call a "soft reality." Mike says that he does his best work when Karrie is around, and one of the first things that they did when they moved here was to build a good-sized studio — 26' by 14'. They had retired smack dab in the middle of COVID, and having the opportunity to be creative on a full-time basis during the pandemic served as a form of art therapy that was most helpful in getting through uncertain times.
Mike made a real point, when he and Karrie were on the Tennessee Valley Spotlight Radio Show recently of encouraging people to go on an artistic adventure. "Just get started," he said and added, "Go ahead and experiment. Have fun with it!"
For the open house that will be at Frame Gallery, both Mike's work as well as Karrie's will be for sale, and they will be the featured artists for the months of July and August. Karrie also makes greeting cards, and Mike is sure that she will sell out. More than 30 examples of Mike's work will be on display for the Frame Gallery, and Mike and Karrie's fond hope is that you will come on July 21 to observe and enjoy the work of creative people who have fallen in love with Alabama the Beautiful.
By: Ali Elizabeth Turner