Making a decision can come easily most of the time, but there are those decisions that will bog you down to the point that you feel like you are sinking in quicksand. The problem you are facing can seem so big, so messy, that it feels impossible to conquer. Where do you even start?
The book of Ezra finds the Lord's chosen people living in Babylon. Ezra leads them back to Jerusalem to rebuild the temple and their community. It is a hard, long journey and seemingly impossible task ahead of them, but with the Lord's help, he enables them to overcome opposition and accomplish his will. They are forced to face sins in their lives, and they take the courage to change. One of my favorite verses in the book of Ezra sums up their journey beautifully and provides hope and courage to everyone that is facing a hard decision. "Rise up; this matter is in your hands. We will support you, so take courage and do it." Ezra 10:4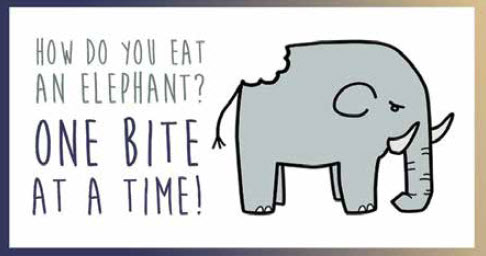 I think a famous shoe company may have taken inspiration for their famous slogan from this verse. The verse gives you such power! Just get up and do it! God is with you and will support you. Doesn't that make you want to get up and go? No matter how big the problem is that you are facing, you can do it. When I worked in the corporate world, my boss would often say, "How do you eat an elephant? One bite at a time." This verse at the end of the book of Ezra tells us that no matter what we are facing, we can do it with the Lord's help. He will provide the courage we need to conquer any fear. He will provide the help we need to make the tough decisions.
I encourage you to have courage and do it. With God on your side, you can accomplish everything you set your heart to do. What a wonderful assurance it is to know that no matter what comes your way, you will be able to face any and all problems with the courage of the Lord. This week's recipe is an exotic, super yummy, delicious dish. Where I live, there isn't anywhere to get Indian
food, so you have to be creative and make it at home. This delectable curry dish is healthy and a great introduction for your family to a new cuisine. I hope you love it as much as I do.
"The Lord is my shepherd; I shall not want. He makes me to lie down in green pastures; He leads me beside the still waters. He restores my soul; He leads me in the paths of righteousness for His name's sake. Yea, though I walk through the valley of the shadow of death, I will fear no evil; for you are with me; your rod and your staff, they comfort me. You prepare a table before me in the presence of my enemies; you anoint my head with oil; my cups runs over. Surely goodness and mercy shall follow me all the days of my life; and I will dwell in the house of the Lord forever." Psalm 23