By: Ali Elizabeth Turner
Nine years ago, Josh and Briana Walter started a multi-faceted restoration ministry called Recentered. Its subtext was the acronym HEAL, and the letters stand for Hope, Encouragement, Assistance, and Leadership. They worked in the realms of addiction, abuse, adoption, crisis pregnancy, human trafficking and recovery, homelessness, and illiteracy. They have been associated with the Rock Family Worship Center in Huntsville for over 20 years, and currently attend and minister at the RFWC Madison campus on Old Railroad Bed.
Josh and Briana met at UAH. Josh was studying electrical engineering, and Briana planned on becoming a pediatric psychiatrist. They married in 2004, attended Master's Commission, and started a family. Josh went on to get his master's degree in systems engineering, and Briana has been busy with their tribe and homeschooling. They have always had a heart for Athens, and for several years have sold coffee and baked goodies at the Athens Farmer's Market in the summertime. The "coffee arm" of the ministry is called Recentered Roasters, and their tag is "roasted with purpose."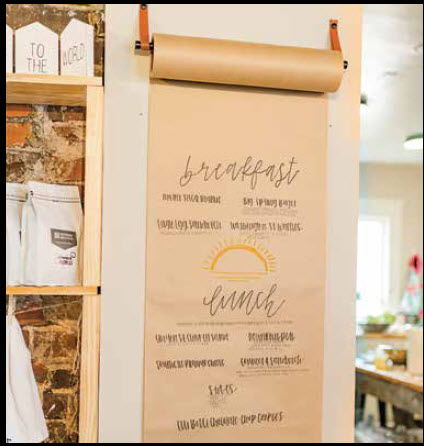 Josh also started a construction company by the name of Recentered Restoration, LLC, and their promissory statement is, "Restoring Homes, Restoring Lives." They had known for a long time that they wanted to open a restaurant, and in 2019 they purchased the old home at 102 N. Clinton Street. It is right next to Innovative Realty Solutions and across from ASU's Chasteen Center. Remodeling began, and in November of 2021, I had the great joy of attending the Chamber of Commerce ribbon-cutting ceremony. Revive Café was at last and officially open for business! Its tag is "Rise and Shine," and is based on Daniel 12:3, "And they that be wise shall shine as the brightness of the firmament; and they that turn many to righteousness as the stars for ever and ever."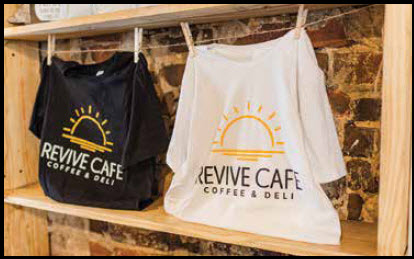 The café is open six days a week from 7 a.m. to 2 p.m., and is under the capable direction of Debbie Chambers, Briana's mom. I have given Debbie an affectionate nickname of Mama Revive, and it is clear she is walking both in her calling and her dream of running a restaurant. Her homemade bread has become legendary, and everything she has ever made for me has been just right.
It is clear that everyone involved has to have all of this as both a dream and a calling in order to put in the love, work, sweat, and time to make it all come and stay together. Briana's sister Marissa is the one who does the coffee roasting, and that takes place on the family farm in Elkmont. I have been to the farm which, no surprise, is called Recentered Farms, and it is a delightful place.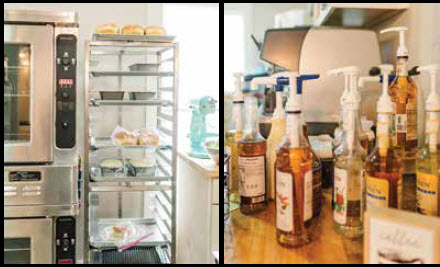 I think that the food at Revive Café is best described as "comfortable." Almost everything is homemade, and the choices are simple and yummy. For breakfast there are muffins, fancy waffles, and an egg and cheese croissant sandwich. Of course, there is every type of coffee drink from simple drip to frou-frou, and they all use the Recentered beans. For lunch, there is chicken salad (with or without grapes,) pimento cheese, deli sandwiches, and salads. Sides include cornbread salad, pasta salad, fruit salad, and green salad, and the dressings are delicious. There is a kids' menu, a solid selection of beverages, and Elli Belli's homemade chocolate chip cookies which sell out regularly. You can order ahead, take it to go, and the plan is to eventually hire a driver for delivery.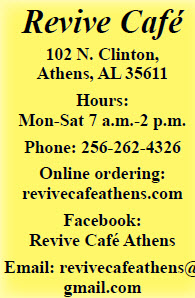 The vision for Revive Café has always been to be a gathering place, a safe one where people can really talk and build relationships and community. Recently, I took a teenager there for lunch on a Saturday close to closing time. She was struggling with a number of things, and providentially, we were the only ones in the whole place. The kindness with which she was treated in her moment of distress was truly touching, and the best part is that she went back the next day to thank them. She also is planning on making it her own "go to" place as often as she can.
One of my favorite phrases that is used to describe Recentered's raison d'être (reason for being) is "from crisis to calling to community." What that means is that the journey from hurting to healing doesn't stop with the elimination of danger or pain; it then becomes the goal to go on and productively walk in one's giftings and build the community around you. Recentered partners with the Huntsville Dream Center, and runs Merea House, a safe place for women and children, and your patronage of the café makes it possible for these ones to be restored.
I would joyfully adjure you to stop by and soak up the coffee, food, and kindness, and my prayer is that Athens will make Revive Café a place where everyone can "rise and shine."
By: Ali Elizabeth Turner