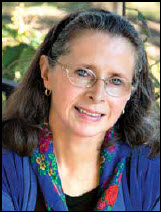 By: Ali ElizabethTurner
When we first moved here in August of 2000, a woman in the home fellowship we attended told me about a book that had just come out called Redeeming Love. It was written by Francine Rivers, and Dawn said firmly, "It's the best book I have ever read." I thought, "Okay, that was quite an endorsement, and I am going to check it out for myself. She was right. It is the best book on the effects of prostitution, child prostitution, and trafficking that I have ever read. And what was additionally interesting to me was that Mrs. Rivers based it on the book of Hosea. She sets the tale of a man being told by God to marry a prostitute (and then for both of them to deal with the fallout) in the setting of a gold rush town in California in 1849.
It grabs you from the start and holds you captive to the finish, and as someone that rarely reads a book more than once, this one is in my collection on my nightstand. Last year, I learned that a movie was going to be made from the book, and rarely have I felt more conflicted about a creative endeavor. The book-to-movie process usually ends up in ruining the book for those who saw the movie, and the movie for those who read the book. Not so in the case of the film Redeeming Love. It is, in my view, a masterpiece. Now, up front you need to know that it is rated PG-13 and it earns every bit of that rating. There were times I closed my eyes, and times when I felt like it came right up to the edge, and then backed away at precisely the perfect moment.
What makes it so good? First of all, it is not cheesy. If there were a description, I think it would be "grit in the grip of grace." It is not preachy, either, and yet the picture of God's love for Israel and His people in spite of their harlotry comes through loud and clear. Every character is perfectly cast, and just from the standpoint of cinematography, period accuracy, attention to detail, costumes, and book-to-movie conversion, it is stunning. The whole time I thought, "That looks like California, but how in the world could they afford to film there?" Turns out they filmed it in South Africa, and did a bang-up job of it, too.
The other thing that was special to me was the use of Lauren Daigle's tender, redemptive ballad, entitled "Rescue." I can think of no other contemporary Christian song that could more perfectly illustrate God's fierce, relentless, and undeterred pursuit of us, even at our worst.
But what finished me off (after several sniffs and silent sobs) was the fact that the movie has associated with it a foundation to rescue and restore trafficked women. Here is what Francine Rivers has to say about the Redeeming Love Sanctuary Foundation:
Our mission is to aid in preventing sex trafficking and abuse by funding survivor support services, education, and recovery programs in the United States and abroad. We just started up a few months ago and thankfully were able to give four grants out before the end of 2021 — all four to organizations on the front lines fighting sex trafficking and working directly with survivors. We hope to give out many more grants in the years ahead. www.redeeminglovesanctuary.org.
Read the book, see the movie as soon as you can, and I am looking forward to hearing what happens to you as a result.