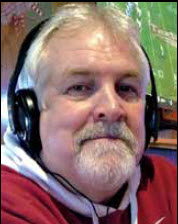 By: Tim Lambert
Baseball scholarship signees include Athens High's Cooper Cochran (UT-Martin), Tucker Stockman (Southern Miss), Sam Sandy (Bevill State) and Braeden Harrison (Wallace State), and James Clemens's Noah Berry (Samford). Athens's Anna Carder (Southern Illinois), Katie and Emily Simon, (Auburn Montgomery), and Brynn South (Motlow State) signed to play softball along with James Clemens's Dakota Daniel (Alabama A&M). Carter Pettey (Tennessee Southern) and Kylie Rinke (UAH) were golf and track and field signees respectively.
Results highlights
Football:
Ardmore turned back Mae Jemison (15-12) and West Limestone (7-3) before falling in playoff round one to Alexandria (52-6). Clements defeated Danville (28-16), Elkmont (47-22), and Hatton (54-30), but lost in playoff round one to Winfield 62-14. East Limestone had their season ended by Center Point 66-36 in the first round of the playoffs. James Clemens completed a 10-0 regular season, beating Sparkman (21-15) and Albertville (62-20), then was stopped in playoff round one by Oak Mountain (38-35). Tanner topped Waterloo (42-16) and got to round two of the playoffs, turning back Lamar County (35-27) and losing to Mars Hill (47-20).
Volleyball:
Athens Bible School defeated Whitesburg Christian, Falkville, and Red Bay; Addison ended their run in round two of the sub-regional tournament. Athens High made it to the state quarterfinals, posting wins over Buckhorn, Shades Valley, Fort Payne, and Homewood before elimination at the hands of St. Paul's. East Limestone had wins over Mae Jemison, Ardmore, St. Clair County, Madison Academy, Ramsay, Brewer, Sylacauga, and Providence Christian and stumbled in the state finals against Bayside Academy. Elkmont topped Clements, but Ohatchee ended their season in the sub-regional; Ardmore was also eliminated by Alexandria. James Clemens knocked off Austin and Bob Jones, but lost to Grissom in the super-regional. Lindsay Lane turned back Meek, Covenant Christian, and Sweet Water before their year was ended by Donoho in the state semifinals.
Cross country:
Elkmont's Alex Kuntz finished at the top spot in the St. Bernard Oktoberfest Invitational.
James Clemens's Luke Alverson came in third in the boys' gold division at the Jets' own Last Chance Twilight Meet Under the Lights. Kylie Gero won the girls' gold race. Jayden Walton and Matthew Holder finished first and second in the silver boys' division with Claire Colo posting a second place in girls' silver. In sectional cross-country meets, James Clemens's boys' and girls' teams both came in second in Class 7A–Luke Alverson and Kylie Gero were each third place individual finishers. The Athens High girls and boys finished third and fourth in 6A. Lindsay Lane, ABS, and Tanner were third, fourth, and fifth in 1A-2A — the Trojans' Jack Bradford posted a first place. West Limestone's girls were fifth in 4A while the Wildcats came in seventh. Ardmore's boys were third in 5A, led by Carter Richardson's third place; the Lady Tigers' Addison Tiemann also finished third. Elkmont's Alex Kuntz's first place led the Red Devils to second place in 3A; the Clements boys came in fifth with the Lady Colts at fourth. At the state meet, the James Clemens boys and girls both finished fourth in Class 7A, Ardmore's boys were fourth in 5A with Addison Tiemann coming in fourth as an individual for the Lady Tigers. Elkmont's Alex Kuntz placed fourth individually in 3A boys.
Basketball:
ABS VB 70, Whitesburg Christian 59
Ardmore VG 54, Oakwood Academy 21
Clements VB 68, Lindsay Lane 62
Clements VG 42, Lindsay Lane 32
Clements VB 54, Whitesburg Christian 48
Clements VG 48, Whitesburg Christian 19
Clements VB 69, East Limestone 65
East Limestone VG 40, Clements 36
East Limestone VB 75, Elkmont 59
East Limestone VG 58, Elkmont 46
Elkmont VG 56, Pennington 40
Elkmont VB 57, Rogers 44
Elkmont VB 43, Wilson 41
Elkmont VG 66, Wilson 61 (OT)
James Clemens VB 63, Mae Jemison 52
James Clemens VG 65, Mae Jemison 44
James Clemens VB 63, Athens 60
James Clemens VG 48, Athens 47
Lindsay Lane VG 57, Section 46
Tanner VG 63, Decatur 51
West Limestone VG 73, Decatur Heritage 69
Bowling:
East Limestone defeated Randolph, Westminster. James Clemens swept Columbia.
By: Tim Lambert
Tune in for the PlayAction Sports Update, three times each weekday on 1080 AM WKAC. Visit us online at www.pasnetwork.net! email: playactionsports@hotmail.com