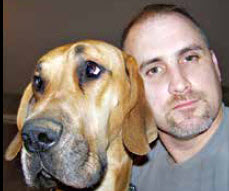 By: Joel Allen
Hello, folks! A very interesting thing happened to me on the night of April 22. Houston and I had been out visiting some friends, and we returned home close to midnight. It was light before we left, so I did not think to turn on the porch lights. I pulled into my driveway and it was dark. Houston and I got out and he was doing his usual "gotta-pee-on-everything-Daddy-because-I-know-something-else-has -marked-over-my-area" running around. As we both approached the front porch, we were met with a growl and a puppy bark letting us know we were not to approach. I called out to the unknown puppy and said, "This is my house and you are not going to tell me I can't go in!" I still eased up on the porch where I was being growled at thinking how ironic it was that another dog was telling me that I could not enter my own home. By the sound alone, the puppy was scared and I told Houston to stay back. His giant size was enough to upset anything, especially in the dark.
Well, I finally got the front door opened without the puppy getting more fearful and called Houston in. I turned on the porch light, and there huddled off to the side was a mostly white puppy with a big patch of light brown on its back. At first look, I would have guessed it to be three months old. It was obviously well cared for but had either been dumped or lost. At first, she was not letting me near her, which I respected. But when I brought her food and water, she melted and began whining as puppies do. She came to me, and when I saw she had no collar on her, I called my family and asked for someone to take her. I ended up making a midnight run to my sister's house. I wrapped the puppy in a blanket, and for the whole ride she rode in my lap and did not want to move.
At my sister's place, she took right up with the family immediately, and my nephews wanted to keep her. I told my sister to let them know that if they did not treat her right, I would come back and get her. I also informed them that if someone should claim the puppy, they might not be able to keep her. Well, I put a notice and her picture on the Nextdoor app. No one responded/claimed her. I even stated that if she belonged to whomever, they would have to prove it beyond a shadow of a doubt.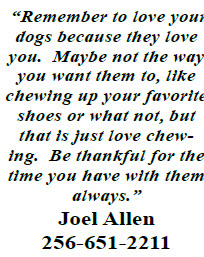 Now, I have to tell everyone, this puppy has wiggled her way into the hearts of that household she is in. She has taken a liking to all the kids and follows them everywhere. She has stolen my brother-in-law's hammer and loves on him. I think she is a smart one because she has played everyone's heart strings like a fiddle. I had planned on taking her to the shelter until this happened. I believe that's how God played a role in this. She certainly has some kind of protection about her because my place is not safe due to coyotes in my area, and she obviously had been on my porch for a while.
Anyways, I speculate that she was probably dumped, and if that is the case, I pray the Lord punishes the person who did this. To anyone who would abandon a puppy or animal, I hope they never get the chance to do that to another animal again. They lost out on a blessing and got a curse instead. God sees everything we do.
When something like this happens, we all have choices. We can take in the puppy/dog or try and ignore the problem. I cannot ignore this, and would hope others would not either. Let me leave everyone with a bit of advice should this happen to another puppy and they have the means to help. I would suggest calling your local animal shelter; the number to the Limestone Animal shelter is 256-771-7889. They will take the puppy and check it for a microchip to see if someone owns the puppy. In most cases, the puppy is cleaned up, examined, and placed in the care of the shelter until placed in foster care or adopted out.
Some people do not deserve a dog, and I pray that they don't have kids because in my opinion they would be a callous parent. In saying that, I hope everyone enjoys their month of May. Be safe and hug your dogs.
By: Joel Allen