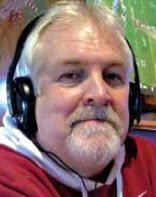 By: Tim Lambert
The Alabama High School Athletic Association is moving the state bowling tournament from Gadsden to Mobile beginning in 2024. The city had previously hosted the south regional tournament. This year's state tournament will be January 25-26. Congratulations to James Clemens' Mason Busch on his commitment to Snead State baseball. James Clemens' Nate Jennings and Athens' Jay'Shon Ridgle were named to North All-Star football team for their annual game against the South on December 15. The Jets' Jaylen Brown was also picked for the Alabama All-Star team that will take on Mississippi on December 16.
Highlights:
Football
Ardmore 41, Elkmont 14
Athens 55, Mae Jemison 35
Athens 34, Cullman 28
Clements 50, Colbert Heights 37
Clements 63, DAR 6
Clements 56, Marion County 21
Clements 47, Elkmont 12
Elkmont 24, Colbert Heights 19
James Clemens 14, Florence 7
James Clemens 31, Sparkman 30
Tanner 48, Sheffield 14
Tanner 21, Columbia 3
Tanner 20, Hatton 0
Tanner 64, Lexington 34
West Limestone 55, East Lawrence 8
West Limestone 20, East Limestone 7
West Limestone 27, Wilson 6
Volleyball
Ardmore's varsity team won the Limestone County tournament. West Limestone's JV and middle school teams came out on top in their divisions.
Other results–
Calhoun defeated Northeast Mississippi, Roane State, Enterprise State, Southern Union, Bevill State, Gadsden State, Coastal Alabama-North, Coastal Alabama-South, and Bishop State.
Athens Bible School posted wins against West Morgan, Valley Head, Woodville, and Haleyville.
Athens beat Columbia, Decatur Heritage, Decatur, James Clemens, Lindsay Lane, and West Limestone.
Clements topped Colbert Heights, Florence, East Limestone, Wilson, and Rogers.
East Limestone turned back Westminster, ABS, Tanner, West Limestone, and Columbia.
Elkmont knocked off East Lawrence and Ardmore.
James Clemens defeated Muscle Shoals, Austin, Mars Hill, Corner, Whitesburg Christian, Haleyville, Westminster, Madison Academy, and Baker.
Lindsay Lane stopped the Alabama School of Cybertech, Tanner, Whitesburg Christian, West Limestone, Elkmont, and Waterloo.
West Limestone notched victories over East Lawrence, Lindsay Lane, and Falkville.
Cross Country
At the Fairview Invitational, Athens Bible School's Kaylie Key won the girls' 1A-4A division. Elkmont's Andy Hinkle was second in the boys' small open division at the Southern Showcase in Huntsville, Athens High's Cayden Smith placed third in the boys' large open division. The James Clemens varsity boys' cross country team won their division at the Wingfoot Classic in Cartersville, GA. Ardmore's Addison Tiemann was first in the varsity girls' 5A-7A race at the Kudzu Hills Invitational while Athens Bible School's Kaylie Key came in third in 1A-2A. At the ABS Invitational, the Lady Trojans' Kaylie Key and Kylie Murrell won the small school girls' 5K and 3.2K races, Ethan Barnes was second in the boys' 3.2K; East Limestone's Noah Worker was first in the large school boys' 3.2K. Athens High's Catherine Johnstone won the 5A-7A varsity girls' race at the Dew It on the Trails; Athens Bible School's Kaylie Key finished second in the 1A-4A girls' division.
Announcements
Lindsay Lane will have their annual golf tournament on October 30. Entry fee is $600 per foursome or $150 per player. For more information, go to the LLCA Athletic Booster Club Facebook page.

Huntsville City FC will have a Thanksgiving Soccer Clinic led by head coach Jack Collison for kids ages 8-16 November 20-22 from 10 a.m. – noon at John Hunt Park in Huntsville. To register go online to jackcollisonsoccerschool.com.
By: Tim Lambert
Tune in for the PlayAction Sports Update, three times each weekday on 1080 AM WKAC.
Visit us online at www.pasnetwork.net! email: playactionsports@hotmail.com