By: Ali Elizabeth Turner
In 2020, Marine CW2 (Ret) Mike Reddick and his family moved here to continue a unique ministerial approach that they had found to be successful while living in Colorado. Mike honorably served our country for 20 years, in the telecommunications career field. He is a disabled veteran, and his passion is to help people not through entitlement but through the enlightenment that can only come from having a vibrant relationship with Jesus. If you let it, that vibrant relationship will turn victimization into victory every time. Also, if you have the right kind of support and accountability, it makes it much easier. The purpose of Outside the 4 Walls Mobile Ministries is to bridge the gap between where you are now and where you desire to be. They believe in partnering with anyone who wants to change their lives for the better to get them where they were meant to be.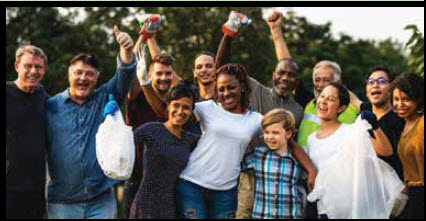 How do they do this? Largely, by being mobile because they will meet you where YOU are — physically, emotionally, and spiritually. Through spiritual and financial education, they can help you to take your next step to building a better future for yourself as well as your community, one step at a time.
I met Mike through a BNI colleague at a Chamber of Commerce event that showcased nonprofit agencies in our area. It was held at Athens State University, and from the get-go I was intrigued by their approach. In addition, one of the things that I immediately loved about these guys was their heart for people, especially for veterans. As many of you know, Alabama has one of the largest veteran populations in the U.S., and it is not at all uncommon for people who have honorably served our country to have a tough time after they leave the military. Outside the 4 Walls Mobile Ministries is there to serve those who serve, past or present, as well as others in the community.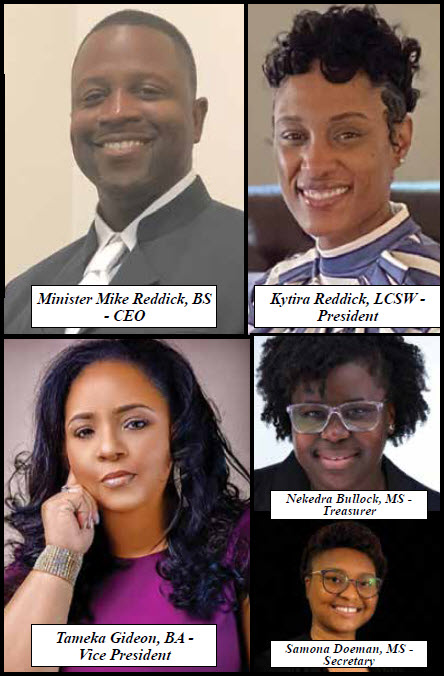 Mike started Outside the 4 Walls Mobile Ministry while still in Colorado, and at first it focused on men. At that time, it was mostly helping men become better, whether they were single, husbands, or fathers. He partnered with a fellow Marine by the name of Bruce, and they became like Jonathan and David. There were a lot of veterans in the Colorado congregation, and together they dealt with the struggles that can lead to homelessness, addictions, and the often-unmentioned poor financial choices that first shackle and then cause a daunting downward spiral. He is very passionate when he says, "We offer a hand up, NOT a hand out."
Then, there came a time when Mike had what he calls "an Abrahamic experience." In fact, some would say he was living the American Dream "a great job, a nice home, a church, and a part of a good ministry. "I had a son, a great wife, just an all around great life, and I had no desire to leave!" And then, he believes God basically said, 'Go to a place I will show you.'" They felt that they had some choices, Florida being among them; and then everything came together in a way that far transcended human endeavors, and they landed here in North Alabama.
Outside the 4 Walls Mobile Ministries does not just confine their outreach to veterans; they wish to help anyone.  Here is what they say about themselves:
"At the core of our existence, we are motivated by our passion and dedication to helping everyone who needs it when they need it. We hope to touch as many lives as we can, and empower families and individuals to lead better lives. From financial assistance to educational services, or even spiritual guidance, we are here for you. Whether you are in need of household necessities, rental-related matters, or spiritual guidance, our team is simply a call or email away."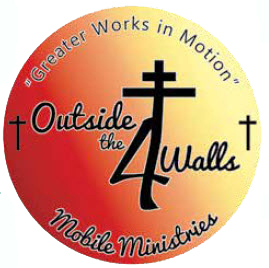 Mike told me that one of the things that holds people back and keeps them down is a lack of resources and transportation. And while they do not exist to just be peoples' personal Uber service, it is the education and mentorship that occurs while in the car, on the drive to or from, or even in the home that makes the difference. More importantly, it is the power of building healthy, accountability-based relationships that is so crucial in helping people get from the place where they are to becoming functioning, contributing members of society. Mike's wife's name is Kytira, and she is a licensed clinical social worker. "She understood my vision, and started preparing to submit the paperwork to become a 501(c)3 nonprofit, and although we hit a few snags in the process, we are now registered as a nonprofit organization," Mike told me.
Speaking of vision and dreams, what Mike is also looking for is an opportunity to build a literal community. He wants to find 10 acres or more of land where he can provide temporary housing for the unsheltered, and then help them build their lives so that they can both pay it forward as well as return to society.
If you are in need of help, or want to help others, please contact Outside the 4 Walls Mobile Ministries. They can be reached at 256-910-9176, or contact them at ot4w2016@gmail.com.
By: Ali Elizabeth Turner