By: Ali Elizabeth Turner
Since 2009, Old Mill Iron has been providing the people of North Alabama with expertly crafted ornamental iron work which can be seen all around the region. During the height of the disruption caused by COVID, they were the ones who provided the ornamental iron fencing that facilitated outdoor dining and pick-up on the north side of the Limestone County Courthouse in Athens.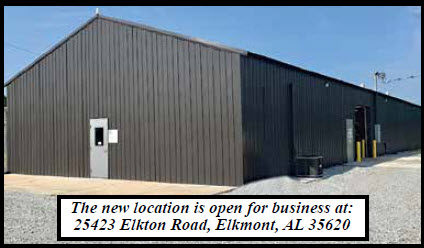 The history of Old Mill Iron dates back to the Golden Age of Industrialism in Huntsville, AL. Old Mill's owner and founder Glennis Whitmuss' grandparents were from rival mills, Lincoln and Dallas. "My grandparents and parents were 'mill kids,'" Glennis told me, and she grew up hearing fascinating stories about that bygone era. (Interestingly, Old Mill Iron started off years later in the old Lincoln Mill located on Meridian Ave in Huntsville, and currently Old Mill is involved in the restoration project of Lincoln Mill, where it all began.) The company then moved to Madison, and eventually they found themselves experiencing a turn of events and a level of devastating betrayal which nearly brought Old Mill Iron to their knees. Church family stepped up, people that no one knew were welders helped to finish projects, and Old Mill Iron was saved. Glennis and her husband Jeff built a fabrication center in the back of their property, and they have now outgrown it.

They wanted to find a new location in Limestone County, and Old Mill Iron is pleased to announce that they have moved to 25423 Elkton Road in Elkmont. The new headquarters are in the old feed store next to the BP station, in front of Donna's Barn, and Donna's Barn is being transformed into the headquarters of TN Valley Powder Coatings, Old Mill's powder coating service which they started in 2017. When I spoke with Glennis, she mentioned that they have had to streamline their operations because it is more challenging to get materials. They now have to fabricate everything, and prices have soared. "There are shortages that we cannot control," she said, and her sentiments echo those of many local business owners who can't turn their projects as quickly as they used to. That being said, Old Mill Iron is famous for their customer service and their friendly, knowledgeable sales staff. They also have remained busy throughout the pandemic. One of the things Glennis has been thankful for in all their adventures has been her husband and business partner, Jeff. Jeff is a seasoned fabricator and engineer, and Glennis's background is in business development. "We work well together, and have been blessed to build Old Mill Iron into what it is today," said Glennis.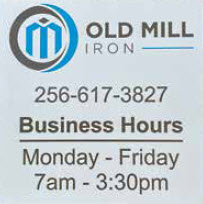 What is Old Mill Iron able to provide for you? — residential ornamental work, fencing and gates. They do handrails, stair rails, driveway gates, and gate repairs. They also do commercial structural steel and fabrication. TN Valley Powder Coatings can powder coat fencing, outdoor furniture, and some farm equipment parts. Old Mill Iron has CAD software, and they have in-house experts with decades of experience on staff. They are also factory representatives for Liftmaster, a gate operation system.
One of their biggest projects is the Mid-City Amphitheatre currently under construction in Huntsville. The Amphitheatre is going to be a venue for concerts, high school graduations, and more. It will hold 8,000 and is due to open in the spring of 2022.
Old Mill Iron is nationally certified as a woman-owned business through the Women's Business Enterprise National Council. In order to get this certification, there are several requirements, including being 51% woman-owned. They are also members of the Athens Home Builders' Association, support Limestone County Churches Involved (LCCI), and want to be even more involved in strengthening our community as they settle in to their new location.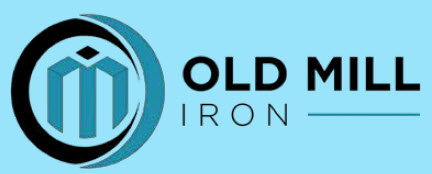 Old Mill Iron has demonstrated care for both their employees as well as their customers during COVID, and has emerged even stronger. The "growing pains" of the past year and a half have caused some long work weeks, and both Old Mill Iron and TN Valley Powder Coatings are hiring. When things are settled, they are planning on having a grand opening celebration, and the entire community will be invited. Until then, stop by for a no obligation inquiry, and let them "iron out" your project challenges. Remember, everything Old Mill Iron and TN Valley Powder Coatings make are quality products, and that's because they are quality people.
By: Ali Elizabeth Turner