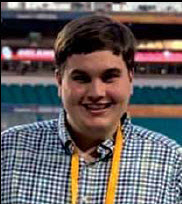 By: Blake Williams
Following an extensive search, the North Alabama Zoological Society (NALZS), a not-for-profit organization headquartered in Huntsville, Alabama, has identified expansive space on two separate properties to support a new zoological park in Limestone County.
According to NALZS research, the United States has not seen such an expansive nonprofit zoo or zoological park built from the ground up in roughly 45 years as the one NALZS is planning. NALZS is looking forward to creating a historic partnership with Lansing Companies, who is purchasing the 687-acre multi-use site on which the zoological park site will be built. This development is easily accessible to all communities across North Alabama from US-72, US-31, and exits from I-565 or I-65 at the Huntsville Browns Ferry exit.
Spanning 279 acres, the central portion of the park will be a traditional walking zoo located just north of Martin Line Road and adjacent to I-65 south of Tanner. In the park, there will be three Adventure Trek Areas representing national parks and preserves from North America, Asia, and Africa. Beyond observing wildlife, guests will be able to ride horses, zipline, and safari through these areas.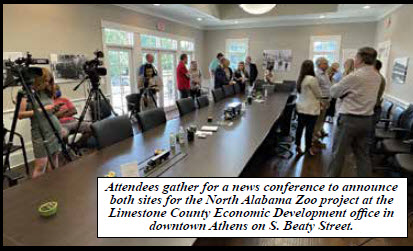 NALZS has also identified a second property north of the City of Madison along Limestone Creek and is working with private landowners to purchase the property. The 200-acre property is an extension of the zoo and will focus on sustainable farming research for humans and animals. Sustainable agriculture products from the site will be used to feed the animals and supply the restaurants at the zoo. NALZS will share more information about this property in the coming weeks.
"We have been working on the project for the last two years setting the groundwork for creating a much-wanted experience in our area," said NALZS Executive Director Ethan Woodruff. "Other regions and communities our size have them, now is the right time for North Alabama to get one."
The amount needed for NALZS to purchase both properties from Lansing is around $11 million. The Society is currently working with corporate and civic leaders to secure funding as well as seeking help from the community for the land purchase.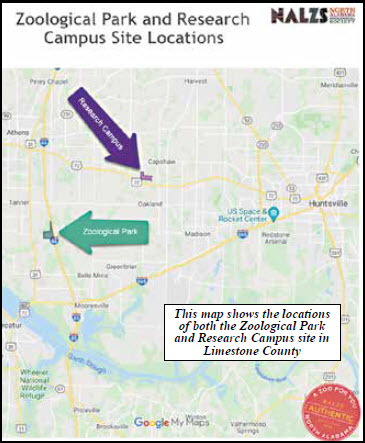 "As one of the largest land developers in the country, a project such as the North Alabama Zoological Park project will be such a blessing to the community and we expect it will bring substantial economic growth to the I-65 corridor that will be a catalyst for further highly beneficial projects in not only Huntsville, but also nearby Athens and Decatur," said Lansing Companies President and CEO Greg Lansing. "We are so grateful to Ethan
Woodruff and the entire NALZS team to be a part of this landmark project."
Extensive market research indicates a zoological park and aquarium would be successful in the greater Huntsville area. An economic impact report from the University of Alabama in Huntsville shows that once the park is built it is estimated to generate more than $100 million for the local economy with a quarter of a million visitors a year. The park will be built to Association of Zoos and Aquariums (AZA) standards with the goal to be AZA accredited within the first year of operation.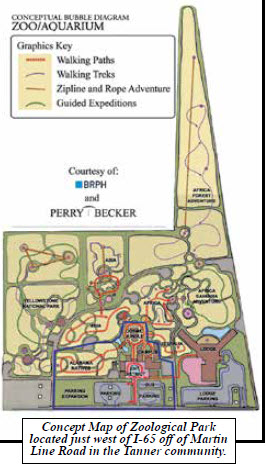 "Limestone County continues to be blessed by growth and the addition of this unique North Alabama Zoological Park, by the North Alabama Zoological Society, to our county is exciting," said Limestone County Commission Chairman Collin Daly. "We welcome the addition of this landmark project and look forward to being a part of its success for many years."
"We are delighted that the North Alabama Zoological Society has chosen Limestone County to call home for this one-of-a-kind project," said Limestone County Economic Development Association President and CEO Bethany Shockney. "This investment will be a very unique economic driver for tourism, and I certainly expect this to be a catalyst for other major complementary projects and activities to follow."
"This is exciting news for Limestone County, and Athens stands ready to assist with this opportunity for our area," Athens Mayor Ronnie Marks said after the news conference held at the Limestone County Economic Development office.
The community can support this endeavor by visiting the NALZS website and click 'LOOKING TO DONATE … CLICK HERE' at the top of the page or by emailing development@nalzs.org.
By: Blake Williams