By: Ali Elizabeth Turner
It's not every day that one hears a businessman say that meeting a realtor at an open house was a godsend, but Jim Farej of National Property Inspections says just that about Darla Bunker of Crye-Leike Realty. Mrs. Bunker told Jim about the Limestone Leaders chapter of BNI, he joined soon after, and all of us fellow members are grateful. Jim has been a wonderful addition to our organization. The "in-between story" of how Jim and his wife, Jeanine, got to North Alabama and how Jim became an owner in the 34- year old NPI franchise follows below.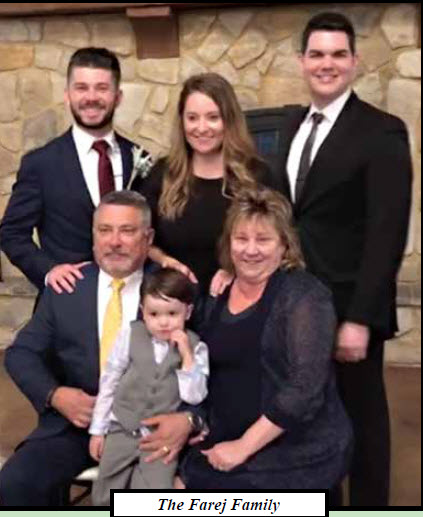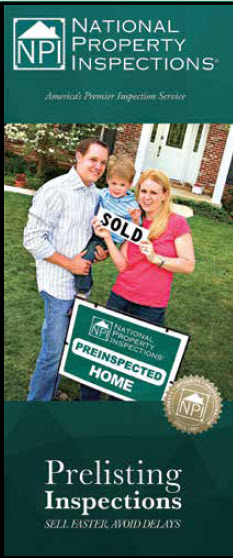 Jim and Jeanine are originally from Illinois, where they both worked for Walgreens in the Chicago area, as well as in New Jersey. Jim spent 25 years additionally working with his brothers in construction, and retired from Walgreens in 2019. They moved to North Alabama because they wanted to be nearer to their recently transplanted kids and be doting grandparents. Jim also knew that he was finished with big-box retail.  He wanted to do something that was construction related but not quite as intense as building. He had great respect for the fact that home inspection professionals were clearly dedicated to the homeowner, and they wanted to help protect that most important investment. Recently, Jim laughingly told our BNI group when he made a presentation about his NPI work: "Those guys (meaning the ones who came to inspect the recently completed construction projects) could be a real pain." And THEN he became one!
When the Farejs knew that they were going to be making a huge geographical move, they also knew it was time for a whole new career path. After researching several franchises, they chose National Property Inspections, and Jim was all set to take his training and get certified. He was in Omaha about to get both when COVID hit and disrupted the licensing and certification process. He finished his training in Ashville, and both Jim and Jeanine found themselves in a huge test of faith. Here they had uprooted and sold their home, but what was the pandemic going to mean with regard to all of their plans?
Well, while COVID certainly presented its challenges, the blessing contained in it was the opportunity to build business through building relationships, and NPI has proven over the last 34 years of outstanding customer service that it is made to last. He has also used this strange time to get extra training in radon detection, infrared imaging, inspecting manufactured homes, and pool inspections. Moving to the South gave him a chance to become familiar with things that differ greatly from building homes in the North. Up there, he was used to the cold and a different approach to ventilation, heating, and cooling. "Down here, it's tornadoes and storm shelters and snakes," he chuckled. "And," he added, "We NEVER had to deal with a water heater that was on the outside of the house."
I asked Jim why I should choose him specifically as an NPI franchise owner if I needed my home inspected before selling it, or if I had found a new home which I wanted to buy. Here's what he told me: "I am looking out for you. I want to protect your investment. I want to educate my clients, and make sure they have a full understanding of what they are buying. I am honest, and have your best interest as a top priority. I will give you the straight story. One other thing—if I don't know the answer or have a solution, I have resources that can get me the answers that you need."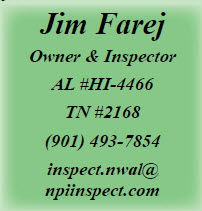 Jim is fully certified in inspecting commercial properties as well, and understands there is a lot at stake in a different way for people who need their commercial property to be the face and/or function of their business. For homeowners and business owners, having someone in their corner who will find what may have been previously undetected problems, and discuss the liabilities of ignoring them as well as look for solutions is invaluable. He can help them save thousands of dollars and untold sleepless nights. Jim also told me that he is available to do inspections for people who are not planning on moving but need to know what kind of shape their house is in and address problems before they become major. Jim is certified by ASHI and InterACHI, the two most prestigious inspection organizations, and most importantly, he has earned the trust of his clients. Call or go online today to get a quote, and breathe a sigh of relief that NPI and Jim Farej will truly look out for you.
By: Ali Elizabeth Turner