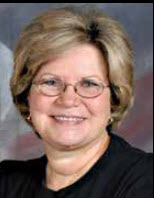 By: Yvonne Dempsey
As part of our museum's continuing efforts to preserve history and honor our veterans, much work is being done on our military archives of local veterans and veterans who are relatives of area residents. For several years, Sandra Thompson, museum director and veteran, wanted to have a database created to include as much information about each veteran as possible.
Dr. Katia Maxwell from Athens State University, in conjunction with the museum, developed an electronic database program for living and deceased veterans. Currently, this includes more than 5800 veterans and their military service records and is accessible on a computer in our museum library. The overall purpose of the database is to provide a window for current and future generations to recognize the sacrifices and accomplishments of these veterans.
The veteran's entry includes their picture, branch(es) of service, years served, locations stationed, medals, awards, special achievements, combat highlights, any information that the veteran or family member can give, and if the veteran is deceased, the place of burial. There is also a link on the deceased veteran's page to Find a Grave which takes the user virtually to the exact cemetery or graveyard. Grave location, pictures of the grave, other info, and GPS coordinates are usually found there.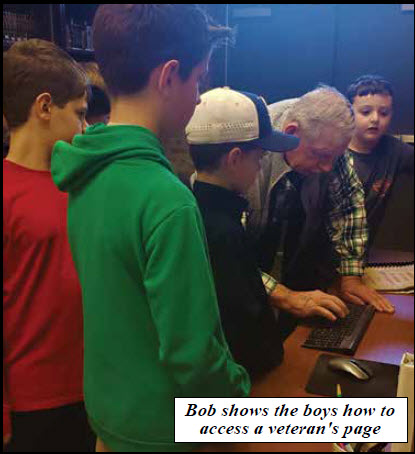 Ms. Thompson also wanted all deceased veterans in Limestone County to be recognized on Memorial Day with an American flag placed at each grave. Ten years ago, this idea became reality. Volunteers were sought throughout the county including schools, churches, local veteran's organizations, and family members of deceased veterans from all branches and eras to cover all of the approximately 300 cemeteries in Limestone County.
To get this endeavor underway, these graves had to be identified. Four Boy Scouts from two local troops (236 and 240) cataloged veterans' graves in Roselawn and Athens City cemeteries, which was a daunting task. This earned them their Eagle Scout rank through their work locating the graves, documenting the info, and working on our database. Since then, much work has been done to identify all of the veterans' graves.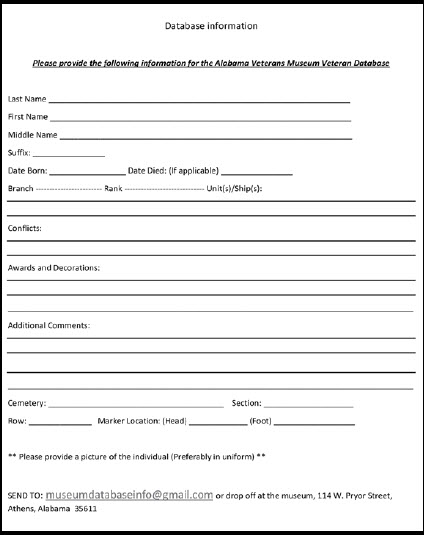 Each Memorial Day, the Alabama Veterans Museum invites veterans, family members, and friends to a ceremony honoring veterans who have passed away during the previous year. Public information on the program will be forthcoming.
Please consider participating in placing flags on veterans' graves. This is a great activity for any organization, family, or individual. The flags are available for pick up at the museum during business hours Mon-Sat 9 a.m.-3 p.m. The flags are bundled together for each cemetery and ready to be issued. We request that all flags be placed by Memorial Day, which is Monday, May 29.
Come by the museum to review the database or to enter a veteran's picture and info. Pictures and other records can be scanned and the original given back. If you have any questions, the database managers are Bob Borden, Don Chaney, and Cindy Roberson. Museum staff and volunteers are also available to help with forms and information on honoring our veterans. If you are unable to visit the museum, you can email your questions, info, and requests for forms to the database email at museumdatabaseinfo@gmail.com.
By: Yvonne Dempsey