By: Ali Elizabeth Turner
In 2019, Laverne Gilbert retired from a long career with the TVA, and set about to start her new life with planning a much-anticipated cruise. Then COVID hit, and her dream trip was put on hold for "who-knows-how-long-it's-gonna-be." As a woman of faith, Laverne spends time with her Maker on a regular basis, and one morning was sitting out on her front porch praying. The simple prayer of, "Lord, what am I going to do?" set off a joyful chain of events that has become a blessing and an example for our whole community.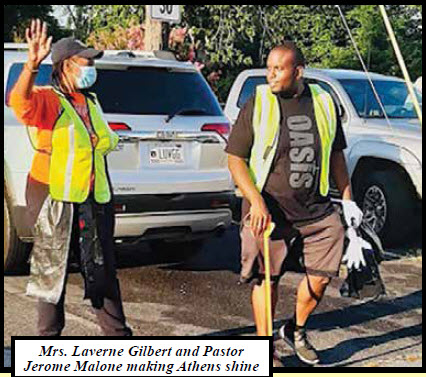 While still on her porch, she noticed some really tall grass that needed to be mowed, and so she called the city to politely let them know. The next day a man came out to take care of it, but for some reason started to leave a part of it untouched. When Mrs. Gilbert asked him why, he showed her that there was so much trash and garbage that he couldn't mow it because it would make such a mess. There was glass, grass, paper, cans, and plastic, so she told him, "You make the mess, and I'll take care of it." That day she got her broom, filled two bags of trash, and what has gone on to become a movement throughout our area was born.
Laverne "got after it" the next day and the next. People would stop, roll down their window, and give her all manner of thumbs ups and "atta girls." Some people were not so thrilled, and asked her, "What are you doing?" Her reply was a simple, "All of our work." The next step was going to City Hall to see if something could be done to get more volunteers involved, and Mayor Marks (who personally hates littering with a passion and "gets after it" himself) sent Laverne to Keep Athens Limestone Beautiful in July, where she was given grabbers, trash bags, and a vest. Laverne graduated from Athens High School in 1976, and was still in touch with several of her classmates, so she called them and told them what she was doing. They joined her, clad in vests and armed with grabbers. Some would say, "Where are you going to be tomorrow? I'll be there."
Enter Jerome Malone, co-owner of Splash of Ink screen printing and pastor of the Oasis: Christ's Church Athens on Hine Street, just down from Hwy 72. One Saturday he was at the office and saw Laverne out doing her beautiful thing. He struck up a conversation with Laverne, and heard her story. What came next was getting his church involved with the Oasis youth group, the SHIFT youth group, the Mayor's Youth Commission, and several churches on board to help, and the movement began to gain traction. "I saw her passion as well as her frustration," Jerome told me. The passion had to do with being a good steward of the beautiful city and county we share in what is known as Alabama the Beautiful. The frustration was with the attitude of folks who think that trashing it is their right.
It became obvious that the solution, as is so often the case, was education. Laverne and Jerome told me that they set out to teach people to take pride in their community, and pride in their work. "Let's do this together," became the theme. "If you see it, let's pick it up. Let's clean it up, and keep it clean." Or, as Miss Laverne said so simply, "It's ALL our work."
Well, if you know much about Oasis, you are aware that they love to do stuff in and for the community, so they, along with TOCO, SHIFT, KALB, ALMA, LMC, and 4H are going to throw a block party. However, it's not just any block party, it is called, "Mrs. Laverne's Let's Clean My Block Party," and it is going to be held on Saturday, May 8 at Lincoln-Bridgeforth Park. Team assignments are at 8:30 a.m., and the "triumph over trash" will be from 9 to 10:30 a.m. After that there will be a cook-out, music, and a time for the community to enjoy being out in the fresh spring air together. There are also going to be prizes for the team that hustles hard and picks up the most trash.
Some of the purpose of the party is to honor Mrs. Laverne for being willing to do a thankless job that reaps great benefits, and inspire others to follow her example. She told me that her theme song for this time has been the CeCe Winans' version of "Send Me." She has certainly been "sent", and it shows. She has also been surprised and touched by all the support she has received throughout the community. So, come on out and join her, and together, let's make Athens shine!
By: Ali Elizabeth Turner