By: Ali Elizabeth Turner
In 1978, NASA accountant James Allen Christopher and his wife, Helen, opened a mom-and-pop hamburger place called Snipe's, which was located on the corner of Hwy 99 and Tillman Mill Rd, west of Athens. It was the home of the original "Snipe Burger," named after Mr. Christopher's nickname, "Snipe." The burger was fittingly precise in its composition in that it was always 90% beef, 5% pork, and 5% grain, with ONLY the option of onion, pickle, mustard, and ketchup to dress it up. Snipe's feeling was and still is, "That's the way a burger should be." No cheese, no mayo, or anything else. Eventually they sold the shop and over the years it changed hands many times. In 2020, their son-in-law, Mike Holt, and his wife, Jan Christopher Holt, bought the place from the current owner with the purpose of fixing it up to flip it. Mike has an entrepreneurial spirit, grew up farming, and has done real estate, bush hogging, construction with his brothers, and trucking. Jan spent her career in education and as a school counselor.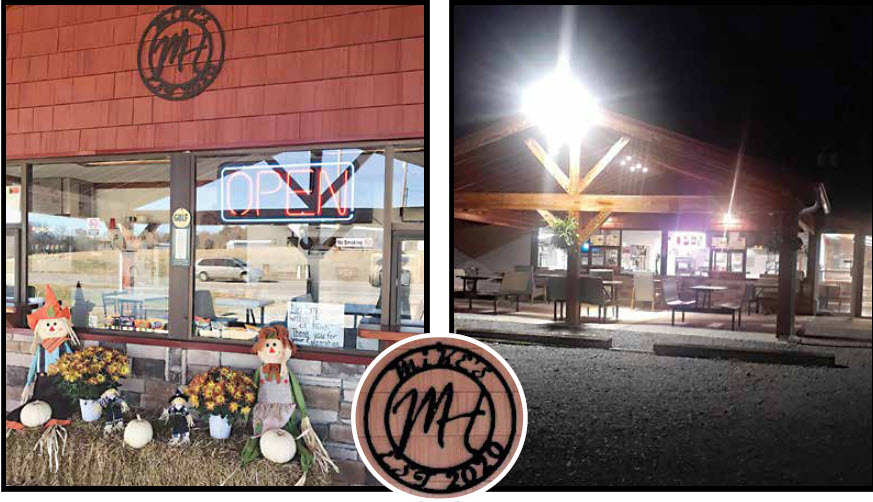 Mike had talked about retiring, and selling the old burger place was an obvious move to build their retirement portfolio. He set out to make much needed repairs to get the property ready for market, and people driving by would see him working late, ask if he was getting ready to open the café back up, and he kept jokingly saying, "No," while something inside made him wonder if Someone was trying to get his attention. It was the middle of COVID, and there was no place in their area for people to gather while practicing social distancing. So, with the help of family members, Mike sank everything he had into renovating and upgrading the building; poured a solid slab; built a beautiful covered picnic pavilion with solid beams, seating, and hanging flower baskets; and officially opened for business on May 16, 2021.
Mike laughed as he told me that he wondered if he'd gone crazy by trying to open a restaurant when eating establishments were closing left and right due to the pandemic. Add to that the fact that being a restaurateur was not something he had ever done, and while he learned to cook well from his mom, making favorite dishes for the family and running a food establishment are nowhere in the same ball park. I asked him why he did it. "People had no place to gather as a community, and they needed one," he said.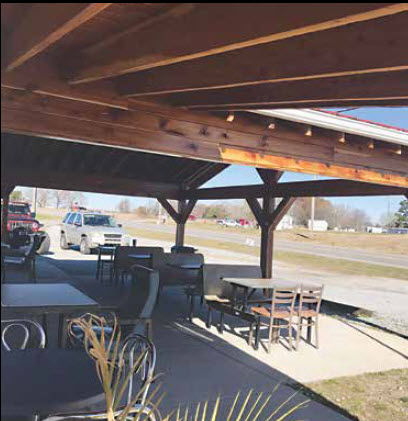 The Holts set forth some rules for the community. "We will never be open on Sunday. You can come here and gather for free. Just respect the property and the other customers. This is a family environment, and we want everyone to feel comfortable. No smoking within 15 feet of the property. That's about it," Mike said, and people have come from all over, including Tennessee. There have been family reunions, an unplanned after-funeral fellowship with the café doing the cooking, birthday parties, and one of Mike's favorite memories so far is a little girl getting to taste her first ice cream. "We have some people who come in two times a day, every day," he added.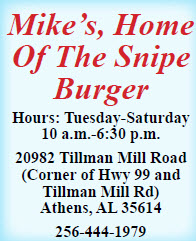 For his part, Mike has his own famous Mike Burger, which has its own "protocol," but you can also customize your burger. It is always made with 1/3 lb of 100% ground chuck, and no other type of meat. The top of the top bun and the bottom of the bottom bun need to be grilled in the juices of the patty, and not butter. They also need to be kept warm. Mustard goes on the bottom bun, then the patty goes on, "because mustard goes on meat" says Mike. If there is going to be cheese, it is melted on while the patty is cooking. Lettuce, tomato and onion are placed on the top of the finished patty, and mayo is put "on the bottom of the top bun, because mayo goes with vegetables," said Mike. He then smiled and said, "The Mike Burger is wildly popular, and people eat a lot of Snipe Burgers, too."
I got a chance to speak with Don and Zachary Berzett, who come in every Saturday for some father-son time and great food. "Mike serves the best hamburger steak and Philly cheese steak sandwich in the area," said Don. Zachary's favorite is the Mike Burger. "The people are nice," Zachary said in addition.
Jan told me that they make sure that everything is fresh. "Everything is cooked to order, so we are not a 'fast food' place," she said. Her favorite thing to send out the window is a banana split, made by hand, and of course, ice cream cones have to have the perfect swirl. In addition to the burgers, Mike smokes chicken, butts, and ribs. His meats are smoked in house with hardwood and he uses a blend of spices for his rub. He also makes his own white sauce.
Sweet tea is made the old-fashioned way, real butter is used, the potatoes used for stuffing on average weigh a pound before they are stuffed, and they have great salads. There are other hot sandwiches such as Philly cheese steak and patty melts, cold sandwiches such as smoked chicken salad, and BLTs.
Mike and Jan love their staff, including Cathy Robertson, the manager; Jasmine James, who cooks; and two part time West Limestone High school girls, Ally King and Hannah Davis. "We have a great crew, and I could not have done this by myself," said a visibly moved Mike Holt. Mike's puts Romans 10:13 on the front of the menu, which says, "For whosoever calls upon the name of the Lord shall be saved," and "having church" happens all the time, inside or out. If Mike's sounds like your kind of place, you can order to eat in or pick up from Tuesday through Saturday, from 10 a.m. to 6:30 p.m.
By: Ali Elizabeth Turner