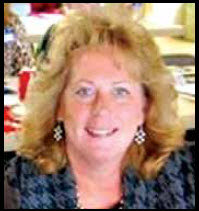 By: Sandra Thompson
Memorial Day, formerly known as Decoration Day was started to honor Union soldiers who had died during the American Civil War. It was a day of remembrance marked by the tradition of decorating veterans' graves with flowers, wreaths, and flags. After World War I, it was extended to include all men and women who died in any war or military action. In 1971, Memorial Day became a federal holiday and was placed on the last Monday in May. Today, numerous Memorial Day ceremonies take place throughout our country and various U.S. military cemeteries abroad.
Each year, the Alabama Veterans Museum holds a ceremony to remember our fallen brothers and sisters in the year since the last Memorial Day. This year is no exception; please join us on Monday, May 29 at 11 a.m. for a very special program.
I am happy to announce our special guest speaker will be LTG Daniel L. Karbler, Commanding General USASMDC. Lieutenant General Daniel L. Karbler assumed command of the U.S. Army Space and Missile Defense Command and Joint Functional Component Command for Integrated Missile Defense on Dec. 6, 2019.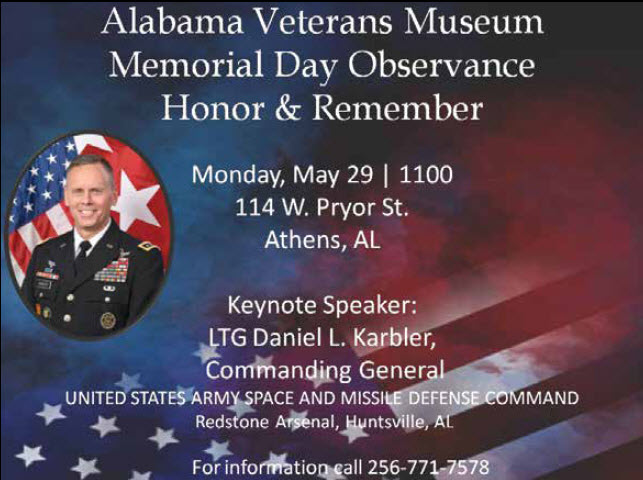 LTG Karbler most recently served as the chief of staff, U.S. Strategic Command, Offutt Air Force Base, Nebraska. He was the principal adviser to the USSTRATCOM commander and deputy commander, and directed the activities of the command staff by developing and implementing policies and procedures in support of the command's missions. He chaired numerous boards, oversaw the command's corporate process, and served as the director of the commander's staff.
LTG Karbler also served as the commanding general of the U.S. Army Test and Evaluation Command. Prior to that, he served as the director, Joint and Integration, Army G-8 at the Pentagon. LTG Karbler has held multiple leadership positions, from platoon leader to installation chief of staff and school commandant. He has commanded both B Battery and D Battery in the 5th Battalion, 7th Air
Defense Artillery Regiment, 32nd Army Air and Missile Defense Command while assigned to U.S. Army Europe. He also commanded 3rd Battalion, 43rd Air Defense Artillery Regiment, 32nd AAMDC at Fort Bliss, Texas; the 31st Air Defense Artillery Brigade, 32nd AAMDC at Fort Sill, Oklahoma; and the 94th
AAMDC at Fort Shafter, Hawaii.
LTG Karbler earned his Bachelor of Science in 1987 from the United States Military Academy at West Point where he was commissioned as a second lieutenant in the Air Defense Artillery branch. He also holds a Master of Business Arts from Benedictine College in Atchison, Kansas, and a Master of Arts in
strategic studies from the National War College. His military education includes the Air Defense Artillery Officer Basic and Advanced Courses, the Command and General Staff College, and the National War College. His awards include the Distinguished Service Medal, Defense Superior Service Medal, Legion of Merit, Bronze Star, Defense Meritorious Service Medal, and the Israeli Air Force Combat Operations Badge.
We are also pleased to announce that we will enjoy music provided by the Limestone Winds. So join us on Memorial Day for our program and refreshments immediately following. For further information please contact the Alabama Veterans Museum & Archives at 256-771-7578.
By: Sandra Thompson, Director, Alabama Veterans' Museum