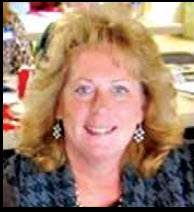 By: Sandra Thompson
Rick was born May 16, 1946 in Washington, D.C., and grew up in Arlington, Virginia. Rick's family had one of the first television sets in the neighborhood. His favorite show was Victory At Sea and from the first program he watched, he was hooked on the Navy! So right after graduating high school he enlisted.
Rick was assigned to the deck force on the USS Repose. While he was busy chipping paint one day, the word came down that they needed someone in the ship's store office to type and thanks to his seventh grade typing class, the Navy decided Rick would be a great Ship's Serviceman. Ship's Servicemen are in charge of the retail stores, laundry, and barbershops. When he reported to the USS Iwo Jima, he assumed the responsibility for ordering all of the supplies for the ships next Westpac deployment, even though he was a brand new 3rd Class, "I never had so much responsibility, but I got the job done!"
During his four years in the Navy, Rick was assigned to four different ships.  He was on the USS Enterprise for months waiting for "A" (A School is a continuation of a sailor's training beyond boot camp.) He was then assigned to the USS Repose AH16, a Navy hospital ship, for sixteen months. He was a "plank owner," or an individual who is a member of the crew of a ship when that ship is placed in commission.  He was then assigned to the USS Ogden for two short days and then spent the rest of his time in the Navy on the USS Iwo Jima, which was fifteen months.
Although he had many memorable moments in his Navy career, Rick has unforgettable memories of the sights and sounds of one time in particular. "It was December 1967, and we were back off the coast of Vietnam (it reminded me of the TV show MASH) and for the first time I was not going to make it home for Christmas. I was feeling down when I received a Christmas card form my Uncle Mac; at the bottom of the card he had written, "Dick, my Christmas many years ago was spent at the Battle of the Bulge!" After receiving that card, I realized that maybe it wasn't so bad spending the holidays with my shipmates and a thousand Marines!" He says he still has the card today.
After his enlistment was up in June of 1968 and he was honorably discharged in 1970, he decided to go to accounting school. At that time he was working part time in an accounting office, and that's when he decided that office work just wasn't for him. He then started working as a construction laborer and carpenter's helper.  He was in the construction business for about 10 years, working himself up to superintendent/project manager.  He then felt another change was in order and went to work for his father in the awning business making fabric awnings and canopies.  Rick took over that business in 1983 and stayed with it until he retired in 2006.
Rick is a member of the Vietnam Veterans Association (VVA) and a member of the Veterans of Foreign Wars (VFW.) He wanted to find a way to connect with other veterans and felt it would be a good way to meet people with like interests, so he became a volunteer at the Veterans Museum.  Rick played an instrumental part in our recent move; we could not have imagined trying to move without him! Rick says Athens is "the most veteran-friendly area I have ever lived in," and he would like to see some way to reach out to younger veterans to get them involved in the museum. "If you look at the average age of our volunteers, we are all getting up there?"
Rick has been married to the lovely Cynthia for 45 years; "Cindy" is a Navy brat whose father spent 20 years in the Navy.  They have four sons who are all married and three grandsons.  Their closest son lives in Hazel Green and the others are scattered in the Pacific Northwest.
Welcome aboard Rick!!!
By: Sandra Thompson
Director, Alabama Veterans' Museum