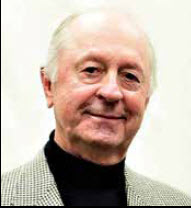 By: Jerry Barksdale
My good friend (and sometimes red-head) Pat and I were off on another adventure, this time across the purple sage to Taos, New Mexico. It has been described by one resident as "wacky and weird." That's where my daughter, Shannon lives. As usual everything started off going my way – downhill.
First, I had a toothache. Then, when I presented plastic at Huntsville Airport to pay a $25.00 baggage fee, it was rejected – and in front of many people.  "There must be a mistake," I said.  She swiped it again. "No mistake."
When we arrived in Atlanta I called Barclay Bank. Someone in North Dakota had charged $6.30 on my card. I've never been to North Dakota. My card was cancelled on the first day of our vacation. Perfect timing. And my tooth was about to jump out of my mouth.
On the flight to Albuquerque, we encountered 100 mph head winds. "Look!" Pat exclaimed. "The wing is flapping." I needed tranquilizing. I ordered a scotch and handed the hostess a ten.
"Sir, we don't accept cash," she said. What kind of country rejects your credit card and doesn't accept cash? And on the first day of vacation! It's written on the face of a bill, "Legal tender for all debts." And that includes scotch!
It was dark in Albuquerque when we went to pick up our Thrifty rental car. Pat had arranged for an economy car, knowing that I'm a thrifty kind of guy. The young clerk explained that we needed to upgrade. "It's a Mitsubishi Mirage and has only three cylinders and isn't suitable for mountain driving," he said.
"Does it also have three wheels," I asked. He frowned. No humor. We couldn't find it in the parking lot. No wonder. It was parked between two VW beetles. It was aptly named Mirage. It sort of looked like a car, but it really wasn't. Pat christened it, the "three wheel sewing machine." I call it the "Runt." We hummed up I-25 looking for a Best Western. Had to call Siri. That hussy kept yelling, "TURN AROUND NOW!" I didn't like her tone of voice. She's probably a red head. How could I turn around in six lanes of 75 mph traffic?
The next morning, we hummed northwest on State 550 into Indian country. Big blue skies, distant buttes and mesas, endless purple sage, pinon and juniper trees and chamisa, a gorgeous plant that hates my guts, filled the landscape. Everything was still going my way; sinuses in panic mode, nose stuffy and bleeding, and tooth aching. On the edge of the Jemez Reservation, we stopped at CWW Feed Store in tiny San Ysidro and asked directions. Several Indian children were out front near pens holding goats and the fattest hog I've ever seen. Nearby was a corral of horses. Chili riestas hung from the front porch of the old store building. That's where I met Connie Collis, the proprietor, a friendly, late fortyish blonde.  "I'm from Alabama," I said. "I own a Bible, have a permit to pack heat – and I'm lost."  She grinned. "Sounds okay to me," she said. Connie has been living in San Ysidro for 20 years. Her husband, a big game hunter, had died on a hunting trip in Mexico. Afterwards, she dedicated her life to rescuing critters. She cares for 51 rescue horses – some are wild mustangs – including others, for a total of 92; one fat hog, one cow, 7 goats and two dogs.
"Why do you do it?" I asked.
"It is my heart," she said.  "It gives me a reason to get up in the morning."
The store name "CWW" stands for crazy white woman, a handle given her by local Jemez Indians. Working with Connie was Taylor Clark, a 24-year-old, attractive red head originally from Albuquerque, who is a rock climber. Taylor was working on a volunteer therapy horse ranch and studying for a masters' degree when she went to work for Connie rescuing horses. Two thumbs up for these ladies. I yanked the crank cord on the Runt and we hummed up State 4 and across the beautiful Jemez Mountain, toward Los Alamos.
There we toured the museum, learned about splitting atoms and saw where some of the scientists had lived during WWII.  "Fat Man," the first atomic bomb, was developed at Los Alamos and dropped on Hiroshima to bring WWII to an end.  From start to finish, it took only two years. When our backs are against the wall, Americans excel. Why can't we discover a cure for cancer? If we can develop a blue pill to raise the dead, surely we can find a cure for cancer.
In old Santa Fe (elev. 7198 ft), we had a late lunch at La Fonda, a Pueblo style hotel on the plaza. That's where, after eating a burrito smothered with red chili and black beans, I developed my new theory about atom splitting. That lunch also led to me to make a pact with the Lord that night. Why split uranium atoms and endanger the environment? Split the bean! A plate of black beans produces enough methane gas to power every taxi in New York City for a day.
That night, I woke in a miserable state. My tooth ached, my nose bled, I couldn't breathe, and my stomach was about to explode. I was desperate. I reached for Mama's favorite cure-all- Vicks Salve. Rub it on the chest for coughs, apply to hemorrhoids, and poke it up the nostrils for a stuffy nose. I figured if I could scare off a hemorrhoid, it could open a stuffy nose. The label warned: "DO NOT PLACE UP NOSTRILS," but I figured that was meant for idiots who used the same finger.  Anyway, up the nose it went. Ahh, thank you Mama.
It was around midnight when I asked the Lord to strike me dead if I ever ate another black bean. There ought to be a law requiring black beans be sold with this warning: "Consumption may result in loud praying, methane emissions, and global warming."
We overnighted at El Rey Inn on Cerrillos Road. Very Santa Fe-ish. First constructed as a motor court in 1936, it reminded me of Melody Ranch, Gene Autry's cowboy movie set. Next morning, we breakfasted nearby at the Pantry, opened in 1948. Nothing slick about it, simply the best. I ordered an egg white veggie omelet. Old Satan was up early, tempting me, having heard about my pact with the Lord. "Sir, do you want black beans with your omelet?" asked his servant, our dark eyed waitress.
"HECK NO!"
I've since learned that a raw carrot cooked with black beans will absorb the methane gas. Don't eat the carrot! He-he-he. Give it to your ex.
To be continued….
By: Jerry Barksdale
www.jerrybarksdale.com fb.com/jerry.barksdale.7