By: Ali Elizabeth Turner
On May 24, the people of Limestone County will be heading to the polls to vote in the primary election. Lucas Beaty is running for the position of district attorney. The purpose of this article is to tell his story fairly, and then let the voters make their choice.
Lucas told me that he is a Navy brat, and when he was 13 his family decided on Ardmore, AL as their final "station." He is one of four boys, went to Ardmore High, and had always thought that he would be a coach and a history teacher. Out of high school, he enlisted in the Army and served in Kuwait. He was a M1A1 Armor Crewman, better known as a "tank guy," fulfilled his enlistment requirements, and then finished his undergrad degree in secondary education at Athens State University. He did his student teaching in Elkmont, but there was something about going to law school that just wouldn't leave him alone. His middle-school-sweetheart-turned-wife Kasey bought him a book to study the Law School Admission Test, or LSAT. He took the LSATs, was accepted to law school, and got his degree from the Mississippi College School of Law in 2010.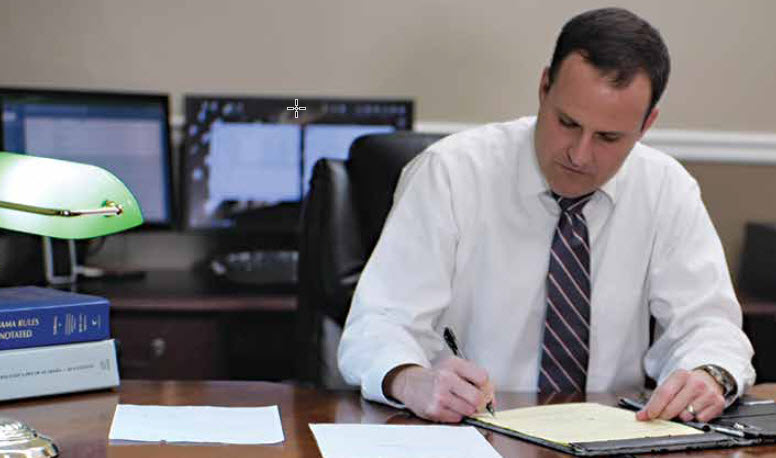 As a husband and father of two daughters, Lucas is committed to upholding conservative principles in order to protect his family as well as the people of Limestone County. He is a member of the Limestone County Bar Association and has tried juvenile cases, civil cases, criminal cases, and has handled adoptions, estate planning, and landlord/tenant issues. The State of Alabama appointed Lucas as Assistant Attorney General for the Limestone County Department of Human Resources in 2019. He has argued cases before the Alabama Supreme Court, as well as the Alabama Courts of Civil and Criminal Appeals.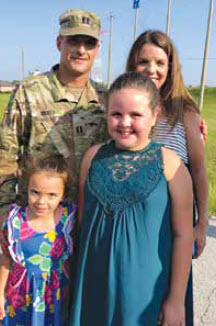 Lucas is a JAG (Judge Advocate General) and currently holds the rank of captain as he serves in the Alabama National Guard. That requires that Captain Beaty has to be totally familiar with the Uniform Code of Military Justice as well as the Alabama Code of Justice, and there are differences between the two systems. By the time he finishes his commitment to the National Guard, he hopes he will be a colonel.
In addition to wearing the two "hats" of being a military as well as civilian lawyer, Lucas brings a great deal of varied experience to the table. He has been a criminal defense attorney in some extraordinarily complex cases, has served as a prosecutor, is the city attorney for the city of Ardmore, and is in private practice. It is important to Lucas that Athens and Ardmore maintain the small town feel when it comes to looking at people like humans and not numbers. He also told me that there are cases that have caused him to lose a lot of sleep, particularly those involving children.
People who serve as district attorneys typically have to face backlogs of cases and Lucas desires to shorten the time between bond and court, indictments, and then trials. He told me about cases that have gone back for years that have only recently been settled. He believes he could help streamline the process by implementing some of the structures that work in a JAG setting.
The late Jerry Barksdale was one of Lucas's mentors, and drove home the point that there needed to be "watchers watching the watchers." Simply put, it is especially imperative that there be a system of checks and balances to hold all practitioners of law, irrespective of their position, accountable for their actions. If Lucas is elected, he will "strictly interpret the law and preserve the rights of our citizens." It goes without saying that he is "committed to fairness, integrity, and honesty." As someone who has served in the military in the Middle East, Lucas understands the value of our freedoms and judicial system here in America. Lastly, Lucas vows to uphold our traditional conservative Christian values.
Here is what Lucas promises to do if elected: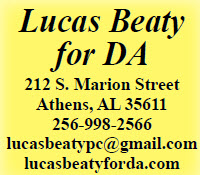 I will bring my life's experiences, work ethic and integrity to the district attorney's office in order to restore public confidence in our community's leaders and justice system. The diversity of my practice over the last decade has prepared me for this opportunity, and I am confident that I can help ensure the proper administration of justice in a timely and decisive manner. Now is the time for new leadership that our community can trust and count on. Limestone County is a great place to call home and raise a family. Kasey and I have concluded that it's time to serve. I will work hard to earn your support and vote as your next district attorney.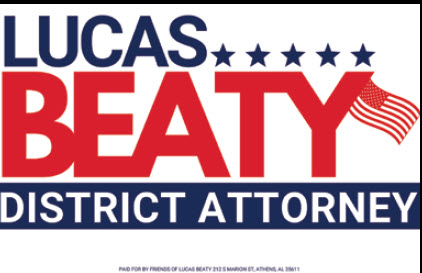 If these commitments are those for which you are seeking in a district attorney, then cast your vote for Lucas Beaty on May 24.
By: Ali Elizabeth Turner