By: Ali Elizabeth Turner
In the America of 1952, thirty-five dollars went a long way. In the case of Listerhill Credit Union based in the Shoals, it was the equal investment of seven men working at the Reynolds (Aluminum) plant. They banded together to protect themselves and their fellow factory workers from loan sharks who charged "an-arm-and-a-leg" for loans, and even managed to take advantage of people by offering "loans" that never actually ended. In other words, even when you had paid off what you owed, they would still keep coming after you to collect. It was "pay up or else," and these seven brave men just weren't having it. They literally started Listerhill Credit Union on the shop floor of the Reynolds Company in Sheffield, and the first branch was located right there inside the building. Their startup had the support of the company from the beginning. Today, Listerhill Credit Union is considered by Forbes Magazine to be one of the best in the state of Alabama, and they have just opened up a new branch located at 22223 US-72, in Athens.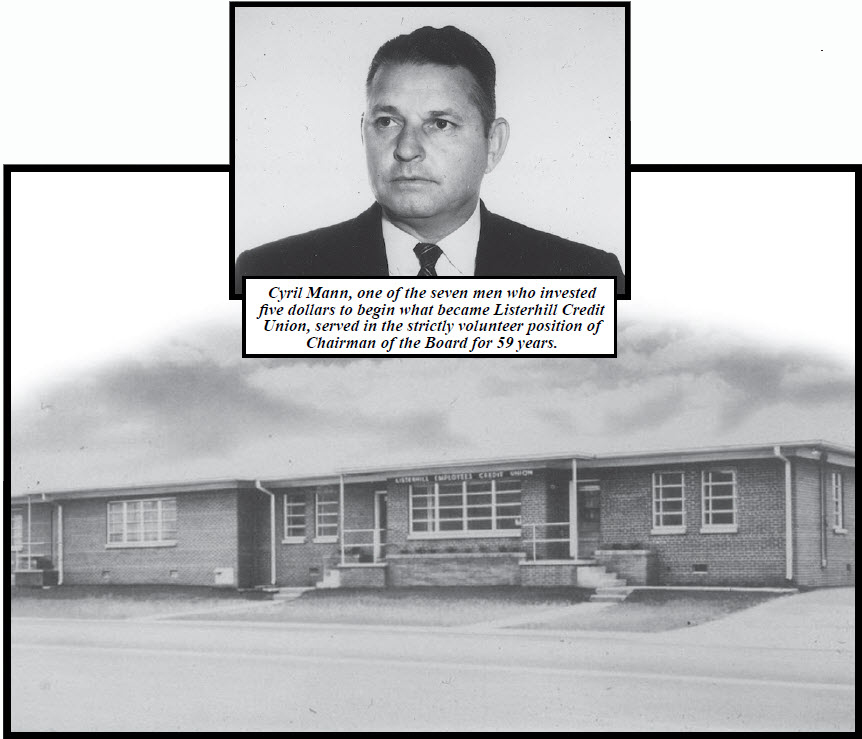 The history of the "Listerhill" name gives a peek into the protective nature of the Reynolds Company, along with the completely independent and member-managed credit union. In 1937, Richard Reynolds, Sr. flew to Germany to scout the country for possible sources of aluminum for his factories. He was so alarmed at the war machine that was being constructed by the Nazis that he came home to Alabama and contacted our then U.S. Senator, whose name was J. Lister Hill. Senator Hill made sure that Washington, D.C., knew what was going on, and it's safe to say that without these two, the U.S. would have been even more poorly prepared for the onslaught of WWII than it was. It was after the war that the credit union was formed to combat a different type of evil, and in honor of Senator Hill, they coined a new word, "Listerhill," which also became the name of the community in Colbert County that housed the plant.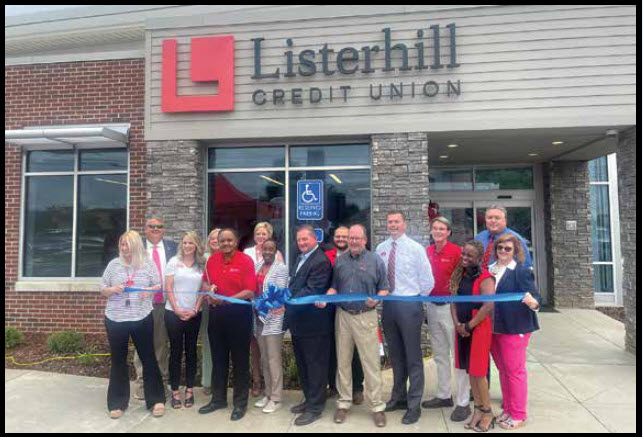 Listerhill Credit Union has grown from the thirty-five-dollar startup to an organization which boasts more than a billion dollars in assets and has 16 locations in Alabama and Tennessee. I spoke with Chris Anderson, the Vice-President of Marketing for LCU, who told me that what makes Listerhill so appealing is that they have substantial assets and financial products but have fiercely protected the small-town feel that is so reminiscent of the Bailey Savings & Loan portrayed in the classic film, It's A Wonderful Life. He has worked there since 2009, and has no plans to work any place else. In fact, Listerhill has the record for having the longest serving chairman of the board of directors in U.S. history. Mr. Cyril Mann, who was one of the co-founders, was elected to the volunteer position by his peers and held it for 57 years. It is said by Listerhill Credit Union that "his selfless devotion to Listerhill and dedication to the credit union philosophy of people helping people continues to be an inspiration to everyone who shares in the mission."
So, what exactly is the "credit union philosophy?"As Chris explained to me, "It is the idea that decisions are made to benefit the members, rather than a small number of owners." Any member has the opportunity to be elected to the Board, and it is a volunteer position. Listerhill Credit Union invests extensively in the community, and in our town sponsors the Farmer's Market, has spearheaded "Kicks for Kids," wherein kids in need are given new shoes, and is partnering with Athens State University on a number of fronts, including literacy and financial education.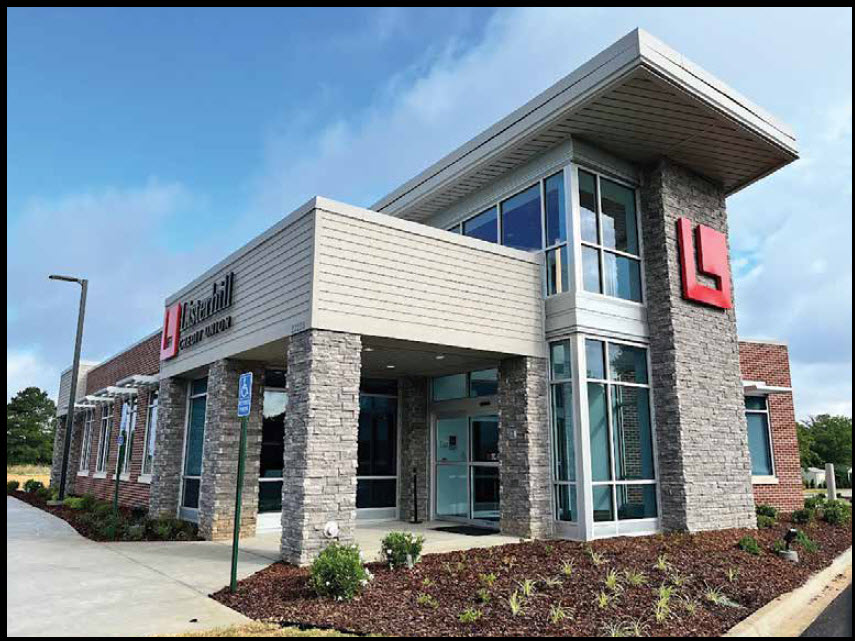 One of the unique aspects of credit unions is that they have their own set of requirements that have to be met prior to becoming a member. Sometimes they are attached to an industry, such as teaching. In Listerhill's case, you have to be associated with a community organization such as Athens State Alumni Association. (By the way, you don't have to be a graduate of Athens State University, just being an involved citizen that partners with the Association will suffice.) You can also join Listerhill by being a member of the Alabama Consumer Council. Their site explains further: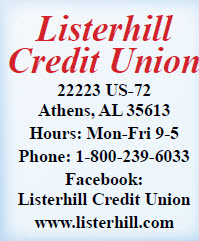 The Alabama Consumer Council is a state branch of the American Consumer Council, which describes their state and regional branches' mission as educating consumers on financial issues and matters, advocating for them when those issues have an impact regionally or locally, and promoting environmentally-friendly practices.
Financial education has always been important to Listerhill's working belief system; after all, it was the loan sharks taking advantage of the vulnerable that got Listerhill started in the first place. Chris let me know that they have a "suite of products and services" that are essentially the same as any commercial bank. They have always been focused on giving home loans as well as auto loans, and their rates are competitive. Even in this uncertain financial climate, Listerhill stands ready to educate as well as to help guide everyone from those who are just starting out to the sophisticated investor.
"We quickly react to members needs, and we do that by adding convenience. With our unique SMART ATMs which no one else has, members can cash checks, make deposits, process withdrawals, make payments, and transfer between accounts. On top of that, all of this has live interface during business hours, and you can have access to a teller right there as well. The mobile banking has all the bells and whistles. We are on the cutting edge of technology, and we don't want to leave any reason on the table for you to not want to join the cooperative," Chris told me.
As our time came to a close, Chris described the team at the Athens location as being "stoked to serve," and added, "They were chomping at the bit for us to get open so they could take care of customers. Amy Hester is the branch manager and has a team that is excited to be in Athens." I asked him, "I have choices when it comes to credit unions, so why should I come to you?" He replied, "Listerhill has the perfect balance of a small credit union, with personable service combined with the modern convenience of any big bank." Stop by today to see if a credit union that was born out of a desire to protect, and is still doing that 70 years later, is the right fit for you.
By: Ali Elizabeth Turner