By: Ali Elizabeth Turner
On Sunday, December 10, from 4-7 p.m., Limestone Manor on Hwy 31 in Athens is going to have its first non-pandemic Christmas party in 4 years! It is called Christmas Among The Stars, and the "stars" are going to be both the residents as well as the staff. The goal for this year's "Welcome back, Christmas" party is to bless everyone who lives or works under the Limestone Manor roof. The party is the brainchild of Delois Bailey, LPN,ALA,CDP, who is the administrator of "the Manor." As we sat in the lovely dining room at the Manor, Delois told me about her "why" for the event. "I could not do what I do without my staff, and I want them to know how much we appreciate them." She went on to say that "Over the past few years with COVID, we had to do things much differently. So, this year we are going to celebrate the season with a formal Christmas banquet for both the residents and the staff."
Delois is having a caterer come in and prepare the meal that day, and volunteers from the Chamber of Commerce as well as other citizens of Athens are going to serve the meal to everyone. Volunteers are also going to escort the attendees down a red carpet into the dining room where they will have a delicious holiday meal served on individual plates, and the desserts will be selected and served from a dessert tray that will be taken by the servers around to each table. The menu for Christmas Among The Stars is chicken and dressing, ham, mac and cheese, and greens. These are just a few of the details of the day that will make it memorable for all!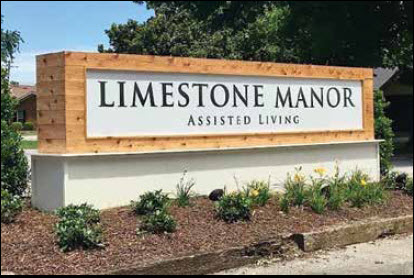 As part of the festivities, the residents also will have selected from their ranks a Limestone Manor Mr. and Mrs. Merry Christmas who will be crowned at the event. Limestone Manor can accommodate 24 residents. They are a part of the Montgomery-based Cavalier Senior Living group, and the company's slogan is "Live happy." Cavalier has a total of three facilities in North Alabama. This Christmas Among The Stars celebration shall surely make "Live happy" a reality, as does the facility itself.
Delois told me several reasons why Limestone Manor is a good fit for those who are looking for a loving facility either for themselves or a loved one. "Smaller is better," she said. By that she meant that with only 24 residents, there is a much more intimate setting with specialized care, a reduced fall risk, and better, more direct communication between the staff, the residents, and the families of the residents. In addition, a tight community also gets built amongst the residents themselves. "You have a name, and you are not a number," she said, and added, "We just offer a better quality of life here."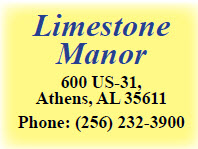 One of the things that Limestone Manor does to foster a feeling of independence for the residents is to refer to their rooms as "apartments." Even though there are no stoves, residents can bring in microwaves as well as small refrigerators, and the desire is to make each unit as personal of a reflection of the resident as possible.
I had the joy of being taken on a tour of the room of 84-year-old Mrs. Glenda Stinnett, a resident who came to Limestone Manor in April because she knew it was time to be in an assisted-living facility. Prior to her time of need, she shopped around Athens and chose the Manor. "Welcome to my apartment," she said with a tender smile. It was indeed lovely, and decorated with touches of fall. I asked her if she changed out her framed pictures on the wall with the seasons, and she said yes. She loves it at the Manor, and I told her what a blessing she was being to me in that moment as we prayed together. I had really been missing my own mom that day. "Oh, they keep us busy here," she said, and added, "We have all kinds of activities like Bingo, and this is my home. I am happy here."
Delois said a few more things about life at the Manor. "Senior Living isn't where our residents are wrapping up their life's journey, they're seeking a new one. Limestone Manor is here to inspire them to embrace the new journey, and "Live happy" by making sure our residents have the most fulfilling and productive opportunities available," she said. Delois added, "When our residents walk through the doors, they're more than a resident, they're family. We know that any kind of move or any change can be stressful, so we have a program called the Ambassadors Club, and they help their new neighbors get familiar with their new home and friends." For their part, Cavalier recognized the need for the Ambassadors, and said, "No one can make new residents feel at home like the ones who have already made it theirs!"
Delois finished our time with telling me that young people can come and be hosts or hostesses for Christmas Among The Stars, and for more information on the facility or volunteering for the festivities, please call Limestone Manor at (256) 232-3900.
By: Ali Elizabeth Turner