By: Ali Elizabeth Turner
In 1985, a business consultant by the name of Dr. Ivan Misner found himself in a pickle. He had lost his biggest client, and he had to pay his mortgage and put food on the table. He came up with the idea of what is now known as referral marketing, and formed a small group that met weekly in order to find out what each person needed so they could help each other get business. And thus Business Network International (BNI) began. Nearly 10,000 chapters domestically and globally, generating billions of dollars through referrals, BNI and its core values have helped thousands of business owners do well and do good. During COVID, they pivoted beautifully and made it possible to "Zoom" all over the planet, and business continued to grow during the shutdown.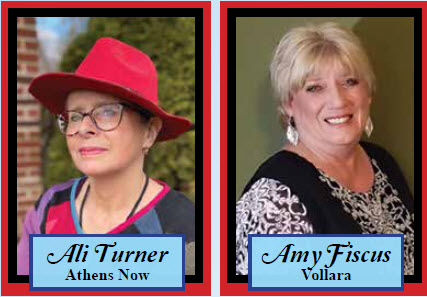 So, who are the BNI Limestone Leaders, and why, if you are a business owner, should you join us? We represent businesses that range from real estate to roofing, health and wellness, media, plumbing, insurance, property inspection, HVAC, property investments, athletic supply, mortgage services, a law firm, a florist, financial planning, and pest control. We could not be from more diverse backgrounds, but here is what we have in common: we enjoy helping each other grow our respective businesses, and we have the numbers to prove it. Last year we passed more than two million dollars' worth of business, and we are a small group, by BNI standards. And, we are looking to invite new members to join us!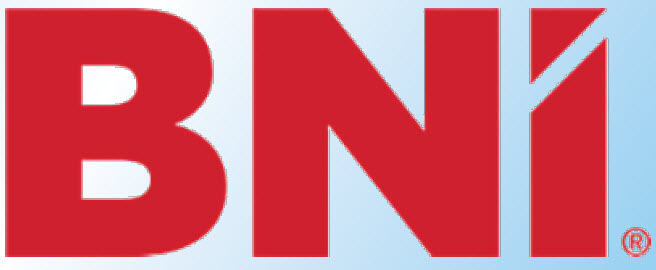 How does BNI work? You commit to leverage what is known as the Power of One, and that means you attend one meeting a week, spend one hour in continuing education, have one meeting with a fellow member to exchange your business needs for that week, and seek to give a referral for a fellow member if at all possible. BNI has literally hundreds of hours of training from which to draw for your CEU, and I can say from experience that I am a much more knowledgeable business woman as a result of the four years I have been a member. Thousands of dollars in business have come my way, and while I appreciate the financial footing upon which that has put Athens Now, the real value has come from the relationships I have built with people I most likely would have never met. We have mourned, laughed, learned, prayed, eaten, made money with and for each other, and we have done just that in everything from three-piece suits to togas and crowns of leaves, along with overalls, straw hats, and garden gloves. We would love to have you join us this and every Tuesday at 7:45 a.m. at the Alabama Veterans Museum, and hope you consider a band that is perhaps small in number, large in heart, and has prevailed in the pocketbook. See you on Tuesdays!



To register for a visit, go to bniconnectglobal.com, and when you click on Search for a Chapter, click Limestone Leaders. Then click Register to visit, and you'll be all set. You can also go to Facebook and leave a message for us to contact you. We are Limestone Leaders BNI on Facebook. If you need more info, call Ali Turner, Visitor Host Coordinator, at 256 468 9425.
Now, on to what is known as The Big Breakfast. In the spring, BNI chapters from all over Alabama put on a breakfast in Huntsville at the Stovehouse Event Center. It is designed to give hundreds of people a chance to network, eat, laugh, enjoy each other, and for BNI-ers to compete for the best booth. And, there will be door prizes! This year's Big Breakfast will be held on Friday, April 14, from 8:30-10:30 a.m. We chose the theme "Business Is Blooming In Limestone County," and we are showing up as farmers and gardeners to showcase the fact that Limestone County once again is the fastest growing county in Alabama the Beautiful. Indeed, it is a great place to build your business, and we would be delighted to help! You will want to bring a kazillion business cards and your cell phone to exchange information, and here is what the event planners have said about what you'll be experiencing at the Big Breakfast.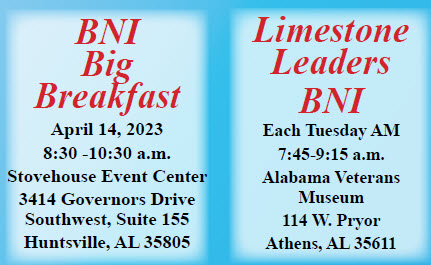 BNI (Business Network International) is the world's largest word-of-mouth referral organization. If you are wanting to grow your business, need more introductions, enjoy a positive community while being surrounded by supportive professionals, then come check out BNI! There are multiple chapters around town and all will be present and showcasing their culture and desire to meet people in your profession to give referrals to! You don't want to miss out on this opportunity.
Come meet hundreds of great professionals in the Huntsville area and network with top local professionals. Learn to increase your word-of-mouth referrals.
The cost of the Big Breakfast is $20, and you can purchase tickets and register on eventbrite.com. The address for purchasing tickets is https://www.eventbrite.com/e/biggest-networking-event-of-the-year-bni-big-breakfast-huntsville-tickets-539777508057.
By: Ali Elizabeth Turner