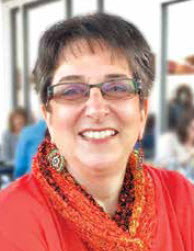 By: Lynne Hart
Litter. There seems to be so much of it in some places, and nearly none in others. Litter most definitely reflects on a community in a negative way – and clean roadsides give the impression that the people who live in the area take pride in their community. A clean community is a more welcoming community where people want to visit and linger.
I was on my way to Pulaski recently, and as I rode up Jefferson/127, I passed a spot on the east side of the road where the ditches all seem to wash into, and it was loaded with litter. This proves one thing…litter moves. The wind, water, animals, and people cause litter to move from where it was originally located. This can take it to our waterways, which feed into lakes, rivers, and possibly to the ocean.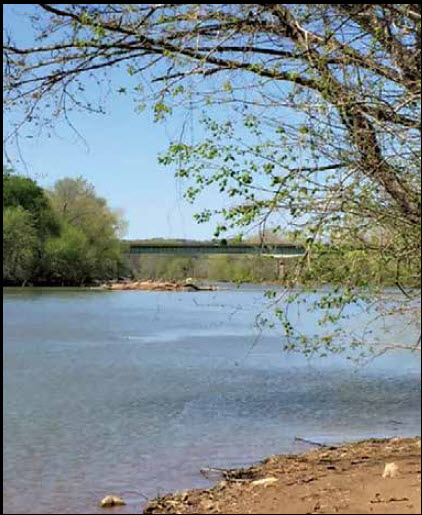 Humans are the ONLY creatures on God's green earth that litter. We are responsible for every single bit of the trash we see that becomes litter when it is misplaced. So we humans need to be responsible for fixing the problem.
First and foremost, never litter! Keep a litter bag or a grocery bag in your vehicles to collect litter. KALB has washable/reusable litter bags available free of charge. They also have our Litter Hotline number on them so you can call to report littering incidents you witness while on Athens/Limestone County roadways.
The next thing we all need to do is participate in a cleanup. You can organize one of your own or participate in a cleanup that KALB is organizing or participating in. KALB has litter cleanup supplies we are more than willing to lend. There are many ways to help. If you are not physically able to clean up the litter, you can always volunteer to help at the registration tables, provide a giveaway for our volunteers, or make a donation to KALB to support our cleanups.
UPCOMING CLEANUPS
Ardmore Spring Clean
United Pest and Turf Control in Ardmore, Alabama, will host their 7th annual Spring Clean. KALB will participate by providing litter grabbers, gloves, safety vests, trash bags, and some buckets. Here are some details:
Saturday, March 4
8 a.m. – registration, breakfast, and supply pickup at Jones Drugs parking Lot
8:30 a.m.-noon – Spring cleanup of roadsides and other public areas
Noon-1 p.m. – Volunteer lunch at the Chamber of Commerce Office in Ardmore
For more information or to register, call United Pest and Turf at 256-423-7378.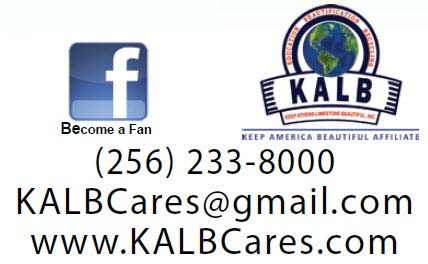 Annual River Cleanup
KALB will host our annual river cleanup in March. This year it will be in the Tanner area. KALB will provide litter grabbers, trash bags, gloves, safety vests, and some buckets. Volunteers are needed. Here are some details:
Saturday, March 25
8 a.m. – Registration, breakfast, and supply pick up. Location to be announced
8:30 a.m.-noon – Cleanup of various locations along the river
Noon-12:30 p.m. – A litter grabber will be given to each volunteer to take home upon return of supplies in hopes that participants will use them to continue cleanups in their neighborhoods.
To register for this cleanup or for more information, call KALB at 256-233-8000 or send an email to KALBCares@gmail.com.
By: Lynne Hart
KALB Commission Member, Keep Athens-Limestone Beautiful