By: Ali Elizabeth Turner
In 1987, a handful of people in our community saw a need for people of every type, color, education level, and age to be able to read competently. Mabel Prince was the visionary, and Jim and Ruth Mobley began tutoring with her, along with Linda Gay. Later they were joined by Pat Waybright and Sue Vice. They started exclusively with adults, and then developed a service called Learn to Read Council of Athens-Limestone that is now under the umbrella of the United Way organization. Now, Learn to Read is reaching people from the age of 6 on up. They are located at 410 S. Jefferson in Athens, right next to Dub's and the Family Resource Center, and they are ready to help any and all who need it.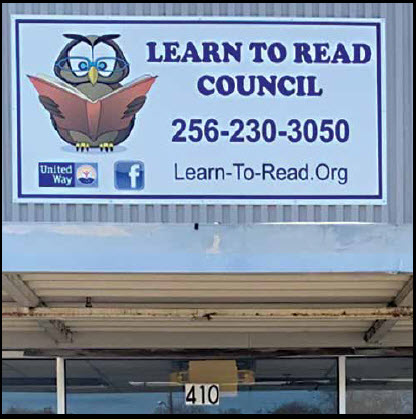 There are six basic programs:
Basic Literacy for ages 16 and over
ESL- English as a second language
Computer Assisted Learning Lab
After School Tutoring Program for ages 6-15
Summer Youth Literacy Program
Conversational Spanish
Learn-to-Read is also all about training tutors for an experience that I can say deeply affected me when I was a young teenager. I became a tutor for one hour a week in a community center located in West Seattle. I will attest to the fact that there is just nothing like helping someone (especially a child) have a breakthrough and watching that person realize they can read, they can learn, they can succeed!
So, what are the nuts and bolts of this organization? How does it work, and how can you get involved? Learn to Read uses a process of teaching reading that was developed by an organization called Pro Literacy, and they do in-house training to certify you as a tutor. It's important that you understand that you do NOT need to have an education background or to have spent time in the classroom, even though many of the volunteers are former teachers and educators. What you DO need is a vision for some of the ways that you will be able to help, complete the training, and then show up when scheduled. Learn to Read has even had people who could not read, successfully complete the literacy program, and then become tutors themselves. They have experienced the liberation of literacy, and want to give someone else the gift that was so freely given to them.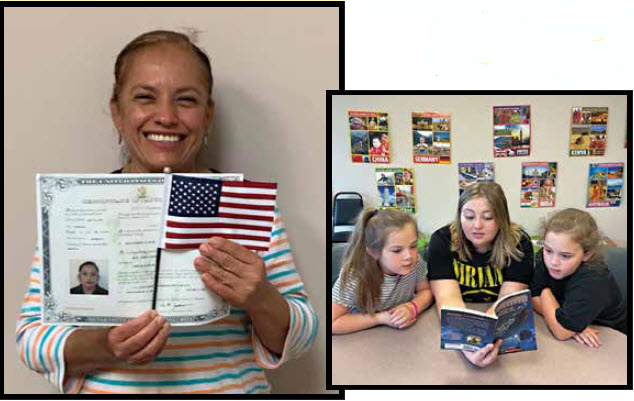 Here are some stories about people who have been helped by this program:
There was a grandmother who desperately wanted to be able to read to her grandchild, and now she can.
There have been people who have wanted to partake of the American Dream by becoming citizens of the United States. Learn to Read has empowered them to be able to read and understand the questions on the citizenship test and pass it equitably.
One person wanted to get Advanced Placement in order to get a cyber-security clearance, and another wanted to be able to read well enough to take and pass a driver's license test. One wanted to improve her calculus in order to get into nursing school, and another wanted to join the military.
Another important part of the Learn to Read services is English as a Second Language, or ESL. The curriculum is picture based, has proven results, and you do NOT have to speak a second language in order to be an ESL tutor. The function and vision of the ESL program is to "help non-English speaking adults gain language, reading, and writing skills needed to function in our culture."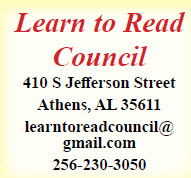 There are conversational Spanish classes for those who are wanting to experience the joy of being able to communicate in a beautiful language, learn about a lovely culture, and are taught by Mrs. Maria Taylor. Maria has instructed the Athens Police Department, and spent her career traveling the globe working for the U.S. government. She is patient, kind, and has a charming sense of humor.
Finally, let's close this story with a few lines that demonstrate the heart of the staff, and give you an opportunity to build a life and strengthen our community:
Would you like to help someone, but have limited time and funds? Would you like to meet new people? Do you enjoy working with adults or children? If your answer is "Yes," Learn to Read Council may be just the place for you. We offer free tutoring services for youth from kindergarten to age 15, for adults wanting to improve their reading skills, as well as adults needing to become more proficient with the English language.  
If you will commit to one to two hours a week, Learn to Read will find a place for you to make a difference in someone's life.
Call or stop by today and start the process, whether you want to read or you want to help. You will never regret walking through the doors of Learn to Read Council of Athens-Limestone County, a United Way agency.
By: Ali Elizabeth Turner