By: Ali Elizabeth Turner
Recently, I had the great joy of attending the Chamber of Commerce ribbon-cutting ceremony for Last Word Vinyl Creations and Sassy Sisters Boutique, which is located next to the Chevron station on the corner of East Limestone and Capshaw Road. It is owned by two real-life sisters, Kristie Andrews and Donna McCown, aka the "Sassy Sisters." These ceremonies are always positive, but what moved me and the rest of the attendees was the surprise tribute that Donna gave to Kristie wherein she said, "I knew that this is what I wanted to invest in." She meant both the business and her sister.
When Kristie first started her business in 2015, her focus was to create vinyl words and images that could be put on walls, tiles, or be framed, and then she began to expand to other services. In 2016, she added embroidery because her vinyl customers asked her to. She told me that embroidery has become one of the most important parts of the Last Word/Sassy Sisters business stream.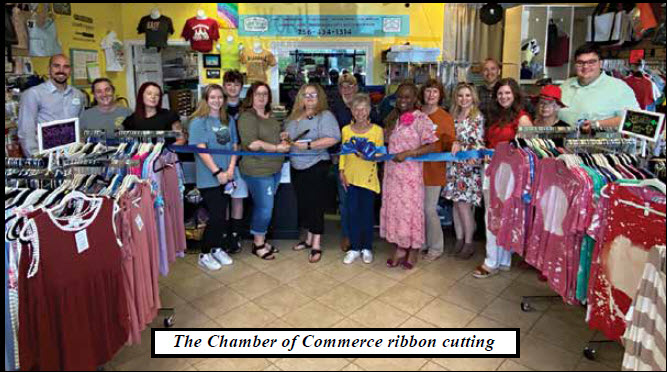 Kristie then met a couple who did screen printing, and now she designs custom T-shirts, and they do the production. They do digital printing; appliqué; as well as sublimation, the high-heat process that is used in the design of items such as custom license plates. If it can be personalized, she'll find a way to do it and make it look great. The great benefit of digital printing is that the designs can be more elaborate, and it is possible to just make one item, whereas with screen printing there is usually a minimum number required for the run.
When she opened her current store in 2018, Kristie told me, "I felt scared, but I felt I needed to go for it." Donna, who is also a successful real estate agent, was right by her side, and they decided to add boutique clothing and gifts to the Last Word inventory. They decided to call their line "Sassy Sisters," which is perfect for both of them, and they laughed as they told me about their respective styles. Donna said she loves, "Retro, boho, bell bottoms; what she calls 'old hippie.'" Kristie described herself as being "Casual, business-casual-to-mom; what she likes to call 'professional comfortable.'" Their goal for the Sassy Sisters clothing line is to provide clothing that is durable, affordable, attractive, and has something for everybody. Donna told me that Kristie is the best at determining whether fabric is good quality and is going to last well, and Kristie says that Donna has the "eye" for putting things together. They both love to shop and are looking forward to going to market soon to procure inventory for the summer. Last Word also carries some dressier dresses, jeans, baby and children's clothing as well as accessories. And remember, just about anything can be personalized.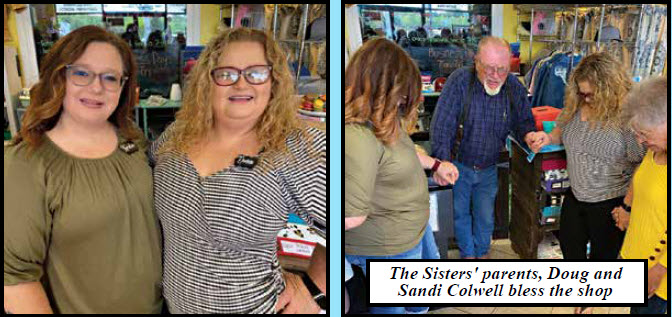 When Steve and I bought Athens Now in 2011, we inherited five metal outdoor newspaper boxes that had "seen better days." We had them stripped and painted by Brad Stovall's Body Shop, and Last Word did the lettering. You can now see them in several locations around Athens as well as Rogersville, and we are thrilled with the new look and the personalization that draws the eye and creates curiosity.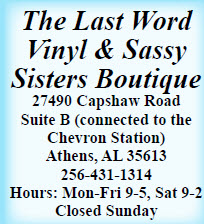 The sisters have done well and are looking to hire people who want a fun atmosphere, are willing to work hard, and have creative ideas. If that's you and you are a good fit, you are hired!!
As we closed our time together, I asked Kristie why, when I have choices, should I choose Last Word as the place I want to land for banners, signs, personalization, embroidery, sublimation, digital printing, gifts, and clothing. Her answers were simple: "Customer service, for one; we go out of our way to make sure that the customer is satisfied. If we do make a mistake, which sometimes happens, we make it right. More than anything, we 'realize' the image the way the customer 'saw' it." Kristie and Donna both mentioned that it is important to them both to have "high standards" in all they do.
If that is what you are looking for in a custom boutique and personalization service, then head to Last Word/Sassy Sisters today and discover what they can do to make your creation unique at an affordable price.
By: Ali Elizabeth Turner