By: Ali Elizabeth Turner
For the past 37 years, Athens-Limestone County has had a community-wide Christmas Open House that kicks off the holiday season with pure joy and pizzazz. From the decorated shop windows to the skating rink, to the music, carriage rides, food trucks, vendors and happy hustle and bustle, it is a welcome time of celebration, especially now. This year's theme is "Bright Lights and Christmas Delights," and that seems to be an especially fitting focus for our whole area.
I spoke with Pammie Jimmar, who heads up our Chamber of Commerce, and she is one of a few people in my life that goes happily "Nuts about Noelle." It is hands down her favorite time of year! Pammie is not shy about her love for the season and the reason for the season, and her enthusiasm during our chat was energizing.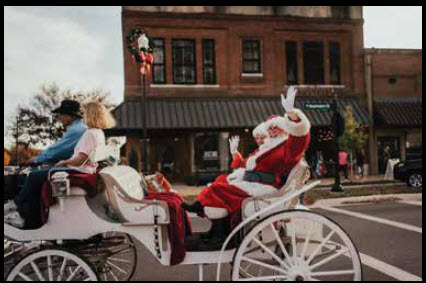 The traditions that have been associated with the Christmas Open House have stood the test of time, and there are always a few new things to enjoy. Now that we are past the pandemic, there will be plenty of pics to be taken of the festivities either in groups or as selfies, and no need to distance oneself from any of it! The 2023 Christmas Open House is hosted by our Chamber of Commerce and Athens Main Street. Dream Key Real Estate is the Presenting Sponsor this year. Here is a description of the doins' happening November 17-19.
Skating On The Square
Friday: 4 – 8 p.m. Saturday & Sunday: Noon – 4 p.m. Marion Street, Downtown Athens. Skating Shack Sponsors are AllStar Pro Services, Inc. & Morell Engineering, Inc.
Merchants Alley Christmas Tree Lighting
Friday: 5 p.m. at Merchants Alley on Jefferson Street. Sponsored by Alabama Real Estate Solutions Performance by Athens High School Chorus.
Christmas Photos
Friday: 6 – 8 p.m. (No Santa) Saturday & Sunday: 1 – 3 p.m. (Santa Photos) Sponsored by Fly Leaf Photography Studio located at 106 N. Jefferson Street. Santa's Carriage Sponsor is Parallel 36 at Liberty. Photo prices are $25 each.
There will be a photo booth available in front of the beautiful Glow Lights sponsored by Yellowhammer Roofing on Friday and Saturday, which is back by popular demand. It will be located on the east side of the Courthouse. This is the perfect opportunity for a Christmas Card photo op!
Merry Market on Marion
Friday: 4 – 8 p.m. Saturday: 11 a.m. – 4 p.m. Sunday: Noon – 4 p.m. Sponsored by Athens-Limestone Hospital and The Broken Brush Art Studio.
This is the location of all manner of wares available for sale at booths located along the curb on Marion Street, right across from the Courthouse on the east side. Following is a list of vendors who will represent this year's Merry Market:
G & K Gourmet Kreations, LLC                                                Sparkle & Shimmer
Dat Sugar Shack                                                                          Greene Books
Lit Wicks and More                                                                    Bonny's Beautiful Bling
Camille's                                                                                       Color Me Pink
Ignite Laser Engraving and Gifts                                               Tree Top Terrariums
London Bridges Stitchery                                                          Red Wolf Soaps
Holly's Craft Corner                                                                    No Mo Cakes Mama, LLC
Granny B Sweet Treats                                                               Sydney & Andrew Designs
Connie's Candy Co., LLC                                                             High Cotton Arts
The Edison Candle Company                                                    Rad Rags
Moon & Stars Honey                                                                  Yard Card Queen Athens
S + J Creations                                                                              Rocket City Popperz
Driftwood Dragonfly                                                                   Everyday Collective Co.
"All of the Merry Market spaces are taken, and there is a waiting list," Pammie told me, and added, "It really sold out quickly this year." One of the most popular features of the annual Christmas Open House is the opportunity to take a carriage ride in an old-fashioned, horse-drawn carriage. Stan Smith and his crew from Wild Hearts Cowboy Carriage Rides will no doubt be busy all weekend, and Wild Hearts will also be responsible for transporting Santa into town for the Santa photo op.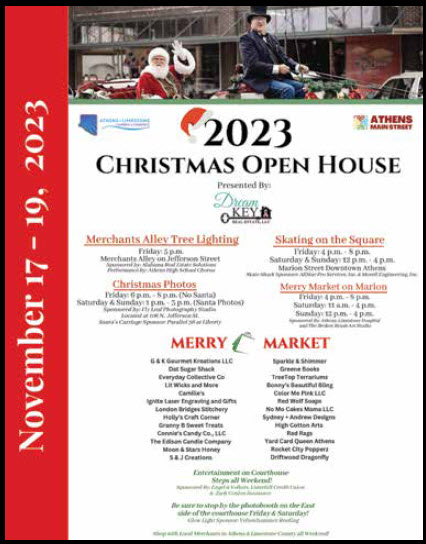 There will be live music all three days, beginning on Friday night with the Athens High School Chorus performing at the tree lighting ceremony followed by another performance on the courthouse steps beginning at 6:30 p.m. The Drew Clemons performance will be on Marion Street at noon on Saturday, and Matt Prater will be performing on Saturday at 2 p.m. On Sunday, the Athens State University Choir will be singing at noon, the Oasis worship team will be singing at 1 p.m., and Southern Splendor will perform at 2:30 p.m. The concerts are sponsored by Zach Conlon Insurance, Engel & Völkers, Antiques on Jefferson and Listerhill Credit Union. Finally, Yellowhammer Roofing will be "lighting the way" by sponsoring the Glow Lights.
Come and connect with your tribe and your town on November 17, 18, and 19, and let love light your heart again. We have so much to celebrate!
By: Ali Elizabeth Turner