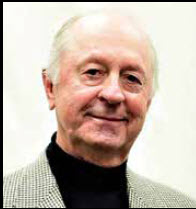 By: Jerry R. Barksdale
Judge David L. Rosenau, Limestone County Superior Court Judge, was an American original. Totally unique. I first met him in the fall of 1960 when I was a freshman in his political science class at Athens College. He opened the class with a question. "Who was the greatest governor of Alabama? The question will be on the final exam." We were stumped. "Gov. Bibb Graves," he said. "And you know why?" We were still stumped. "Because he appointed me judge of the Limestone County Court."  That's how I was introduced to his wonderful sense of humor.  Sure enough the question was on the final exam.
Rosenau's wit and penny-squeezing frugality was legendary. Bibb Graves, a Yale graduate and former WWI Army Officer, appointed Rosenau to the bench in 1937.  When I returned to Athens to practice law in 1968, he had been on the bench for 31 years. Every bootlegger feared him, errant teenagers knew he would call their fathers, and out-of-town lawyers didn't know what to make of him. Rosenau called U.S. Supreme Court decisions "magazine law." He didn't get bogged down with legal technicalities. He cared about right and wrong and that a just and fair result was reached.
Hollywood portrays Southern judges as cigar-chomping rednecks dressed in seersucker suits. Rosenau didn't fit that image. Not even close. He didn't smoke, drink, or cuss; was smarter than Ol' Satan himself; was urbane, well-educated, well-read, and well-traveled. He spoke with a pleasing and mellow Southern accent and was graced with Old South manners. His son-in-law, Mack Graham told me that Rosenau was on his way to Yale at age 16. After graduating in 1922 with honors, he aced Stanford Law School. Quite an achievement.
Rosenau's grandfather, Isaac Rosenau, came to America from Germany, and served in the Confederate Army under Stonewall Jackson. After the Civil War, he and his brother, Samuel, settled in Athens and opened a merchandise business on the Northside of the square where Lucia's is currently located. Later, David Lee Rosenau, Sr. operated the business until it was sold to Sharp and Killen Department Store. Bruce Sherill, a gifted storyteller, who began his law practice in Athens following WWII, used to joke that Judge Rosenau went to work for a big-mule law firm in Birmingham after graduating from Stanford. Certainly, one of the best jobs in Alabama at the time. "His father mailed him a post card saying that the shoe salesman had quit and he needed to come home and work in the store," said Bruce, laughing. "Can you imagine a man quitting the best law firm in Alabama to sell shoes?" I can imagine him doing that. He didn't fit a pattern.
The judge also taught business law at Athens College. He walked to class followed by his faithful hound that slept at his feet. I never saw Rosenau drive anywhere until he and his wife, Jewell, moved to Brookwood, east of town. There was one exception: He drove to H & H Bar-B-Que Ranch on Nick Davis Road where he ordered one meal and requested two settings. He didn't waste his own money, and he watched taxpayers' money like a chicken hawk. Rosenau had a tiny office on the third floor of the courthouse, refused to hire a court reporter, had no secretary, and did his own typing on an antique manual typewriter. He married Jewell Hertzler, whose family were large landowners in the Mooresville-Belle Mina area, as were the pioneer Peebles family. The judge used to joke "the Peebles speak only to the Hertzlers and the Hertzlers speak only to God."
Mrs. Leaton Martin, who lived around the corner from Rosenau, was delivering pies to a neighbor when they slid off the car seat. She reached to grab them, lost control, and crashed into the Rosenau breakfast room. Bam! Crash! The judge looked up and calmly said, "Well, good morning, Leaton. Come right in."
Rosenau's humor carried over to the courtroom. While trying a bootlegger case, attorney David Patton was hotly cross-examining Sheriff Clyde Ennis on the witness stand. Clyde didn't like David and didn't like him in his face. Clyde turned to Judge Rosenau on the bench. "Judge, how much will you fine me if I knock the hell outta David?"  "Oh, about a dollar I guess," replied Rosenau.
The judge quoted Shakespeare in court. When he ruled against a lawyer, he often quoted a line from Hamlet's soliloquy: "Tis a consummation devoutly to be wished, Counselor." In other words, "You lose."
Rosenau frowned on men wearing long hair. If a defendant showed up in his court with long hair, the judge would suggest he get a haircut. James Doss's barber shop was located next to my law office on South Marion Street. One day a long-haired teenager climbed into Doss' chair and said Judge Rosenau told him to get his hair cut before he returned to court. The kid teared up. "Will you call Judge Rosenau and ask him not to make me cut my hair?" Doss called while the teenager sat in the chair. "Judge wants to know why you don't want it cut," Doss said to the boy. "Tell him…boo-hoo…that Jesus…boo-hoo…had long hair." Doss relayed the message. "Judge says when you start acting like Jesus you can wear long hair." Doss sheared the kid. Several days later a man showed up at Doss's shop and asked if he was the barber who cut his son's hair. Doss reluctantly admitted that he was and waited for a fist. "Well, I'm his daddy and I want to thank you," he said and shook Doss' hand.
I represented a part-time preacher in a divorce case whose wife had gone astray.  My client thought Rosenau should have punished her – with stoning, I suppose – and prophesied to the judge: "The sword of the Lord will strike you dead." Rosenau didn't hesitate. "Mister, you better be sure that your hand isn't on that sword."
Judge Rosenau was incorruptible. A big time politician in Montgomery was busted for a traffic offense in Limestone County. The governor's office called Rosenau to fix the ticket. "You tell the governor to run his office and I'll run mine," he said and hug up. He and Jewell had two daughters – Joy Graham and Jill Hicks – but the judge knew how to handle young males who appeared before him. "Young man, I'm going to give you a choice, would you rather spend time in jail or the service of your country?" If they enlisted he dismissed their case. He made good citizens out of many errant teenagers who later thanked him. A fellow who had been caught shooting dice appeared before Rosenau and admitted he was guilty.  Rosenau laid a pair of dice on the bench. "Do you feel lucky today?" he asked.  The defendant eyed the dice. "I-I don't know, Judge. Why?"  "I'll let you roll for the days you're going to spend in jail," the judge said. "I don't feel that lucky," the defendant replied.
When a young man merited jail time, but was in school or working, the judge had a solution. He would order him to report to jail on Friday and spend the weekend locked up. That was a death sentence. No weekend partying. He had another tactic that worked well with fast driving, beer drinking teenagers. "I know your father, let me call and see what he thinks." "No-no, Judge, don't do that."
Judge Rosenau retired in 1981, after 44 years on the bench, the longest serving judge in Limestone County. He died in 1998 at age 95. Jewell passed in 2003 at age 96.
The judge wouldn't fare well in today's political-correctness atmosphere. He'd offend someone before 9 a.m. If threatened by the ACLU, he'd most likely quote Shakespeare and suggest they get a haircut. Like I said, he was an original.
By: Jerry Barksdale
www.jerrybarksdale.net fb.com/jerry.barksdale.7