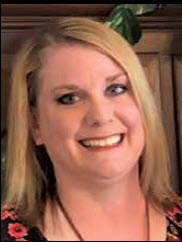 By: Leigh Patterson
Spring has sprung, and here at Keep Athens-Limestone Beautiful, we are busier than the bees! Already this year, we have hosted and participated in several cleanups, resulting in the removal of over 70,000 pounds of litter and debris from different areas in Athens and Limestone County. On Saturday, April 10, we hosted our second annual Household Hazardous Waste Collection event, where we serviced almost 300 cars. We are grateful for all of the residents who came out and took advantage of this opportunity to properly dispose of their old paint, household chemicals, lawn and garden poisons, fluorescent bulbs, and more!
Next on the KALB calendar, we will be providing cleanup supplies for the Richard Martin Trail (Rails to Trails) Cleanup in Elkmont. The event will be held on Saturday, April 17 from 8 a.m. to noon.  Volunteers will meet at the trailhead parking lot on Piney Chapel Road at 8 a.m.
On Saturday, April 24t, KALB will host our annual Earth Day and Outdoor EXPO from 11 a.m. to 2 p.m. at Big Spring Memorial Park in Athens. We have so many fun things planned for this free event! ($1 suggested donation.) Steve Trash, Rockin' Eco Hero, will perform his eco magic show three times. We are grateful to Limestone County Water and Sewer Authority for bringing Steve to our event! We will also have crafts, activities, exhibitors, and vendors with information and earth-friendly products. Tiny Hiney's Travelin' Farm petting zoo will be there thanks to Limestone Pediatric Dentistry. The Optimist Club will be providing food for purchase. Carissa Lovvorn, local author, will be reading her new children's book, Seeds for Sharing. Carissa's daughter Isabelle will host her "Lemon Blessings" lemonade stand with all proceeds going to charity. We invite you to bring your whole family to enjoy this fun outdoor event!
KALB is also hosting a Guided Nature Walk at the Marbut Bend Walking Trail in West Limestone the morning of our Earth Day event on Saturday, April 24 beginning at 8 a.m. We invite you to join Damien Simbeck from Tennessee Valley Authority (TVA) on a fun and educational walk in this beautiful area. Damien is an expert on birds and other wildlife, along with the plants and trees that call Marbut Bend home. This 1.1-mile walk is an easy, flat, and A.D.A. accessible trail, and will last approximately 1 to 1 ½ hours, giving you plenty of time to make it to the Earth Day and Outdoor EXPO at 11 a.m.
As mentioned in the front cover article, coming up on Saturday, May 8t, KALB is partnering with The Oasis Community Outreach, Athens Limestone Ministerial Association, Limestone Ministerial Coalition, and SHIFT youth program to host Ms. Laverne's Clean My Block Party. This fun, youth-centered event will be held at Lincoln-Bridgeforth Park in Athens starting at 8:30 a.m. Youth will gather at the park at 8:30 a.m. to sign in and to receive a cleanup location. The cleanup will last from 9 to 10:30 a.m. After cleaning, there will be a community cookout at the park from 10:30 a.m. to noon.
The KALB Annual Membership Drive will begin in May. This is a great way to support our non-profit organization and the many projects and programs that we offer as we continue our mission to empower citizens of Athens and Limestone County to take greater responsibility for enhancing our community environment.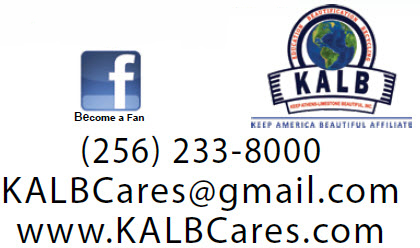 Coming up on Saturday, June 26, we will be working with the Athens-Limestone Public Library to provide a fun, family oriented program about pollinators. More information to come!
Please go to our website at KALBCares.com and our Facebook page (Keep Athens-Limestone Beautiful) for more information on our programs and upcoming events. Questions? Call 256-233-8000 or email KALBCares@gmail.com.  We look forward to seeing YOU this spring!
By: Leigh Patterson
Executive Director – Keep Athens-Limestone Beautiful