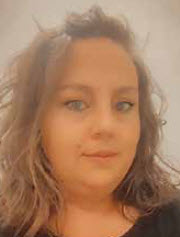 By: Claire Tribble
It's that time of the year again…we are excited to be racing the 23rd annual Wacky Quacky Ducky Derby! The ducks are in prime racing condition and are ready for the action! In case you haven't heard of our race before, this is our biggest fundraiser of the year where we race special rubber ducks down the spillway at Athens Big Spring Memorial. We "adopt" our ducks out to race for chances to win some amazing prizes generously donated by local businesses. All proceeds are used to help Keep Athens-Limestone Beautiful to continue to help ALL of Limestone County!
We assign each duck a racing number and divide them into four different heat races. We use sandbags to stop the water flow while we get all the ducks behind the start line. Once all the ducks are ready, we remove the sandbags allowing a rush of water to flow! The ducks ride the wave and race down the spillway to the finish line. The top winners of each heat race (the number is determined by the number of prizes) go on to the main race. Then we get all the ducks at the start line and release the water again, this time there are fewer ducks, and the race is cutthroat! These ducks are caught in the order in which they finish and assigned the corresponding prize.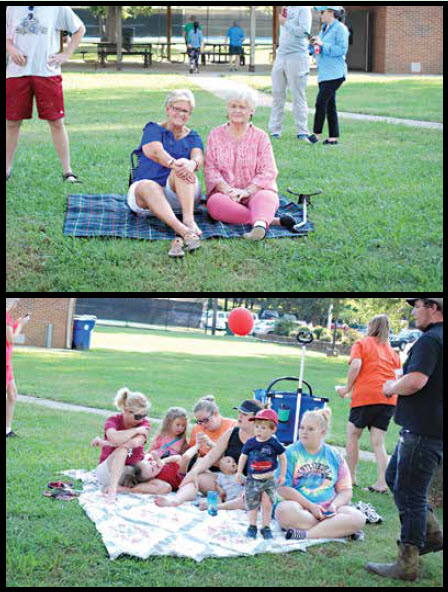 This year, we have an AMAZING new sponsor for the $1000 GRAND PRIZE- BT's Towing, Tire, and Truck Repair! We are so grateful to Barry Tate for his generosity and support! We have so many other amazing prizes as well.  A $500 cash prize from Trustmark Bank; a gift certificate for a one night stay at the Shoals Marriott AND dinner for two at 360 Grille; a round of golf for four people plus a golf cart from Canebrake Golf Club; a $250 gift card from Osborne's Jewelry; a $250 cash prize from Morell Engineering; a photo session from Dana Baker Photography; five $100 cash prizes from Dunn Building Supply, First National Bank, Athens Pharmacy, Morell Engineering, and Village Veterinary Clinic; four Flex Tickets from Theater Huntsville; a Hobb's Jewelry gift card; a gift certificate from Newman Massage and Wellness; a two-year subscription from Alabama Magazine; and two more sets of two Flex Tickets from Theater Huntsville. And we can never forget those LAZY duck prizes for each duck that finishes last in their heat race for a burger and fries from Dub's Burgers!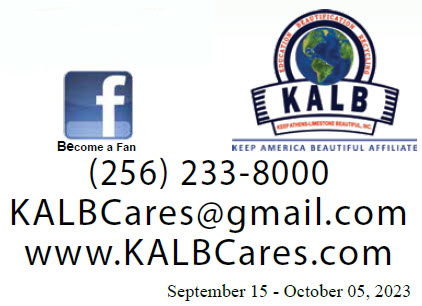 You do not have to be present to win; we will call, email, and reach out through Facebook to notify the winners. But we would love for you to come enjoy the races with us! Bring your chairs or blankets, snacks, and even your four-legged friends and enjoy the day with us. The races will begin around 4 p.m. And we may want to cross our fingers for a day of good weather!
So stop by the KALB office at 125 East Street, adopt online through our website (kalbcares.com), or stop by our booth at the Fiddler's Convention on Friday and until 1 p.m. on Saturday to adopt a racing duck for $5 each, or grab a Papa Murphy's Quack Pack (6 ducks for $25) and get a coupon for 25% off of your order of $20 or more. Don't miss out on a chance to win great prizes while donating to Keep Athens-Limestone Beautiful!
By: Claire Tribble
Executive Director, Keep Athens-Limestone Beautiful