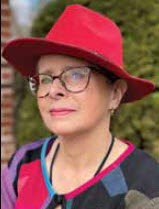 By: Ali Elizabeth Turner
When I was in Iraq, one of my favorite chaplains was Lt. Col Dixey Behnken. He ministered in what was an uncommonly effective way to people of many faiths, and he and his wife had me stay in their home when I visited their base in Germany. It was a visit I will never forget, and they treated me like a queen. I happily nominated him for the Soldier of the Year Award, and while I was disappointed that Dixey didn't win, I am sure there are rewards waiting for him in Heaven.
Well, the Behnkens have several kids, and their youngest is named Lukas. Lukas is an actor, a film producer, and a man of faith. And, this month is the premiere of Lukas's new documentary, I Hate You But It's Killing Me, which has been four years in the making. He traveled the globe, interviewed people of every group and story, and together with a team formulated a way for people to deal with their hate in a way that brings healing all the way around.
Lukas is married and his wife, Katherine, is his partner in everything, including the production of this movie. Together they have created and are using a film that is gutsy, raw, and well made, designed to invite people to face down their stuff. The system that has been developed with the help of professionals works to help get willing people unstuck — whether it is not being able to forgive an abusive parent, or a mother who gave them up for adoption, or a people group, or themselves.
IHYBIKM interviews people in Africa, Germany, Atlanta, and more, and the night they filmed in Atlanta they ran into 15 random people on the street that felt that they were struggling with unforgiveness. I haven't seen the whole film yet, but what struck me is that while there are difficult tales of childhood abuse, torture, abandonment, and garden variety offenses that have poisoned their souls, they have not been allowed, because of the program, to play the victim card and stay trapped in their hatred.
The process is intense and painful, but the looks of joy on the faces of those who speak of their triumphs over the unspeakable is the sure proof that this works. The film and the organization with which it is associated are not afraid to ask the tough questions, so here's one: "Have you ever hated someone so much that you wanted them to suffer or hated yourself so much that you wanted to die?"
Talk about getting right to it, but here are some statistics that are set forth in this film, and they rightfully engender the previous question as well as a discussion of the following:
100% of individuals draw a connection between interpersonal strain and suicidal ideation/completion
Age 12 is when we first start feeling definitive hatred for someone
1 in 4 adults is currently estranged from a family member
What is uncanny is how effective the program is, along with how it is able to cut across resistance, justification, and excuses. What is also fascinating is that the film is so inviting, while it is relentless in its pursuit of love and forgiveness as solutions, without being what I have come to describe as "squishy."
The film premieres on March 31, and you can get involved as a donor, a participant, or both. To view, get involved, give, or all three, go to www.ihateyoubut.com. You'll be glad you did.