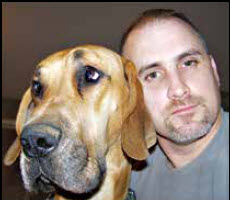 By: Joel Allen
Hello, folks! It has been a rough couple of months. I have been MIA due to an infection in my body that Houston "tattled" on me about and got me six days in the hospital!  LOL! God love him and I am thankful for him.
So, not to bore you all with the hospital details, this lead up to our visit to Vanderbilt in Nashville, Tennessee. On Wednesday, 11 April 2022, Houston and I hit the road to Nashville and arrived at a very nice hotel named The Extended Stay which was located within 3 miles of Vanderbilt Hospital.
Now I will let you all know that before I left Alabama, I did check the ADA Service Animal laws for Tennessee so as not to run into any problems with Houston. Tennessee and Alabama correspond with one another on this, so there was nothing different I needed to know. So, a slight suggestion for all of us with service animals, be sure to check the laws and ordinances of any state or destination where you plan to go. Some states do tend to require public-access training, which I train mine for anyway.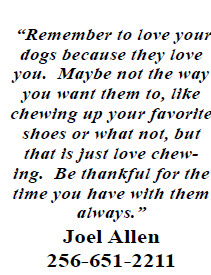 Folks, let me tell y'all what Houston did to me at the hotel where we stayed. A thunderstorm began and that always seems to be the time our "babies" will need to go out (it never fails!). Anyway, I am having to use a knee scooter that I have dubbed "Lucifer" because it will throw anyone riding it down and just like a WWE wrestler, it will give you the people's elbow and rock your world! So we are outside, and I put on my jacket to keep the rain off and walk (I mean roll) Houston to the special area the hotel has for dogs. Everyone who has a dog knows that they will take their sweet time no matter what, except Houston. He pees really quickly when it is raining. Because I am on Lucifer, I let him off leash because he has great recall command, except when it comes to him getting wet…and this is how I found out. Houston looks back at me, and I am thinking, "You need to hurry up!" and even say so. Want to know what he did? LOL… he left me and went to the parking deck, out of the rain and waited for me! I called him a name or two, which I will not repeat here, but everyone who knows me gets the idea. He waited for me to get to him and leash him back up. We went back upstairs to our room and crashed for the night, him hogging the bed and me telling him to move over.
The next day, we are due to arrive early for my orthopedic appointment. Vanderbilt is nice, folks! They have free valet parking, and the first thing I notice when I pull up is one of the valets looking at Houston with awe. I mean, come on, he is a Great Dane after all. Well, I vest Houston up and get Lucifer out of the vehicle and we go in. I cannot tell you how many times people part like the Red Sea when they see Houston, and they did this inside the hospital. Like always, Houston rocked it. He was quiet and respectful our entire time there. The only noises made were by the people who saw him and were scared of dogs or cooed at him and wanted to touch him. Many would either go around or go another way entirely.
I have to ask, does anyone travel with their dog and if so, do they hold their poop until they return home? Houston did this to me. I knew he was holding it and could really tell as we were heading back down to Alabama because he began his "huh, huh, huh" whine in my ear. Me, not wanting an accident, found a huge lush piece of grassy land at an exit and stopped for him. He gets out and leaves his "peemail" but no poo and gets back into the vehicle! I was thinking, "Great! He is going to start gassing me out or let the bomb drop while I drive!" Nope, he did not have an accident, but when we arrived home, he shot out of the vehicle and did his business with me watching him and shaking my head. I hope everyone was entertained and learned something because I sure did. LOL! I needed to write this and laugh, folks! It has been a rough go for over a month. Prayers are requested for me and my family. Thank you all!
By: Joel Allen