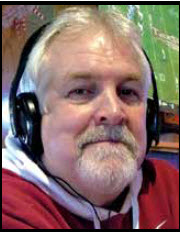 By: Tim Lambert
Announcements of various All-State/All-Star teams were made recently. Ardmore's Luke Hogan made the Class 5A baseball first team while teammate Cole Cheatham was second team. West Limestone's Colin Patterson and Thorne Slaton were on the 4A second team and Logan Martin was honorable mention. Clements' Ian Ezell was a 3A second team pick and Elkmont's Mykell Murrah was honorable mention. Lindsay Lane's Sam Hogue made the 1A first team with fellow Lion Max Morrison on the second team. Athens Bible School's Connor Abernathy and Kacen Pierce were honorable mention. Athens' Emily Simon and Morgan Stiles were members of the 6A softball first team with teammate Katie Simon as honorable mention. Ardmore's Ella Singletary made 5A first team along with the Lady Tigers' Bo Riley and East Limestone's Rylie Grisham on the second team. Elkmont's Alyssa Harwell and Brilee Miller were tapped for the 3A first team. Athens Bible School's Cana Vining and Lindsay Lane's Ava Whitmire were on the 1A second team. James Clemens' Abby Woodberry and Haley Patterson were picked for the second team of the girls' Super All-State soccer team. Patterson was also on the 7A first team. Woodberry and Abby Patterson made the 7A second team. Tanner's Nehemias Vicente, Frankie Vicente, Manuel Felipe, and Randy Cortez made the 1A-3A boys' soccer first team while Emanuel Gonzales and Franklin Vicente were second team along with Elkmont's Josh Burrows. Clements' Leslie Gonzales and Elkmont's Steph Villa Marcial were added as members of the girls' team. Tatum Leathers of James Clemens and Tanner's Manuel Felipe made the All-Star soccer teams that will compete during All-Star Sports Week in July. Lindsay Lane's Angela Kahler was chosen for the North All-Star tennis team.
Congratulations to East Limestone's Tyler Kelly, who signed to play football at Tennessee Valley Prep Sports Academy.
New coaches were hired in at various Limestone County Schools: former Athens assistant Grace Newton will be Clements' new girls' basketball coach, former Austin assistant Michael Pendergrast is Elkmont's new head football coach, former James Clemens assistant coach Adam Brown will serve as East Limestone's head baseball coach, and Jessica Thompson will be the Lady Indians' head basketball coach. James Clemens named Monica Maxwell as their new girls' basketball coach. Maxwell started as an assistant with the Lady Jets, then made stops at Hoover and Sparkman before her last position at Hazel Green.
High school
Ardmore got off to a good start in their first round softball game of the state tournament with a 6-5 win over Tallassee. The Lady Tigers fell to Faith Academy 2-0 in round two and got past Hayden 2-1, turned back Alexandria 4-1, then won a rematch against Faith Academy 2-1 to make it to the finals against Satsuma where they won the first game 5-3, but fell in the deciding game 6-1, their fourth straight of the day, to finish as state runner-up. Athens High's softball team opened up state tournament play with a 13-2 victory over Chilton County. The Lady Golden Eagles advanced to play Springville where they fell 6-1, then were eliminated by Helena 3-0.
Travel softball
The Southern Vortex 09 went 3-1 in the Double Trouble tournament in Huntsville to finish third. The Shockers 11 also came in third in their division with a 3-1 record. The Southern Vortex 09 went 2-1 to finish third in their division in the Memorial Day Classic. Shockers 10 won the 10-C division of the Stateline Showdown; Shockers 11 came in second. The 10-year-old Limestone County team came in third at the Alabama All-Stars North 1st Pre-Area tournament in Madison; the 6-year-old Athens team also finished third in their division. The 10-year-old Limestone County All-Stars finished second in the North Pre-Area tournament. The Nemesis 14U-Dudley went 6-0-1 and defeated the Alabama Ultimates 07 14U 5-3 to win the Grand Slam World Series in Calera.
Athens Youth
ABS was the Limestone County 10U softball champs. The Braves were the 5/6-year-old winners in the spring baseball tournament finals. The Pirates won the 7/8-year-old division, the Giants were the 9/10-year-old champions, and the Red Sox claimed the 11/12-year-old title.
Listen for the PlayAction Sports Update weekdays at 7:30 a.m., 1:30 p.m., and 3:30 p.m. on 1080 AM WKAC. The weekly PlayAction Sports Report podcast, featuring news, interviews, and announcements from Athens and Limestone County, drops every Wednesday on all major podcast platforms, in the podcast section of the PlayAction Sports app, on your Amazon Echo or Google Home device and online at www.pasnetwork.net.
By: Tim Lambert
Tune in for the PlayAction Sports Update, three times each weekday on 1080 AM WKAC. Visit us online at www.pasnetwork.net! email: playactionsports@hotmail.com